Vizions by Zalando: Europe's first platform conference
BERLIN, FEB 9, 2017 // As Zalando further cements its position as Europe's leading online fashion platform, today they announce their first B2B conference Vizions by Zalando. The one-day event is the first of its kind in Europe. It will give global business and technology leaders the stage to discuss and network around the key topics that are currently shaping the discussion on platforms as an emerging business model. The conference will take place on April 20th 2017 at Kraftwerk in Berlin.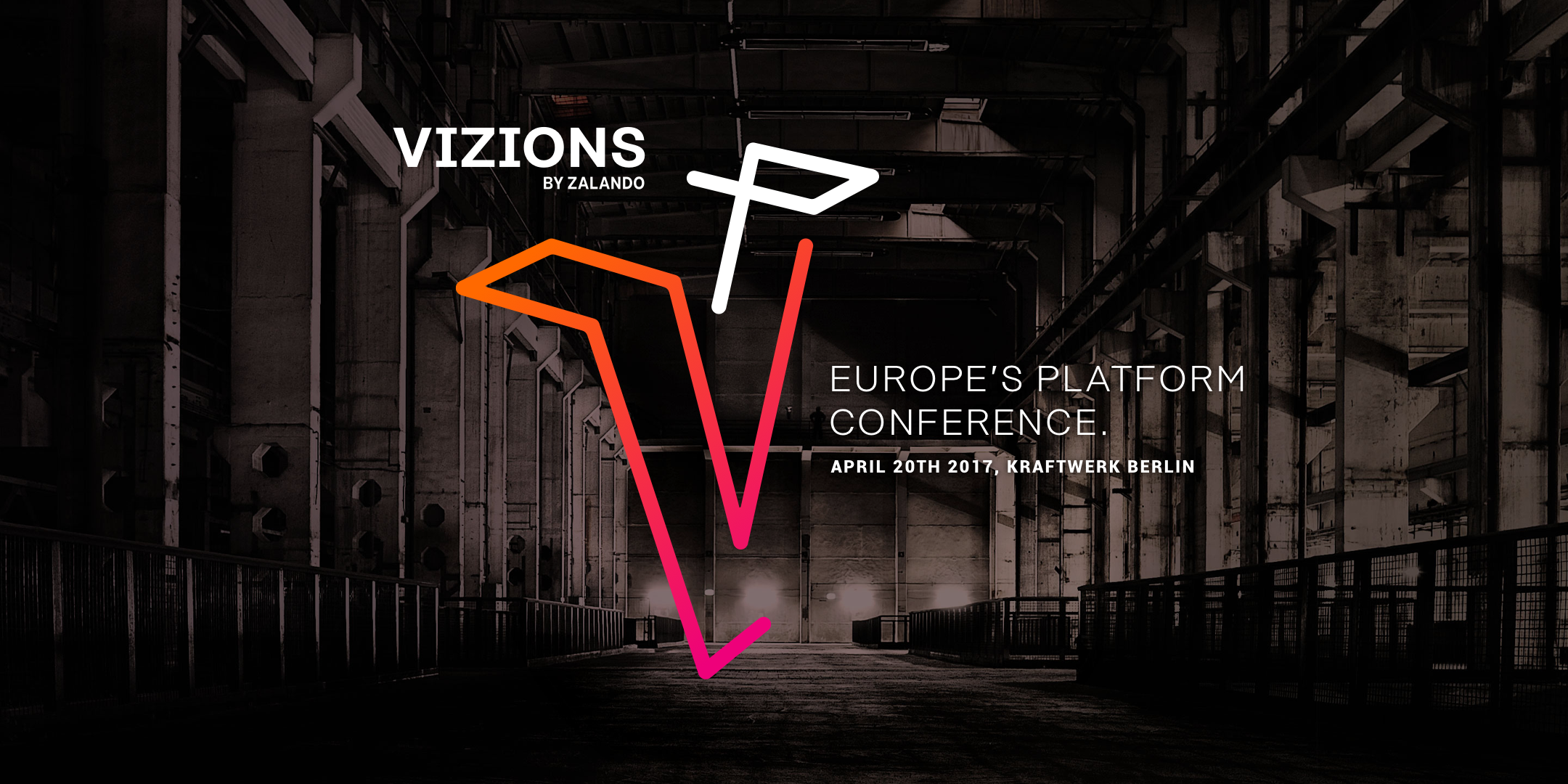 "The possibilities platforms bring to companies and customers have become evident over the last years, and we strongly believe they are one of the strongest business models of the future," stated Rubin Ritter, co-CEO Zalando.
"Digital platforms are now part of the infrastructure of the 21st century by enabling new business formats that have never been possible before and ensuring there are no boundaries to the consumer experience. Vizions by Zalando was created to open the discussion around the opportunities and challenges different industries are facing", explained Ritter.
Vizions by Zalando will feature over 35 international speakers, including Dongbai Guo (CTO AliExpress), Renaud Visage (Co-founder and CTO Eventbrite), Nicolas Cary (Co-founder and President Blockchain), Jimmy Chamberlin (formerly Smashing Pumpkins) and Natalia Brzezinski (CEO of Symposium Stockholm, Brilliant Minds). Further speakers can be found listed on the conference website.
The event is divided into three platform-related content themes:
Business: Diving into the key industry drivers, such as capital markets, finance, marketing and culture.
Tech Future: Discussing how the technology industry is enabling platform growth and the players who are disrupting it. Looking into the future at machine learning, mobile, and artificial intelligence. 
Foundations: Exploring the tools needed to build the foundations to support global platforms. Covering topics such as compliance, logistics and payments, diving into how these drive the global platform industry forward.
Guests will have the opportunity to experience the three content themes by attending fireside chats and panel discussions, as well as taking part in workshops and deep-dives throughout the event. 
Current list of speakers and companies include: Alex Graf (Spryker), Alice Zagury (The Family), Amir Behbehani (Serial Metrics), Bernhard Mogk (Four Media), Bessie Lee (WPP), Connor Murphy (Techstars), Dongbai Guo (AliExpress), Helena Wasserman (Big Data for Humans), Jason Warner (Heroku), Joannes Vermorel (Lokad), Julia Fowler (Edited), Lorenz Jungling (N26), Natalia Brzezinski (CEO of Symposium Stockholm, Brilliant Minds), Nicolas Cary (Blockchain), Nicolas Zimmer (Technology Foundation Berlin),  Pieter van der Does (Adyen), Ramin Niroumand (FinLeap), Renaud Visage (Eventbrite), Richard Harless (Shazam), Rodolfo Rosini (Weave.ai), Susan Danziger (Ziggeo), Tobias Balling (Blinkist), Jimmy Chamberlin (Smashing Pumpkins), Nathan Furr (INSEAD), Yuval Ben-Itzhak (Outbrain), Moshe Vardi (Rice University), Jeff Lynn (Seedrs), Hakan Bas (Lidyana), Vanessa Belleau (WGSN), Legacy Russell (Artsy), Benny Arbel (InceptionVR).
ENDS
More info:
To find out more information about Vizions by Zalando such as tickets, content and speakers, please visit: vizions.berlin or follow the updates on Twitter.
ABOUT ZALANDO
Zalando (https://corporate.zalando.com) is Europe's leading online fashion platform for women, men and children. We offer our customers a one-stop, convenient shopping experience with an extensive selection of fashion articles including shoes, apparel and accessories, with free delivery and returns. Our assortment of over 1,500 international brands ranges from popular global brands, fast fashion and local brands, and is complemented by our private label products. Our localized offering addresses the distinct preferences of our customers in each of the 15 European markets we serve: Austria, Belgium, Denmark, Finland, France, Germany, Italy, Luxembourg, the Netherlands, Norway, Spain, Sweden, Switzerland, Poland and the United Kingdom. Our logistics network with four centrally located fulfillment centers in Germany allows us to efficiently serve our customers throughout Europe, supported by a warehouse in Northern Italy with a focus on local customer needs. We believe that our integration of fashion, operations and online technology give us the capability to deliver a compelling value proposition to both our customers and fashion brand partners. Zalando's shops attract about 160 million visits per month. In the third quarter of 2016, more than 65 percent of traffic came from mobile devices, resulting in 19.2 million active customers by the end of the quarter.
CONTACT
Sigrid Dalberg-Krajewski / Corporate Communications Nordics
sigrid.dalberg-krajewski@zalando.se