Zalando's Equity Story – Why to Invest?
Our vision at Zalando is to be the Starting Point for Fashion. Based on that vision we strive to deliver sizable double digit growth in the coming years to achieve a scale of 30bn EUR GMV by 2025 and to get to a market share of 10% of the European Fashion market longer-term. Once at scale our strategy will result in an attractive financial profile, characterized by a double-digit margin profile and a strong cash generation.
Our Vision
Our vision is to be the Starting Point for Fashion. Zalando has enjoyed tremendous growth and is viewed as THE major success story in European e-commerce today. But we won't stop here: It is our goal to be the one destination that customers naturally gravitate to whenever they think about fashion. And we are well under way: Zalando has a very strong reach and engagement with 45m active customers and more than 5bn site visits in 2020, of which 90% is direct traffic. Furthermore, the brand recognition of Zalando in most given markets is twice as high as its next best competitor.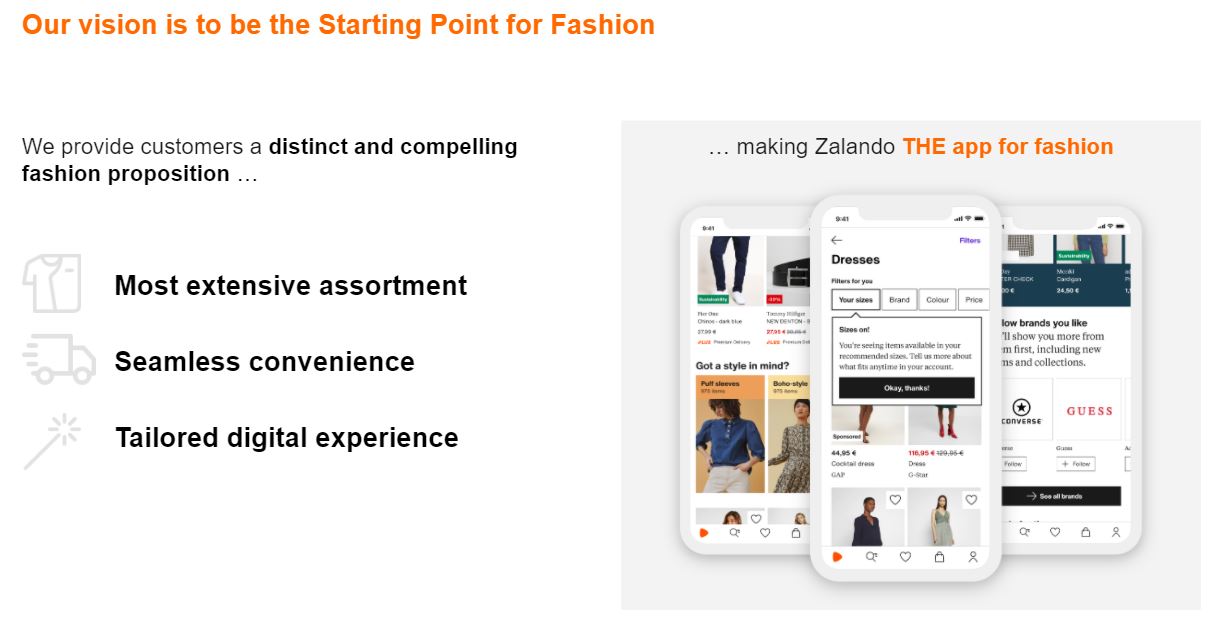 We Focus on Growth
The number 1 priority is to focus on growth to achieve a scale of 30bn EUR GMV by 2025. Already today we are Europe's leading online platform/destination for fashion and lifestyle in a market, which is forecasted to be worth 450bn EUR over the next few years. As also the distinction between offline and online segments increasingly vanishes and more and more sales are touched by digital elements, be it click-and-collect models or online orders that are fulfilled from stores, we are convinced to capture a 10% market share of the total European Fashion market in the long-term. We are aware of this unique opportunity to grab market share through the ongoing offline to online migration but also from entering new categories (e.g. high-end Premium, Pre-Owned Category and Beauty). Facing this immense market opportunity it is our number one priority to continue to capture market share and to deliver strong growth over the next few years to achieve a scale of 30bn EUR by 2025. This would be equivalent to a market share of 7% of the European fashion market.
Becoming a Platform Business
The most important building block on that journey is to transition our business towards a true platform business. The core elements of our platform are our Partner Program and Connected Retail, Zalando Fulfillment Services (ZFS) and Zalando Marketing Services (ZMS). On this platform we aim to connect the brands' inventory to the European digital consumer, resulting in endless choice, while the brands can focus on core competencies (understanding the customer and driving the brand), while leveraging Zalando's expertise in technology (Partner Program and Connected Retail, ZMS) and logistics (ZFS).
Reinvest the Economic Surplus into Platform
To become the starting point we aim to invest our economic surplus in our customer experience  across assortment, digital experience and convenience to drive customer satisfaction and retention.The backbone of our operations is built on best-in-class e-commerce infrastructure and on our technology talent. With 12 warehouses across Europe Zalando can generate 18bn EUR in GMV by 2023.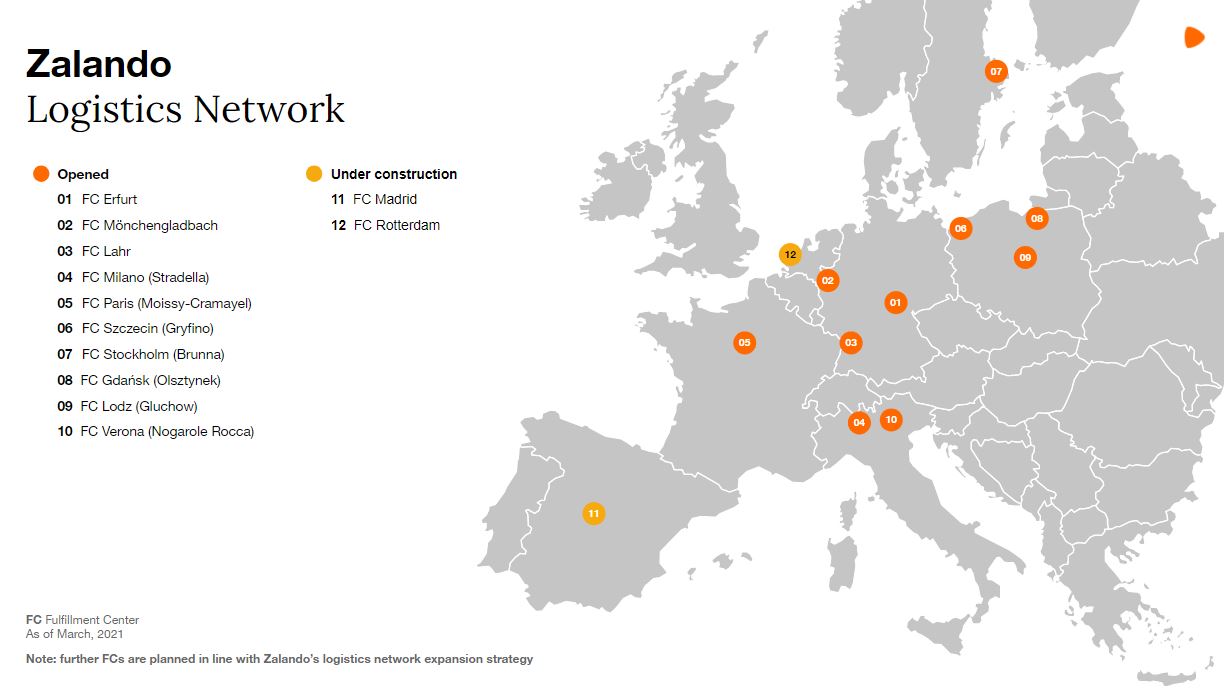 Over the next years we intend to further invest in our logistics network as it enables us to keep up with our fast growth, to deliver faster and more reliable to more customers and thus enhance our convenience proposition. Additionally, our fulfillment network does not only enable a great customer proposition and the growth of our platform overall, but also powers the business of our partners via Zalando Fulfillment Solutions.
Our tech capabilities will allow us to build a highly scalable, reactive platform to drive fashion e-commerce and become the place where customers feel better understood than anywhere else.
Highly Attractive Financial Profile
At scale our strategy will result in an attractive financial profile, characterized by double-digit margin profile and strong cash generation. Our strategy is expected to drive continued market share gains, scale benefits, and after a transition period to drive an attractive financial profile. On a group level we aim for a long-term profitability margin of 10% to 13%, with our Partner Program and its associated services Zalando Fulfillment Solutions and Zalando Marketing Services to deliver a profitability margin of 20% to 25%.