Zalando Posts Strong, Profitable Growth in First Half
Q2 revenues at EUR 916 million, adjusted EBIT margin of 8.8%
H1 2016 revenues at EUR 1,713 million, adjusted EBIT margin of 5.9%
Continued investments into Zalando's customer proposition around convenience, assortment, brand and mobile
BERLIN, AUGUST 11, 2016 // Zalando, Europe's leading online platform for fashion, reported an outstanding first half of 2016 with strong growth and profitability, increasing its full-year adjusted EBIT margin guidance to 4.0-5.5%. Investments in Zalando's customer proposition fueled the company's growth, while the company continued to execute on its multi-year platform strategy. Strong operating leverage of the business compensated for these significant investments, and was the key driver behind the company's profitability in the first half of 2016. Combined with strong working capital management, this resulted in positive free cash flow of EUR 50 million.
"We are very proud of our first half results: They reflect strong customer momentum with strong growth at scale. Despite ongoing investments into our long-term growth strategy, our business showed increased strength and profitability," said Rubin Ritter, member of the Management Board.
Zalando continues to improve the customer experience in its markets by extending its fulfillment capabilities. Construction of the logistics hub in Lahr is on track, and test operations have already commenced. The company's first international satellite warehouse in Stradella, Italy, which started operations in early 2016, already fulfills 60% of Italian orders.
Zalando further increased the attractiveness of its assortment by signing popular brands, including Fenty by Rihanna, Club Monaco, Ivyrevel, and Kate Spade. The company has also made further progress on its brand visibility and reach. Zalando ran a successful joint campaign with Ivy Park in Q2 2016, and will continue its collaborations with high-profile brands. At the trend show Bread&Butter by Zalando in September, Italian luxury label Marni will give a preview of its footwear collaboration created exclusively for Zalando, and Tommy Hilfiger's 'Tommy X Gigi' collaborative collection with Gigi Hadid will also debut at the event.
Zalando's ongoing push towards mobile has led to a doubling of app downloads in the past 12 months, supporting a 90% growth in app orders year-on-year. The number of active customers grew to a record 18.8 million by the end of the second quarter, with average orders per active customer reaching an all-time high of 3.3 orders per annum.
Investments into a strong and capable team supported Zalando's success. Employee numbers increased from 9,079 to 10,639 since June 30, 2015. By the end of Q2, the tech team counted 1,340 employees across seven locations with application numbers peaking at 2,200 per month. Zalando's development was further supported by targeted acquisitions, such as Tradebyte Software GmbH and Amaze to expand the offering for its partners and improve its marketing capabilities.
Based on the strong first half performance, Zalando reiterates its full year guidance of strong revenue growth at the upper end of its 20-25% growth corridor and increases full-year adjusted EBIT margin guidance to 4.0-5.5%. The company continues to aim for roughly neutral working capital at year-end, and about EUR 200 million in capital expenditure in 2016, excluding M&A.
Zalando's half-year report is available online; details can also be found in the investor earnings call presentation. Zalando will report figures for the third quarter on November 10, 2016, and publish a trading update prior to that. The publication date of the trading update will be announced on the Zalando Investor Relations website ahead of time.
Zalando group – Revenue and adjusted EBIT (EUR million)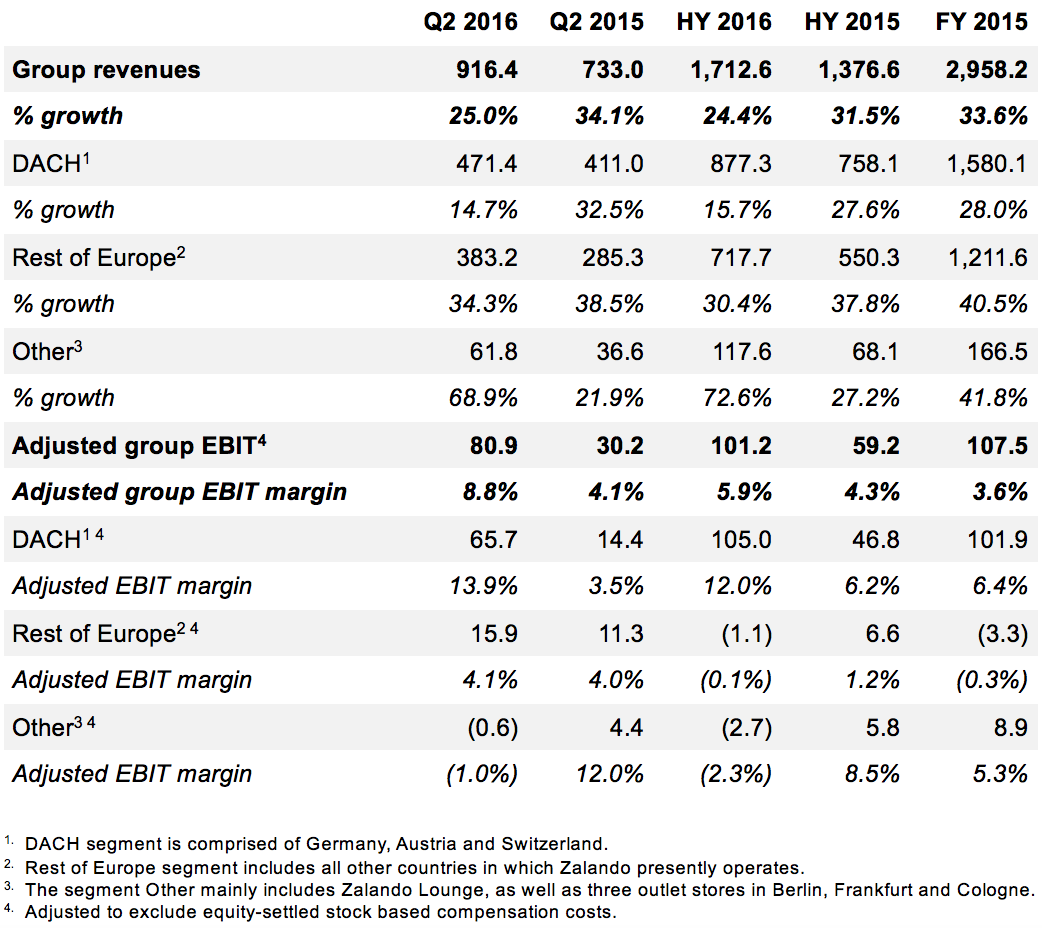 Zalando group – Key performance indicators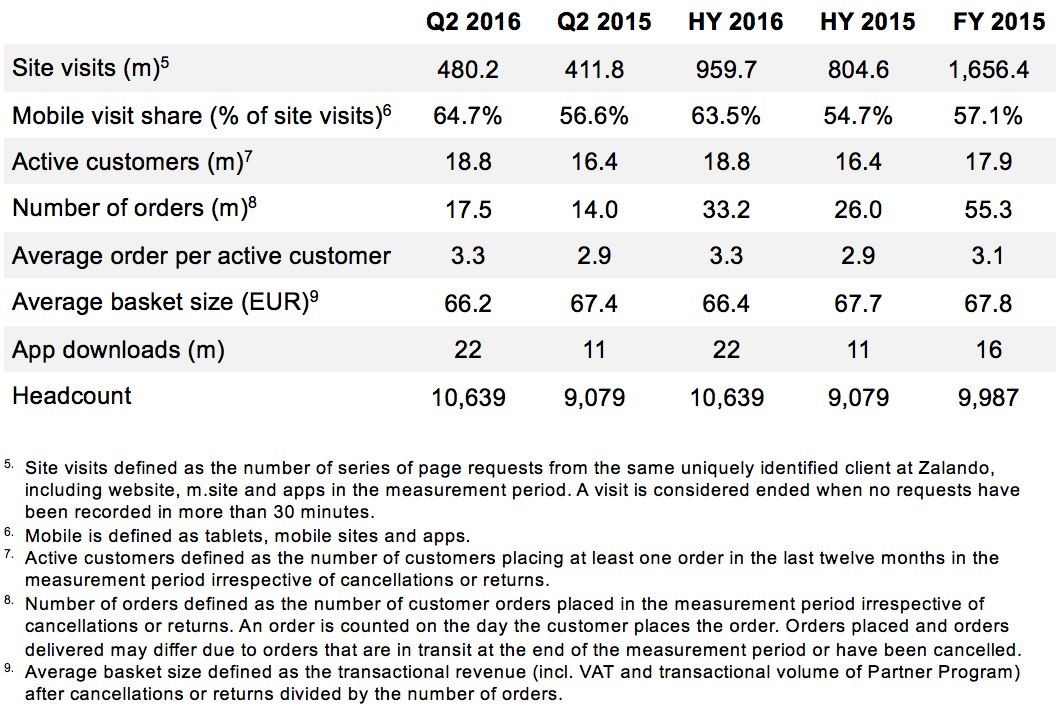 ABOUT ZALANDO
Zalando (https://corporate.zalando.com) is Europe's leading online fashion platform for women, men and children. We offer our customers a one-stop, convenient shopping experience with an extensive selection of fashion articles including shoes, apparel and accessories, with free delivery and returns. Our assortment of over 1,500 international brands ranges from popular global brands, fast fashion and local brands, and is complemented by our private label products. Our localized offering addresses the distinct preferences of our customers in each of the 15 European markets we serve: Austria, Belgium, Denmark, Finland, France, Germany, Italy, Luxembourg, the Netherlands, Norway, Spain, Sweden, Switzerland, Poland and the United Kingdom. Our logistics network with three centrally located fulfillment centers in Germany allows us to efficiently serve our customers throughout Europe. We believe that our integration of fashion, operations and online technology give us the capability to deliver a compelling value proposition to both our customers and fashion brand partners. Zalando's shops attract over 160 million visits per month. In the second quarter of 2016, around 65 per cent of traffic came from mobile devices, resulting in 18.8 million active customers by the end of the quarter.