Zalando Marketing Services: Brand Partner Study 2020
Want to know how fashion brands are shaking up their marketing strategies to adapt to digital acceleration? Zalando Marketing Services (ZMS) conducted a recent study revealing how brands plan to redefine their marketing and commercial strategies. 
It's been a particularly challenging year for many in the industry. The impact of the Coronavirus created serious challenges for many companies and was also a clear catalyst in the acceleration of digitalization in fashion. We were impressed to learn that 95% of our partners expect a further accelerated digitalization in the next 3 years. The aim of this study by ZMS is to collect findings about the concrete impact of ongoing digitalization and share aggregated insights with you about how brands plan to shake up their strategies. We analyzed partner feedback on different aspects of digitalization, from the evolution of sales channels and marketing priorities, to succeeding in data and content, and establishing the right skill sets and organizational prerequisites. 
Thank you for your valuable feedback!
We want to say a huge thank you to the 118 partners who answered our survey and especially to the 26 brand leaders and experts who took part in the deep-dive interviews, we are grateful for your time and insights!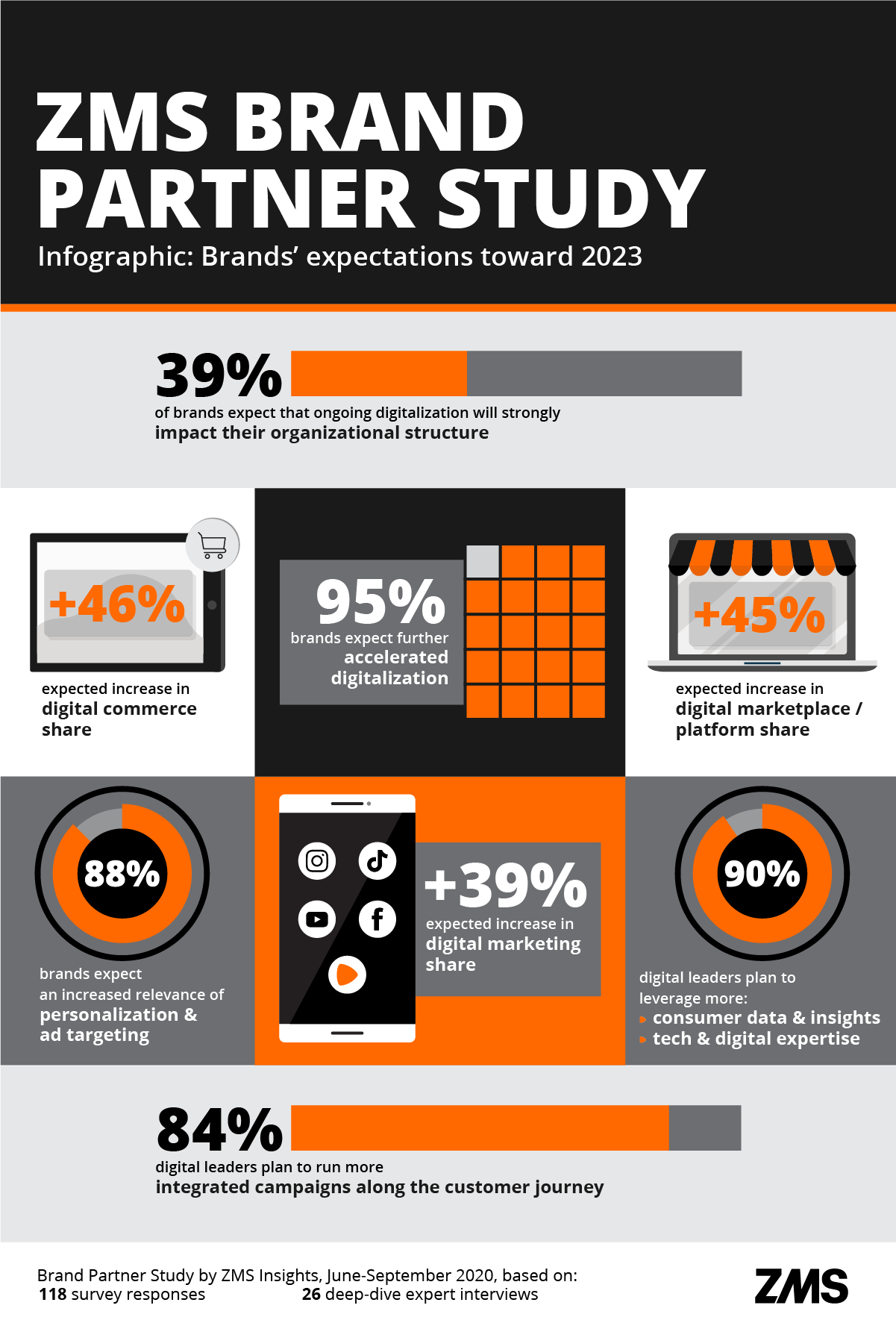 Key insights from the study
1. The future of online retail is platform-driven and seamlessly connected with offline
Brands expect digital sales to soon overtake offline, with 57% digital sales share estimated for 2023. Brands are reinforcing their own e-com while platform business is accelerating, with marketplace business expected to rise by +45% by 2023. Our partners' brick and mortar presence will certainly not disappear, but its role will be redefined, with the ultimate goal of better integrated omnichannel strategies. With the significant growth of marketplace business, brands are having to take a much more 'active' role, with stronger end-to-end responsibility, from product planning to post purchase. 
2. Competing only at product-level isn't enough: focus on brand impact and creating unique experiences
With the digital share of marketing spend sharply rising to an average of 64% by 2023, brands are evaluating their future marketing strategies. While a solid performance marketing foundation is seen as a must to compete and outpace peer brands, digital leaders and larger fashion brands go beyond these "quick wins" and highlight branding measures as long-term success drivers. Experts highlight the need for clear and compelling brand stories to drive deep engagement and loyalty. 89% of digital leaders plan to both increase performance and branding focused activities by 2023.
3. The funnel is not linear, but rather a flywheel with interconnected touchpoints
As consumer touchpoints are way more interconnected in the digital space than in offline media, brands have to feed inspiration and storytelling across all touchpoints within the customer-centric flywheel, to keep consumers engaged at all stages. Digital leaders are more focused on campaigns along the whole user journey compared to digital novices, and 84% of digital leaders aim to run more integrated campaigns in the future. Study participants also highlighted the need for content targeted to specific audiences and channels and the need to continuously test and learn to evaluate which content resonates with shoppers. 
4. In the fast-paced digital world, data and insights are key to pivoting strategies

The rise of digital sales and marketing channels goes hand in hand with a dramatically increasing amounts of data and measurable KPIs. 86% of you plan to increase leveraging data and insights. Based on the expert feedback it became clear that brands must quickly move from the age of data collection to the age of data interpretation and integration, to be able to identify the truly game-changing insights within the large chunks of data. Another success factor is seen in effectively activating data for personalization and marketing, as personalized experiences will outpace generic consumer touchpoints. 
5. Internal organizational silos will block collaboration toward customer-centric goals
The numerous reorganizations we see today in the fashion industry may be just the tip of the iceberg. 39% of our partners expect that digitalization will have a strong impact on their overall organizational structure. But there will be no "one-size-fits-all" structure, due to the big variety of business models and organizational setups fashion companies are operating in. Cross-functional collaboration needs to be enabled. Especially sales and marketing teams need to closely collaborate, break silo structures and work on joint objectives. Accelerated digitalization requires new skill sets. Expertise in data, digital marketing and platform business are non-negotiable to success in times of change.