The ABC of ZMS: How Zalando Marketing Services (ZMS) works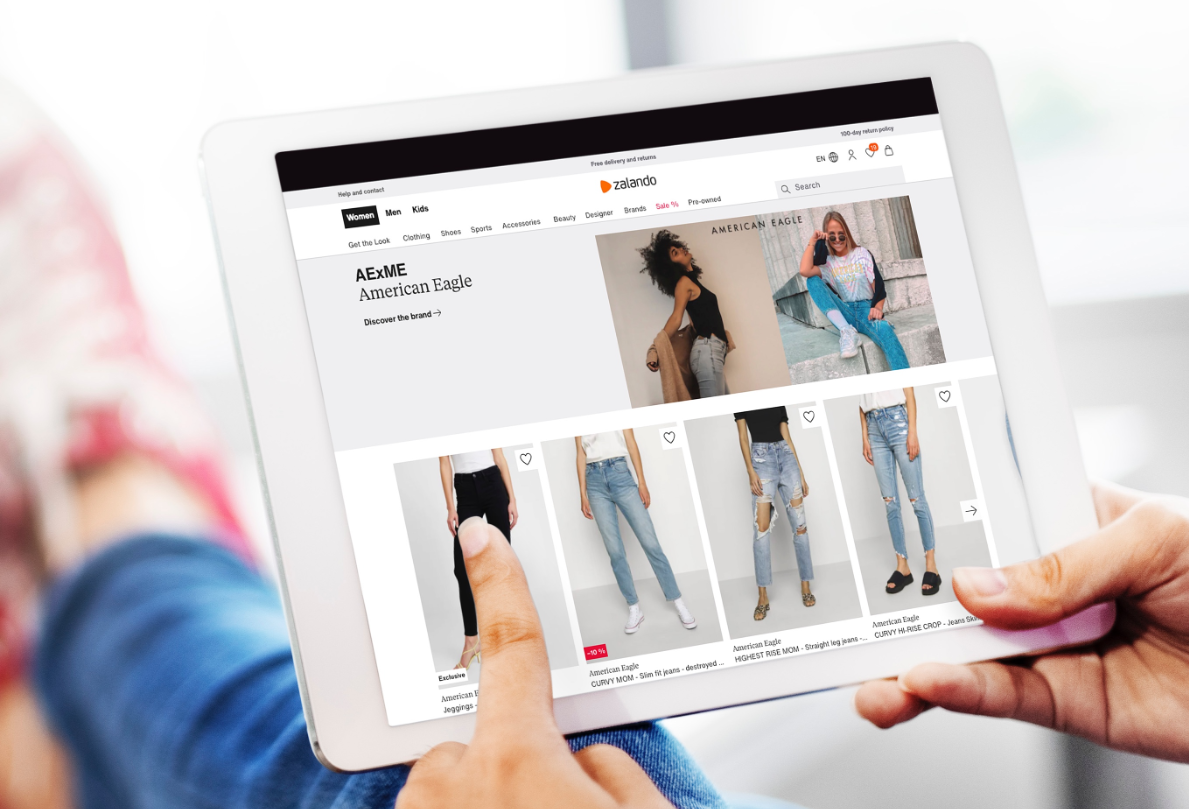 Helping brands boost their sales and brand impact: ZMS is the 360° marketing solution for Zalando's brand partners, connecting brands to consumers and enabling you to maximize your impact on Zalando
Developing a truly customer-centric approach requires brands to foster meaningful relationships with their customers – anticipating their needs, gaining deep insights into their behavior, and providing them with the content and inspiration they want to see. ZMS offers brand partners powerful marketing solutions so that they can differentiate their brand, target their marketing strategy in a data-driven way, and connect meaningfully with their customer base. 
ZMS is currently helping more than >1,600 brand partners to drive sales, boost brand impact, and celebrate product drops on Zalando and beyond. In addition to what you can find on the dedicated service page, we'd like to share some insights into how ZMS works. 
ZMS offers unique access to Zalando's expansive consumer base, and data across all Zalando markets, representing Europe's largest fashion audience with more than >7bn site visits per year. Building meaningful relationships begins with access to customers through campaigns, where our Marketing specialists help brands from creative brief through execution, and amplification. We then give brands access to customer data, so that they have the full 360° degree view. Marketing specialists run campaigns for brand partners across multiple touchpoints, creating inspiring content and providing brands with in-depth consumer insights – truly connecting brands to their customers.
ZMS always focuses on the specific objectives of its partners, meaning that campaigns are highly tailored towards a brand's individual needs. 
ZMS offers different campaign setups for the individual marketing and sales goals of Zalando's brand partners – from increasing brand awareness to driving sales on specific products. The following are the three most typical use cases partners tend to approach ZMS with.
With ZMS, you benefit from our unique access to Europe's largest online fashion audience, increasing growth and recognition for your brand."
1. Driving awareness and telling your brand story
Often when a new brand signs with Zalando, they have questions on how to expand their customer base on the platform. This is where we support brands in creating meaningful campaigns that connect them to the right customers on Zalando. ZMS enables you to raise brand awareness, enter new markets, and connect to new target groups. 
2. Boosting sell-through on your products and collections
A typical use case for Zalando brand partners is increasing sales for specific collections and product ranges - or you can easily make use of our automated machine learning approach to drive sales across your whole product range in order to achieve an optimum return on ad spend. When launching a new product drop or unique item, brands want to ensure that the hard work they've put into creating a new line or article is reflected in the impact it has on Zalando. This is where ZMS can support you in specifically targeting sales performance on the articles or collections that you want to have amplified. A typical way in which ZMS does this is through Sponsored Products. In the image to the right, you can see a Sponsored Product on Zalando.
3. Integrated campaigns driving both brand and sales impact
When it comes to changing the perception of your brand, ZMS enables you to run integrated branding and performance campaigns. The objectives of such campaigns vary from partner to partner and are tailored to reflect each brand's unique requirements. ZMS campaigns offer brand partners high reach to build product awareness in combination with performance measures to drive sell-through. 
We take a data-inspired approach to marketing. 
First we want to understand what your brand story is, so that the campaigns we work on together truly reflect your brand's DNA.

Based on this information, the campaign and media strategies are developed.

We then define what kind of assets you'll need - do you need us to create content for you, or do you already have marketing assets already? If we are creating content, what should this look like, and what formats do you want to explore? Read on to learn more about how our creative teams at Zalando approach this.

Then to round off the project, we put a strong focus on success management, analysing the campaign with data insights. We enable you to track the impact of your campaign, while also making data-driven analysis available to brands on a regular basis, so you can understand and track customer developments.
Data-inspired Content Creation: Tailored content based on your brand's DNA
Content comes in many different shapes and sizes. While some brands decide to focus on the impact their existing content can have on Zalando when supported by ZMS, others leverage our expertise to create completely new content. When working with ZMS, brands can benefit from a full creative service featuring campaign strategy, ideation, talent sourcing, creation, production and influencer amplification to generate inspiring image and video content for campaigns on Zalando, as well as on further digital and offline channels. For example, brands can source and distribute authentic content produced by the most inspiring influencers, leveraging access to more than 500,000 influencer profiles and 500 million engaged followers across Europe. 
To make sure the concepts resonate with your specific target audience, ZMS always analyses brand specific consumer insight first. By doing so, ZMS is able to create data-infused ideas and content that match your brand DNA, and drive your marketing goals on Zalando. 
Impactful Campaigns: Leveraging Zalando data to inspire and mobilize customers
Whether you decide to co-create content with ZMS, or you have your own marketing assets, ZMS enables you to run campaigns across multiple touchpoints – including the Zalando app and website, Zalando social channels, and across the web. This way, ZMS ensures a fully integrated media approach for brand partners, and a seamless campaign experience for customers. ZMS combines data-driven tech capabilities and data science know-how with extensive media planning expertise to reach your target audience as efficiently as possible based on tailored media plans. Depending on the goals and target group, ZMS also takes further activities and channels into account, including event concepts, PR, Out of Home and Guerilla marketing, and Addressable TV.
Want to see more? Take a look at the ZMS digital media portfolio. 
Success management: compare your performance against competitor peer groups
The final step in the ZMS holistic marketing strategy is success management, which is actually a two step process. Directly after your campaign, we go through reporting with brand partners to assess the impact of the specific campaign and analyze the results together in depth. The second step is more long-term, and uses our ZMS Insights tool. ZMS Insights is a tool which partners can log into to analyze their success and key metrics on Zalando at any time.
Reporting and optimization
ZMS constantly optimizes campaign performance, providing brand partners with granular campaign reports which include key KPIs such as sales performance on Zalando (items sold, cost per sold item, return on ad spend), channel specific media KPIs, performance of creative assets, branding KPIs (e.g. from awareness to brand perception) and share of voice analysis on social channels. This enables meaningful exploration of the motivations and mindset of your target groups, giving you a 360° approach to your marketing initiatives on Zalando.
How to get started: Get in touch with the ZMS Partner Consultancy
In order to choose the marketing approach that works best for you, we recommend you to get in touch with the ZMS Partner Consultancy team. You can create a customized marketing offering with us that is tailored to your needs: zms@zalando.de