Connected Retail
Connected Retail integrates your physical stores with Zalando to solve the issue of lost transactions due to sold out items – never miss a sale! We forward these transactions to your store to fulfill them - you collect the corresponding revenues and profits.
The recent lockdown of stores has cut retailers and brands in several countries off from demand. For retailers and brands who have physical stores and want to keep trading, we have developed a dedicated Connected Retail offering in Germany and the Netherlands that starts on April 1 and remains valid until May 31 at least: 

No commission - We will waive commission for all new and existing Connected Retail partners to strengthen them against the risk of financial loss.

Fast payments - We will pay out Connected Retail revenues to partners on a weekly basis to help with their liquidity situation. 

Find the full details on the offering, and how to be part of this program, here.
How it works
This is how your products get from your store to the customer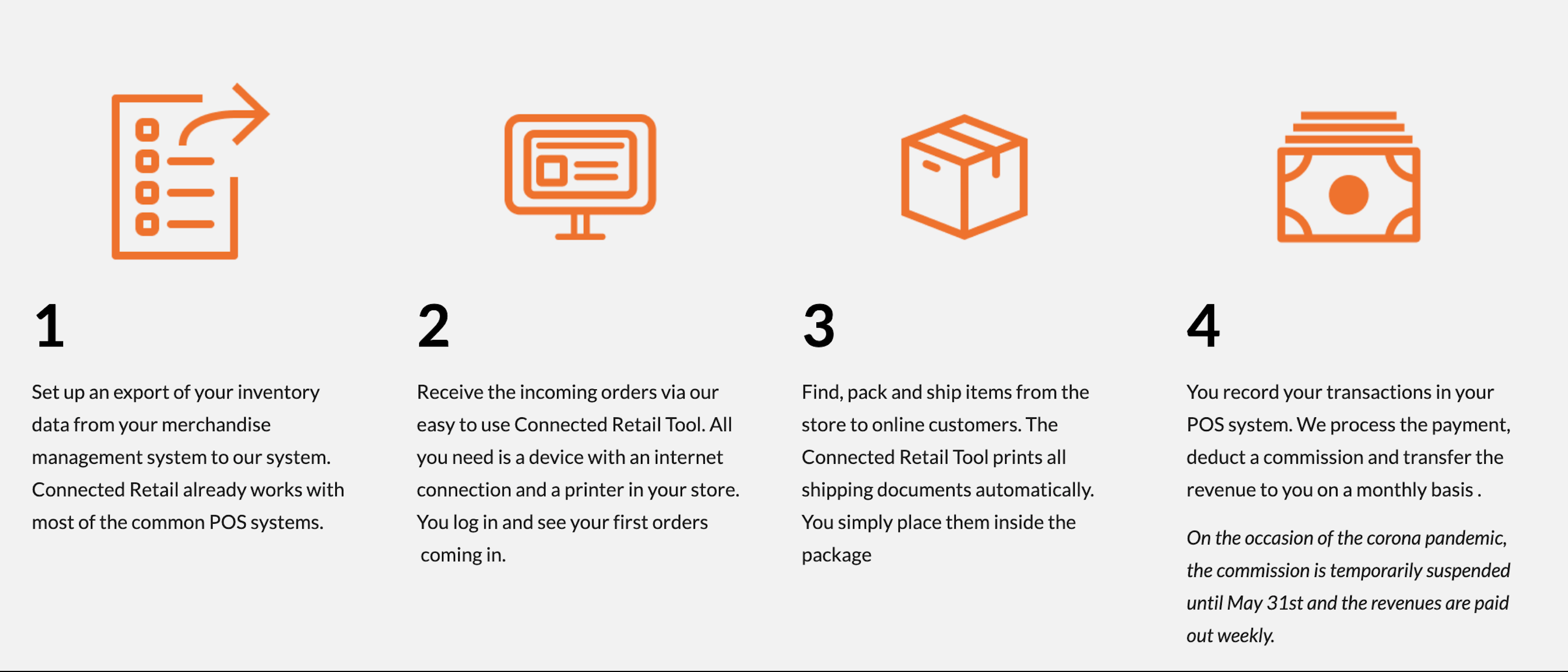 Benefits for partners
30 – 60% increase in GMV

< 60% increase in store revenue per sqm

< 100% increase in stock turnover
Profit from our risk-free model, as no upfront investments are required and all costs are variable

Be in full control of article prices at all times

Increase in sales per square meter is independent of foot traffic
Key figures
2
countries live (Germany and The Netherlands) + further internationalization planned
We do not see Zalando as a competitor or even an enemy but as someone who helps us to sell more. Marketplaces are part of our future strategy. After all there is something like a loss of footfall in stationary trading."

Nicole Kaelber Managing Director, Intersport Schrey
Our expectations were already exceeded in the first days of the cooperation. The software for day-to-day business is very easy to use and enables all employees to process all orders promptly. We are pleased to be part of this exciting new business field for us."

Alexander Wiehl Retail Controlling, Drykorn
Future Outlook
Going forward, we will offer click-and-collect and return-in-store functionalities to our more than 29 million customers – a major cross-selling opportunity for the store. Furthermore, we are planning to offer same/next day deliveries from stores – giving stores access to an even larger order pool.
Add-on services
Within Connected Retail, partners can leverage our add-on services in marketing. 

We are ready when you are.