Zalando Remixes Fashion with A$AP Rocky
BERLIN, FEBRUARY 20, 2017 // Zalando invites everyone to the A$AP Hotel to remix their favourite fashion brands for Spring/Summer 2017. With its 'Remix Fashion' campaign, the new season is all about mixing it up, from high street to high end. In a surreal hotel setting, A$AP Rocky and his Mob switch things up and the four female guests remix their wardrobe during their stay at the A$AP Hotel.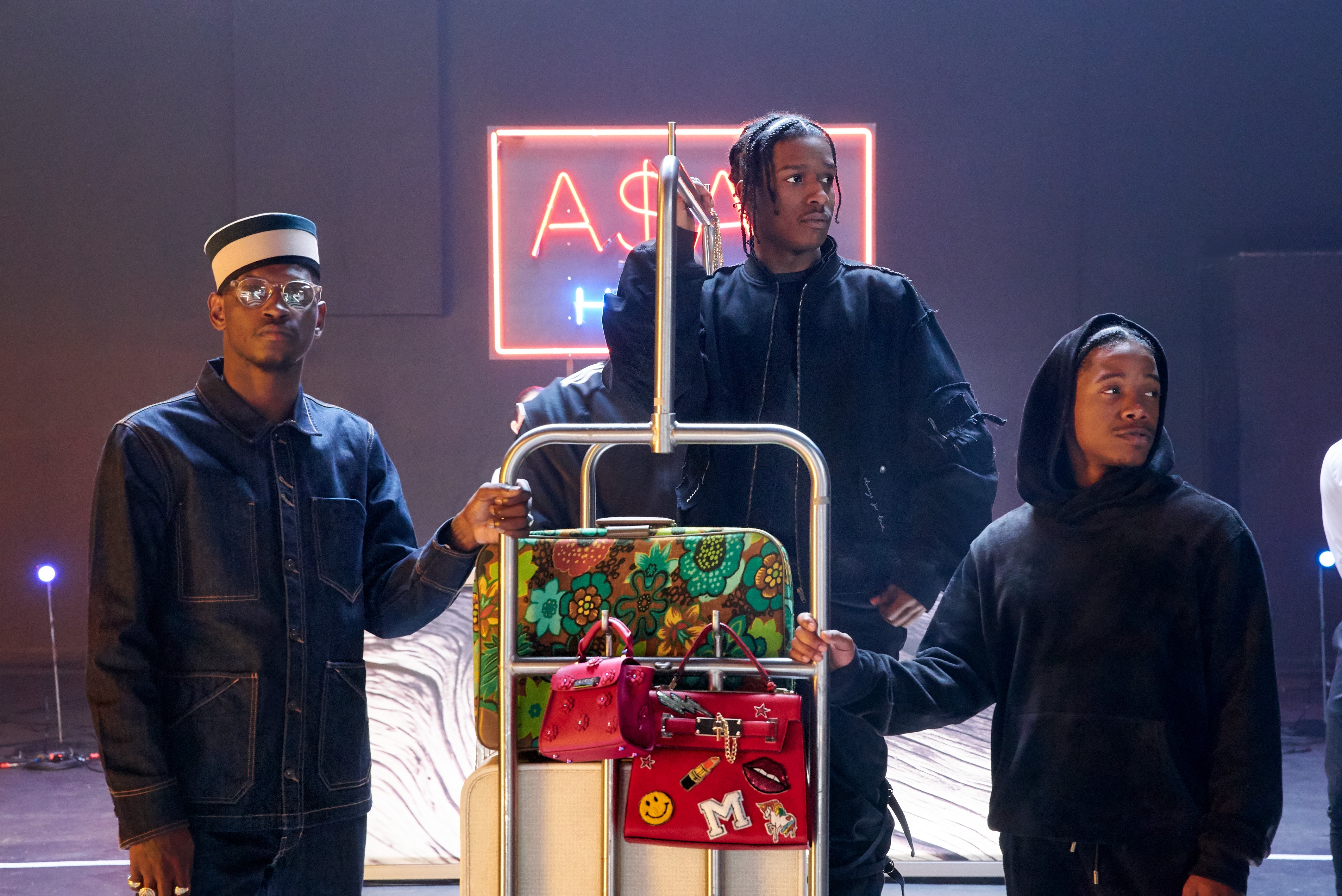 Named as one of fashion's most influential faces by Business of Fashion, Highsnobiety and Complex, A$AP Rocky gives an unexpected twist to 'Remix Fashion', inspiring four top models to mix high and low brands. In the clip, a mixture of a music video and a fashion film, A$AP Rocky resides at the hotel where he and his Mob mix up the guests' suitcases. Upon their arrival, the female guests receive a room based on their individual style, where they discover that their suitcases have been switched. Known for mixing street and luxe, A$AP encourages the women to express their style by combining different looks. A$AP's tunes are playing in the background as he orchestrates the style mix from his master suite and gives centre stage to the women to remix their fashion.

The four female personalities - Jourdan Dunn, Andreea Diaconu, Kris Gottschalk and Julia Nobis - are confident, and not afraid to push their style boundaries to express their personality. Each of the women has a different style upon arriving at the A$AP Hotel, impeccably dressed in the latest looks from Zalando. A$AP, who is known for his street luxe style, empowers the four talents to create looks without limits and remix their spring style with top brands for any budget.  

"We are very excited to continue our collaboration with A$AP Rocky following his performance at Bread&Butter in Berlin. 'Remix Fashion' is all about encouraging women to dare to mix high and low, brought to life by A$AP and the four female talents. With this music-meets-fashion film, we bring something new and unexpected to our customers to inspire them.'' says Carsten Hendrich, VP Brand Marketing Zalando.

The 'Remix Fashion' campaign film was shot in Los Angeles by New York-based director Gordon von Steiner. The moving image is the editorial centrepiece of the digital campaign and is further translated into print, Out of Home and Zalando-owned channels. The Remix Fashion SS17 campaign went live on 19th February 2017 and can be found here: www.zalando.com/remix-fashion/
#zalandostyle
NOTES TO EDITORS
CAMPAIGN FILM
Concept Zalando
Creative Direction Zalando
Artist and Creative Consultant: Rakim Mayers p/k/a A$AP ROCKY
Film Director: Gordon von Steiner
D.O.P.: Todd Banhazi
Styling: Karen Langley
Hair Stylist: Tomo Jidai
Make Up Artist: Gucci Westman
Models: Andreea Diaconu, Jourdan Dunn, Kris Gottschalk, Julia Nobis
Production: Bakery Films
Post Production: Dtouch NYC / SLGH

STILL IMAGES
Photographer: Kai Z Feng
Creative Direction: Zalando
Interviews: Jeryl Brunner
Styling: Karen Langley
Hair Stylist: Tomo Jidai
Make Up Artist: Gucci Westman
Model: Andreea Diaconu, Jourdan Dunn, Kris Gottschalk, Julia Nobis

MUSIC
Name: A$AP Mob - Yamborghini High ft Juicy J (non explicit version)
© A$AP Rocky Publishing LLC / Fergenstein Music / Sony/ATV Songs LLC /…
Subpublisher: Sony/ATV Music Publishing (Germany) GmbH
Country of Creation: USA
 
ABOUT ZALANDO
Zalando (https://corporate.zalando.com) is Europe's leading online fashion platform for women, men and children. We offer our customers a one-stop, convenient shopping experience with an extensive selection of fashion articles including shoes, apparel and accessories, with free delivery and returns. Our assortment of over 1,500 international brands ranges from popular global brands, fast fashion and local brands, and is complemented by our private label products. Our localized offering addresses the distinct preferences of our customers in each of the 15 European markets we serve: Austria, Belgium, Denmark, Finland, France, Germany, Italy, Luxembourg, the Netherlands, Norway, Spain, Sweden, Switzerland, Poland and the United Kingdom. Our logistics network with three centrally located fulfilment centres in Germany allows us to efficiently serve our customers throughout Europe. We believe that our integration of fashion, operations and online technology give us the capability to deliver a compelling value proposition to both our customers and fashion brand partners. Zalando's shops attract over 160 million visits per month. In the second quarter of 2016, around 65 per cent of traffic came from mobile devices, resulting in 18.8 million active customers by the end of the quarter.

ABOUT A$AP ROCKY
Rakim Mayers, better known as A$AP Rocky, is an American rapper, record producer, director, actor and model from Harlem, New York. He is also a member of the hip hop collective A$AP Mob.

A$AP Rocky's recent critically acclaimed sophomore studio album, At.Long.Last.A$AP [A$AP Worldwide/Polo Grounds Music/RCA Records] earned the charismatic MC his second #1 album debut on the Billboard 200, R&B Hip Hop and Rap charts. With the album peaking at #1 on iTunes in over 31 countries upon its surprise May 26th 2015 release, A$AP Rocky also claimed the #1 position on Spotify's Top Album and Top Artist Worldwide charts.

Throughout his career A$AP Rocky has collaborated with multiple artists including Drake, Rihanna, Kendrick Lamar, and Usher after exploding onto the scene with his debut mixtape Live.Love.A$AP, along with various award nominations and accolades from the like of the Grammy's, MTV and BET.

In October 2016, A$AP Mob launched their long-awaited new album Cozy Tapes Vol. 1, which includes Yamborghini High, the song which is also used in Zalando's fashion meets music film.

A$AP Rocky is currently working on a new album which will be released in 2017 .

CONTACT ZALANDO
Jolanda Smit / Global Head of Brand Comms and PR
jolanda.smit@zalando.de
+49 176 127 59 223