Zalando Delivers on Profitable Growth
Strong sales growth continues: revenues up 23.1% to EUR 980.2 million
Adjusted EBIT at prior year level: EUR 20.3 million
Full-year guidance confirmed
BERLIN, MAY 9, 2017 // In the first quarter of 2017 Zalando continued to outperform the European fashion e-commerce market and grew revenues strongly by 23.1% to EUR 980.2 million (Q1 2016: EUR 796.1 million). Adjusted EBIT remained on prior year levels at EUR 20.3 million (Q1 2016: EUR 20.2 million) with a margin of 2.1% (Q1 2016: 2.5%). Zalando confirms its full-year guidance of revenue growth in a range of 20-25% and an adjusted EBIT margin in the range of 5.0-6.0%.
"Our key priority is profitable growth, and that is what we delivered on in the first quarter," said co-CEO Rubin Ritter. "We are determined to win further market share and reach more customers across Europe. That is why we will continue investing in the consumer experience, our technology and logistics infrastructure, as well as our brand partner proposition."
Zalando surpassed 20 million active customers at the end of the first quarter 2017. The high customer base ordered more often, reflecting a more loyal shopping behavior, triggered also by an increasing use of mobile devices. This translated into continued strong growth in both the DACH and Rest of Europe segments, with a similar growth rate as in the prior year, despite increased scale. Zalando grew revenues in the DACH region by 17.0% to EUR 475.0 million (Q1 2016: EUR 405.8 million) and by 28.0% to EUR 428.3 million in the Rest of Europe segment (Q1 2016: EUR 334.5 million). The strong growth rate was also supported by prominent marketing campaigns such as the "Man Box campaign" with US actor James Franco and the addition of further highly fashionable brands such as Oysho.
Zalando continued to push forward strategic investments into its infrastructure as well as customer and brand proposition. Examples include the ramp-up of new fulfillment centers and investments such as same day delivery and instant returns to enhance Zalando's customer experience. The resulting increase in fulfillment costs and a small decrease in gross margin were mostly offset by more efficient marketing activities, benefitting from a strong brand awareness and loyal customer base.
Capital expenditure in the first quarter of 2017 was at EUR 78 million, excluding M&A, reflecting investments primarily into infrastructure and in-house developed software. Zalando aims for about EUR 200 million in capital expenditure in 2017, excluding M&A.
Zalando's quarterly statement is available online. The earnings presentation for analysts and investors is available on the Zalando Investor Relations website. Zalando will report results for the second quarter 2017 on August 10, 2017, and publish a trading update prior to that. The publication date of the trading update will be announced in due time.
Zalando Group – Key figures (in EUR million)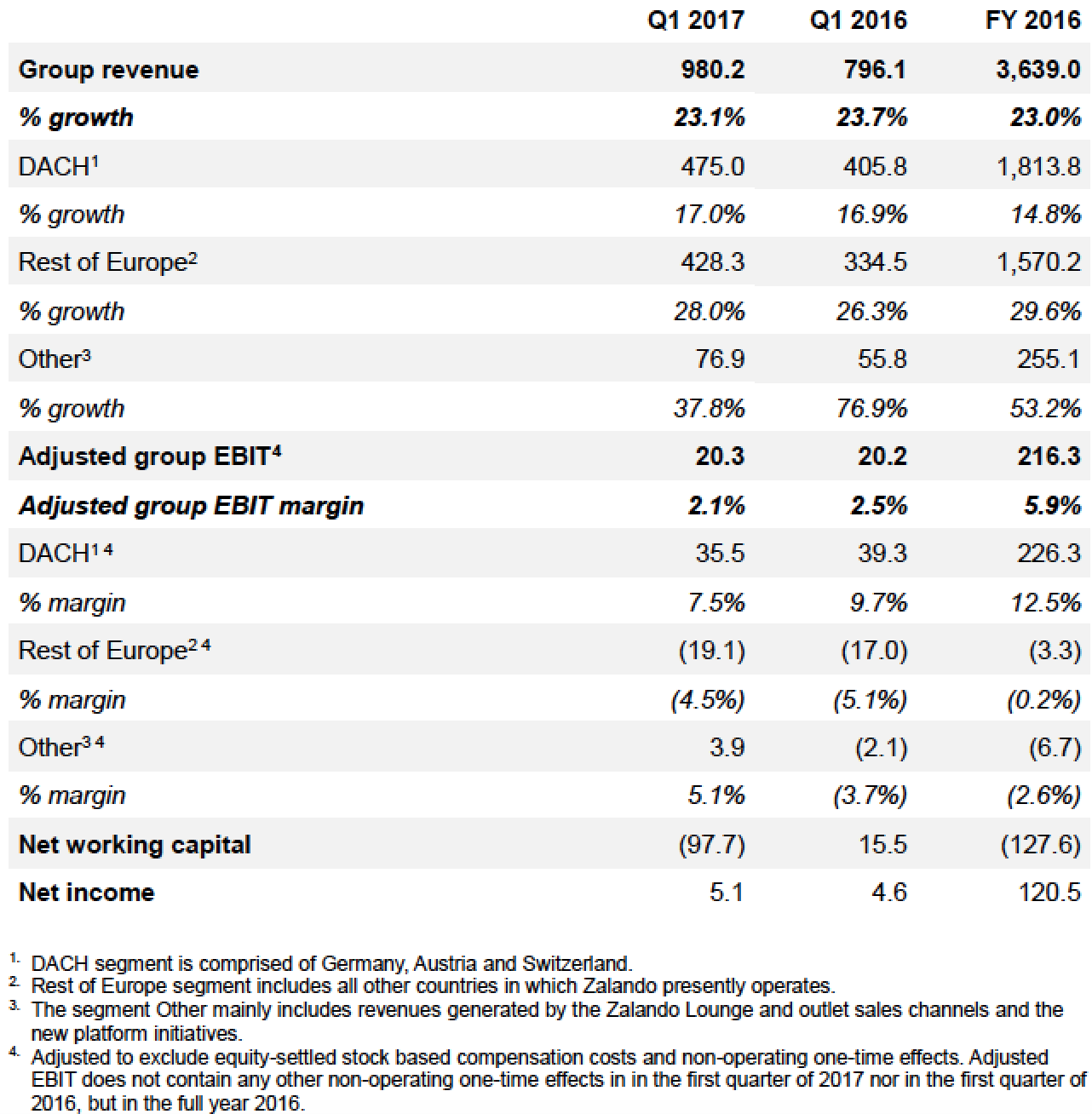 Zalando Group – Key performance indicators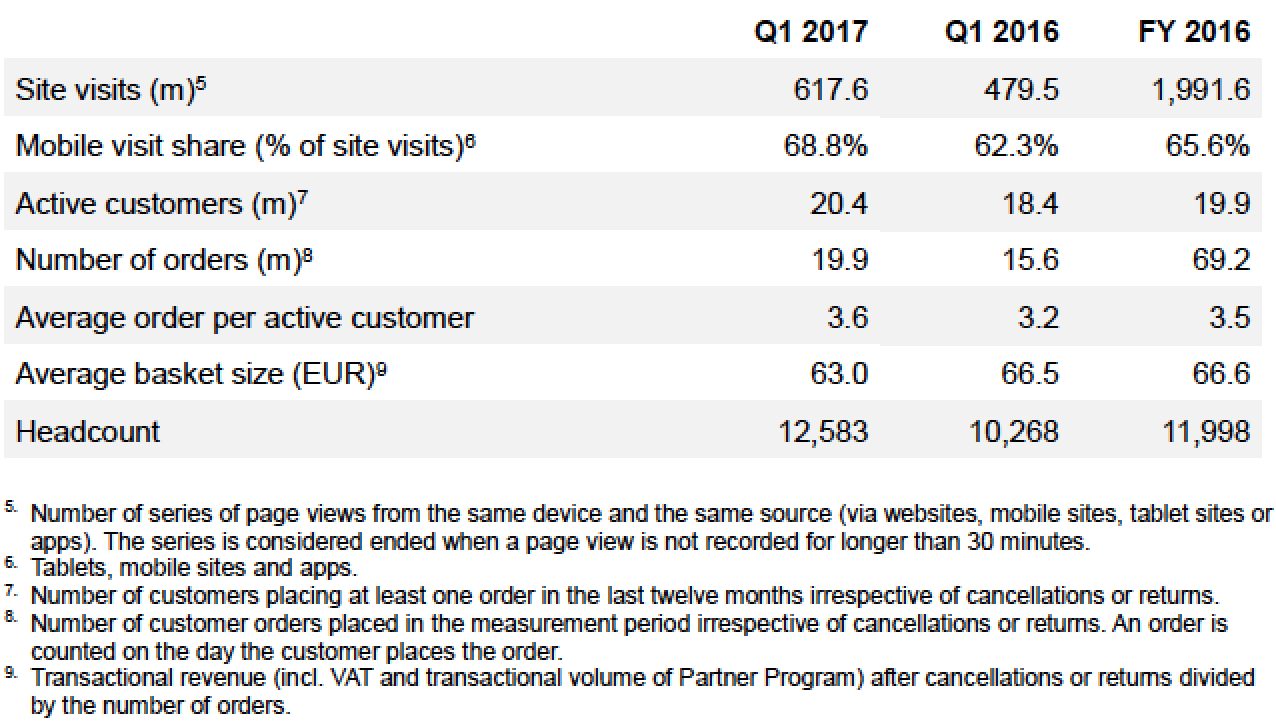 ABOUT ZALANDO
Zalando (https://corporate.zalando.com) is Europe's leading online fashion platform for women, men and children. We offer our customers a one-stop, convenient shopping experience with an extensive selection of fashion articles including shoes, apparel and accessories, with free delivery and returns. Our assortment of over 1,500 international brands ranges from popular global brands, fast fashion and local brands, and is complemented by our private label products. Our localized offering addresses the distinct preferences of our customers in each of the 15 European markets we serve: Austria, Belgium, Denmark, Finland, France, Germany, Italy, Luxembourg, the Netherlands, Norway, Spain, Sweden, Switzerland, Poland and the United Kingdom. Our logistics network with four centrally located fulfillment centers in Germany allows us to efficiently serve our customers throughout Europe, supported by warehouses in Northern Italy and France with a focus on local customer needs. We believe that our integration of fashion, operations and online technology give us the capability to deliver a compelling value proposition to both our customers and fashion brand partners. Zalando's shops attract over 200 million visits per month. In the first quarter of 2017, more than 68 percent of traffic came from mobile devices, resulting in 20.4 million active customers by the end of the quarter.
CONTACT ZALANDO
René Gribnitz / Vice President Communications
rene.gribnitz@zalando.de
Alexander Styles / Financial Communications
alexander.styles@zalando.de
+49 30 20968 2022