Cyber Week 2020: 1 million new customers on Zalando!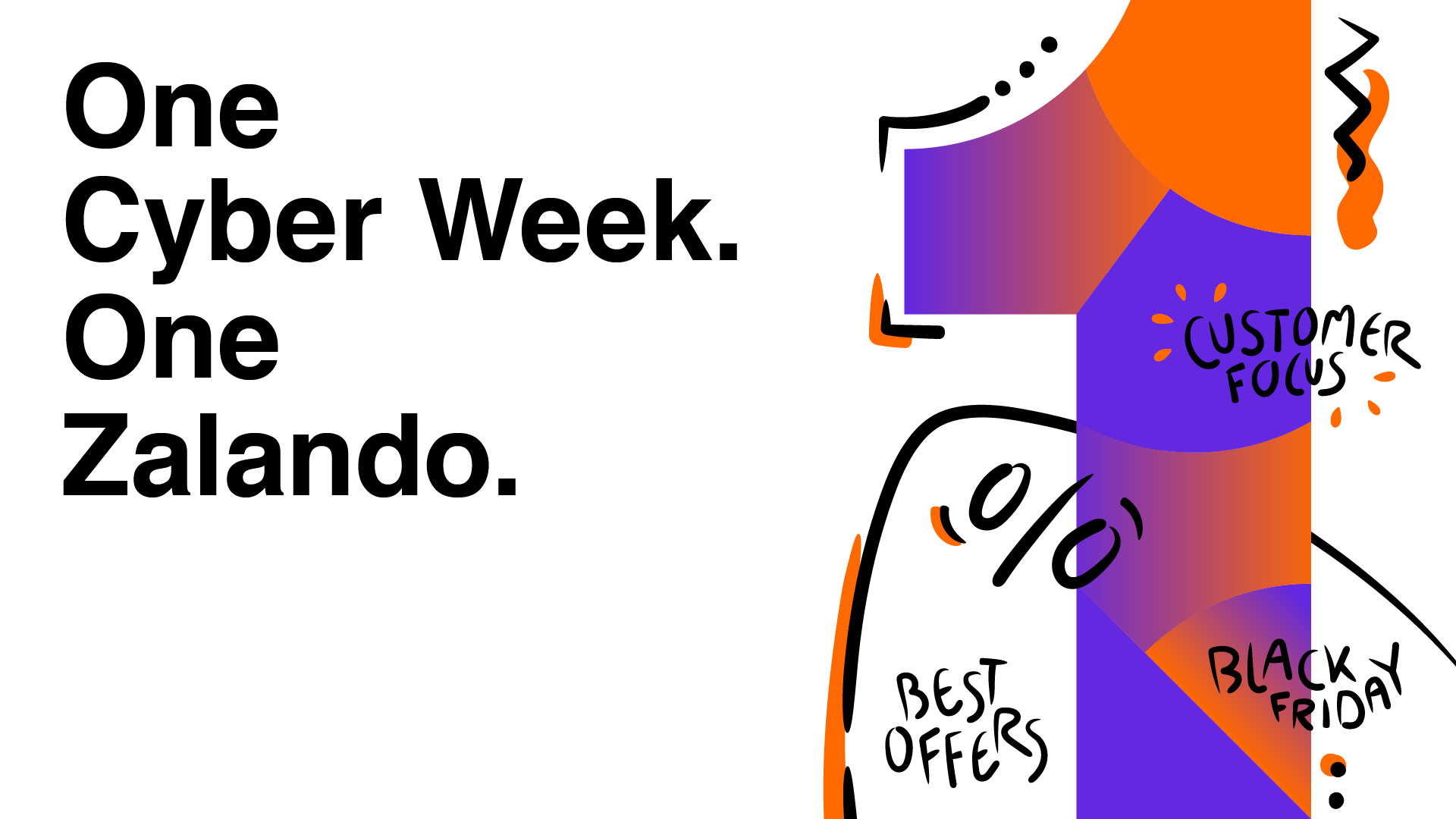 Since Zalando started participating in Cyber Week 6 years ago, we've seen how great an opportunity this annual sales event can be for exciting and engaging customers, supporting and celebrating our partners, and galvanizing our transition to a platform. 
More than 1 million new customers joined Zalando during Cyber Week
On average 30 percent Partner Program share of GMV
Over 2,300 brick-and-mortar stores participate through Connected Retail
GMV during Cyber Week grew by 35% year-on-year
Cyber Week results 2020
Last year we had our first carbon neutral Cyber Week, and this year's Cyber Week brought with it different opportunities to make an impact in the industry, as well as unique challenges. In a year where stationery retail has been hit hard by the impact of lockdown restrictions, we are delighted to be able to say that over 2,300 brick-and-mortar stores participated in Zalando's Cyber Week via Connected Retail. 
This year asked us to reimagine how we meaningfully connect with customers amid adversity, and how we support our partners in doing what we do best: delighting customers in an increasingly digital fashion landscape. This Cyber Week we acquired a record-breaking number of more than 1 million new customers. Around 7,500 orders were placed per minute at peak times, breaking last year's milestone of 7,200. Having launched Beauty as a category in 2018, it's exciting to see that 4 out of our 15 top performing articles this Cyber Week were actually beauty products! The most purchased articles during Cyber Week were running leggings, reflecting the growing customer trend we've been observing of buying more sportswear.
"Our number one priority for this year's Cyber Week was ensuring the health and safety of our logistics employees while delivering the best customer proposition across assortment, convenience, and engagement," David Schneider, Zalando Co-CEO, comments. "Cyber Week 2020 was another milestone for our platform strategy, as the share of Partner Program increased strongly. With stationary retail especially impacted by lockdowns amid the peak season, we were particularly keen to facilitate the participation of new and existing brick-and-mortar partners via our Connected Retail program. We are looking forward to expanding the program further in 2021."
A year of strong partnerships
This year confirmed to us that collaboration is more important than ever and that we truly are stronger together. The share of GMV generated by partner brands via the Partner Program averaged 30%, an increase compared to 20% in 2019. 2,300 stationary retail partners took part in Zalando's Cyber Week this year via the Connected Retail program, with 250 new stores onboarded during the peak season.
Partner superstars
 
The results are in! We're shouting out some of you who achieved incredible successes this Cyber Week 2020 and connected with customers old and new. 
Zizzi is a Danish plus size womens' textile brand who achieved +166% YoY NMV growth during this year's Cyber Week. Their success comes down to a combination of factors. Firstly, they put out a wide and attractive offer, which was strongly supported by Zalando Fulfillment Solutions (ZFS). Previously Zizzi had been using their own fulfillment set up. This year they moved to a hybrid model and then quickly realized that for them, a purely ZFS driven model is the recipe for success. This has helped them become much more flexible. Speaking of flexibility, Zizzi expanded to Switzerland with ZFS in only 6 weeks, just in time for Cyber Week – a record fast integration – and have pushed this market to #2 in their country mix. In addition, Zizzi also invested in ZMS to ensure they reached the right customers with their products. Well done Zizzi!
What's important for Zizzi is the customer experience and to be readily available where our customers are. ZFS improves the customer experience with mixed baskets, while reducing order lead time and adds convenience for the customer. Moving to a ZFS model has opened us up to more markets and allowed us to grow our business in a profitable way. It's a Win, Win."

Zizzi
Thanks to our close collaboration with Zalando we were able to offer the widest and most relevant assortment through Partner Program, which allowed us to be closer to the consumer than ever before during Cyber week. What a great moment in our partnership!"

VF Digital Team
VF Corporation successfully planned and managed their inbound inventory in advance of Cyber Week to maintain a solid stock situation throughout the event. They also made sure to closely review and benchmark their offer on a daily basis, which ensured a competitive offer throughout the entire event. Ultimately VF Corporation was able to grow YoY by +470% and overachieved on their own Cyber Week target by +30%! Amazing work!
11teamsports recently expanded to two markets on Zalando, increasing their previous monthly sold items by 400% in November. In a close exchange with their Zalando contact, they adjusted their assortments, sharpened their discount rates, and tailored their product offerings to truly meet consumer demands. This led to a groundbreaking success during Cyber Week for 11teamsports. Based on this success, 11teamsports will now expand and internationalize even further. Exciting times!
A holistic approach in cooperative partnership management set the foundation for a Cyber Week that was truly memorable, both in a sales and partnership perspective."

Robin Leichsenring - Director Platforms and Partner Management
Being live in many countries, fueling the turnover with ZMS campaigns and working very closely with Zalando were our keys to this tremendous success for our more than 120 brands we represent in the Zalando ecosystem. We look forward to accelerating our success via ZFS in 2021 by using Zalando's Fulfillment power in all 15 countries ZFS provides for our partners.

heyconnect
heyconnect is a Service Provider enabling brands to connect their stock online and run platform business. In preparation for Cyber Week, certain key brands within heyconnect internationalized, taking full advantage of Zalando's extensive European network of markets. Coupled with a strong ZMS campaign which drove incremental traffic and generous discount rates, heyconnect delivered an impressive +321% increase in YoY sales and exceeded all target expectations. A huge achievement all round! 
* The numbers mentioned above reflect the cumulative Cyber Week results including Black Friday and Cyber Monday for all Zalando markets with the exception of France. In France, the seasonal sales event has been postponed to 1-4 December in compliance with the government request towards online retailers.