Reducing Our Carbon Footprint
Climate change is one of the defining challenges of our time. We want to be part of the solution.
Zalando is committed to reducing its environmental impact as much as possible. We believe that "less bad" isn't good enough anymore. Only net zero will do. That's why, since October 2019, we have been carbon neutral in our own operations, as well as all deliveries and returns. To further reduce our carbon footprint, we have set science-based targets (SBTs) in line with the Paris Agreement and a 1.5 degrees Celsius pathway.
Our Targets
SBTs are a set of goals developed by companies to reduce greenhouse gas emissions and avoid drastic consequences ranging from extreme weather patterns to severe natural catastrophes. They are defined as science-based if they are in line with the scale of reductions required to limit global warming. Our targets are approved by the independent organization, the Science Based Target initiative, which assesses companies' targets and ensures that they are in line with the Paris Agreement.
Zalando commits to reduce scope 1 and 2 greenhouse gas (GHG) emissions by 80 percent by 2025 against a 2017 base year. Zalando commits to increase annual sourcing of renewable electricity from 34 percent in 2017 to 100% by 2025.

Zalando commits to reduce scope 3 GHG emissions from private label products by 40 percent per million euros gross profit by 2025 from a 2018 base year. Zalando also commits that 90 percent of its suppliers (by emissions covering purchased goods and services sold on its platform, packaging and last-mile-delivery partners) will have science-based targets by 2025.
With Science Based Targets, we are taking a stand to do more.

To achieve this we will, for example, power all sites (office buildings and fulfillment centers) with electricity from renewable sources such as solar panels. Additionally, we aim to become 10 percent more energy efficient by retrofitting existing warehouses and will operate all new fulfillment centers in a carbon-neutral way. Private label products will be made from more recycled materials to further help reduce carbon emissions. Finally, to have a positive impact on the entire value chain, 90 percent of our partners, including fashion brands, packaging and last-mile-delivery partners, will implement science-based targets by 2025.
Our Emissions
Included in our own operations are all of our Zalando offices and our own logistics centers, as well as the energy we source for them. These are our scope 1 and 2 emissions, as defined by the Greenhouse Gas Protocol.
Beyond our own operations, and therefore within scope 3, are emissions related to our value chain e.g. logistics centers that are operated by third-party providers, customer deliveries, packaging and our business travel.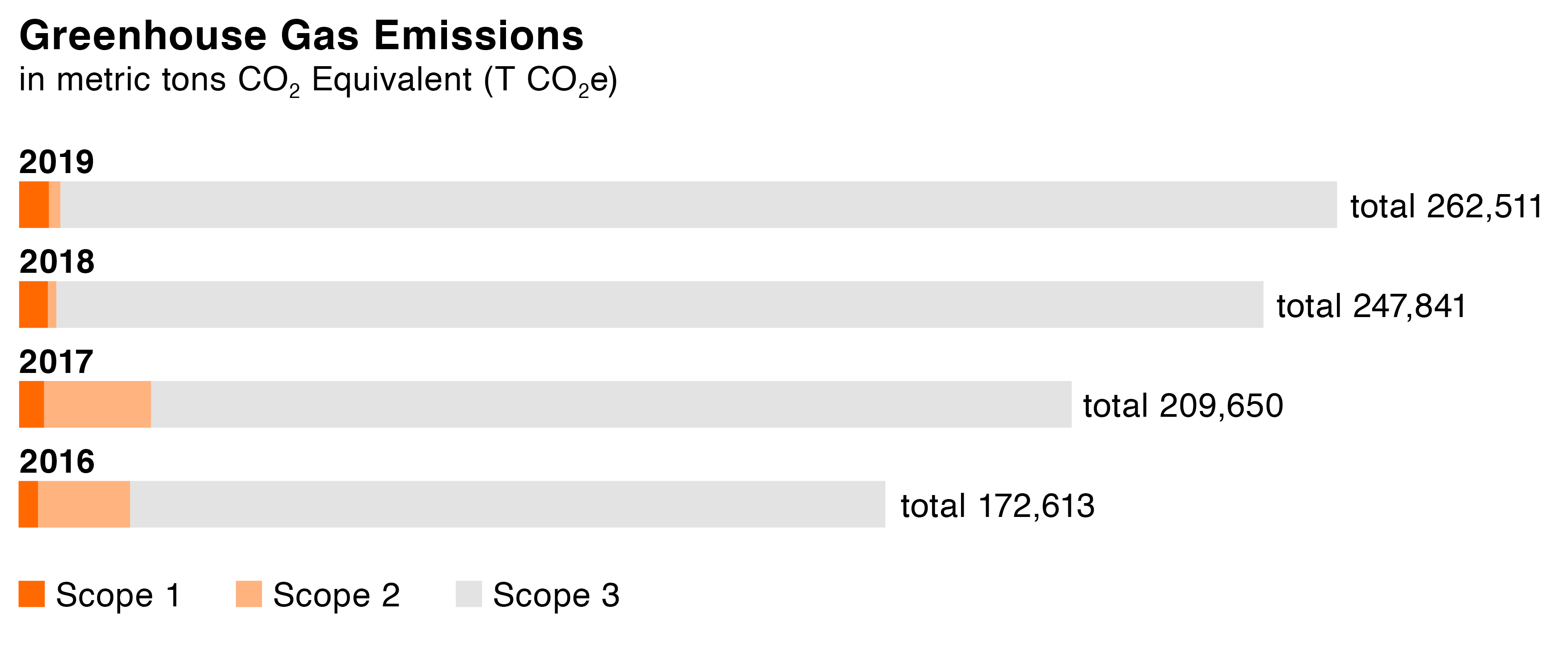 | | | | | |
| --- | --- | --- | --- | --- |
| in metric tons CO2 Equivalent (T CO2e) | 2019 | 2018 | 2017 | 2016 |
| Scope 1 | 5,904 | 5,701 | 4,935 | 3,868 |
| Scope 2 | 2,271 | 1,678 | 21,290 | 18,353 |
| Scope 3 | 254,336 | 240,462 | 183,425 | 150,392 |
| Total (Scope 1, 2, 3) | 262,511 | 247,841 | 209,650 | 172,613 |
Relative metrics, such as emissions per order, help us to track and improve our progress. Since 2017, we have reduced our emissions per order by 29 percent. With the launch of our science-based targets, we have updated our emission calculation to include emissions from the products we sell.