do.MORE – Our Sustainability Strategy
To be a sustainable fashion platform with a net-positive impact for people and the planet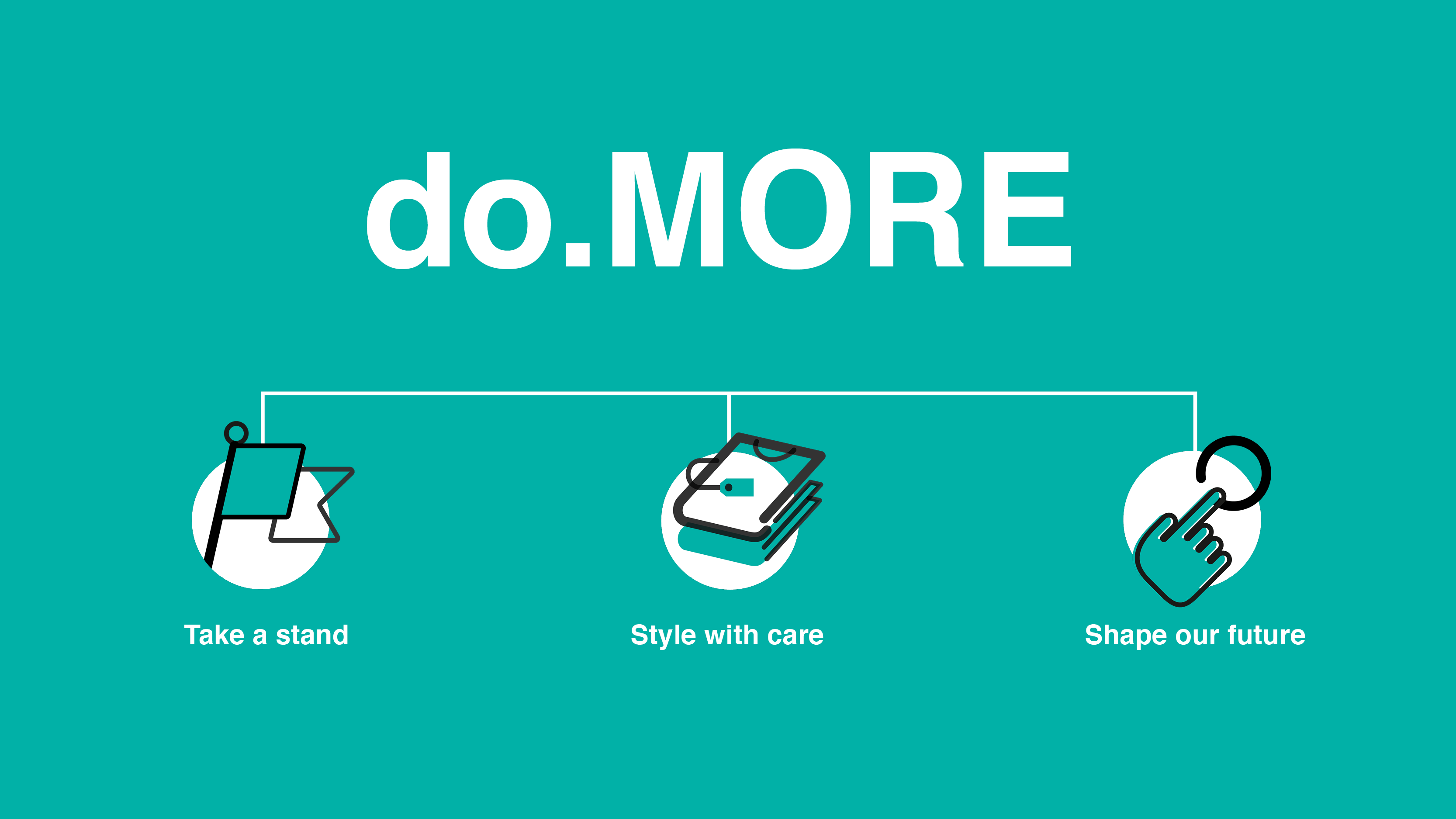 Our bold vision at Zalando is to be a sustainable fashion platform with a net-positive impact for people and the planet. Having a net-positive impact means that we run our business in a way that gives back more to society and the environment than we take. "Less bad" isn't good enough. 

Guided by the following three focus areas, do.MORE is our strategy for positively transforming both Zalando and the wider fashion industry.


We stand by our corporate responsibility throughout the entire supply chain. We raise our standards, take the initiative and work with our partners to solve the most important challenges of our time: climate change, resource use and workers' rights. Because we want to lead by example, we will never ask our customers or partners to do anything we have not already committed ourselves to.
Our Commitments
We have set science-based targets to reduce carbon emissions in line with the Paris Agreement by 2025.

By 2023, we design our packaging to minimize waste and keep materials in use, specifically eliminating single-use plastics.

By 2023, we have continuously increased our ethical standards and only work with partners who align with them.

Our Achievements
Since October 2019, our own business and all deliveries and returns have been climate neutral. 
Today, 90% of the energy across all Zalando locations come from renewable sources or is produced in a CO2-neutral way.

Introducing shipping bags that contain 80% recycled plastic.
 We are also experimenting with different packaging materials and solutions to reduce the amount of packaging and switch to more sustainable materials. One example was our four-week pilot with RePack.
We are part of the Sustainable Apparel Coalition and use their independent tools to assess our ethical standards. Zalando is the first retailer to use the SAC's updated version of the Higg Brand & Retail Module (Higg BRM) to make sustainability assessments mandatory for brands selling on its platform.

Our customers are at the core of everything we do. We know they want to make more sustainable choices but the fashion industry doesn't always make it easy for them. At Zalando, finding and shopping for more sustainable fashion will be clear and simple, ensuring our customers have the inspiration and information they are looking for, all in one place. Through new collections, we'll make sustainability more desirable than ever.
Our Commitments
By 2023, we generate 20% of our GMV (Gross Merchandise Volume) with more sustainable products.
Our Achievements
Launching the sustainability flag in our Fashion Store to help customers find more sustainable items, and tripling our more sustainable fashion assortment between 2017 and 2019.

Customers can find more sustainable fashion from more than 650 brands at Zalando. With more than 60,000 items, our assortment is one of the largest in Europe.

Our private label Zign will be fully dedicated to sustainability by summer 2020 and we already released a first capsule collection in 2019.


Unsustainable consumption is stretching our planet's resources to their limits. It's time for a radical rethink. Thus, together with our partners from the entire industry, we'll innovate, explore the latest technologies and use our pioneering spirit to shape a more circular fashion industry and make sure the workforce has the skills to thrive in a rapidly changing world.
Our Commitments
By 2023, we apply the principles of circularity and extend the life of at least 50 million fashion products.
By 2023, we have supported 10,000 people in the workforce by providing skilling opportunities that match future work requirements.
Our Achievements
We're making it easier for customers to reuse and resell their clothes. In 2019 alone, we extended the life of over one million items through our resale platform, Zalando Zircle.
With our zImpact Program, we have identified more than 90 promising solutions to make the supply chain more transparent. We also partnered up with Fashion for Good to identify promising start-ups that are making fashion more sustainable.
We supported the Life Skills for Empowering Women project in our factories in South India. So far, this program has reached almost 2,500 workers and their local communities. The goal of the program was to enhance women's life skills and help them overcome challenges to their wellbeing as well as to create an environment of enablement at work, in their families and communities.
Taking on Our Biggest Challenges

It has become ever clearer that the world is facing huge challenges. Every government, organisation and individual needs to act fast to support our society in overcoming them. The United Nations Intergovernmental Panel on Climate Change (IPCC) reported in 2018 that we have only 12 more years to limit climate change. We need to stop consuming the earth's resources at an unsustainable rate. We further have to tackle the problem of child labor and unsafe working conditions in global supply chains. 
Fashion and e-commerce, including our own business, have contributed to these problems. But we at Zalando have a unique opportunity and responsibility to be part of the solution. So we're ramping up our efforts to create bigger and more impactful change fast. From now on, we pledge to do.MORE.