Viktor&Rolf forlenger motens livssyklus – eksklusivt for Zalando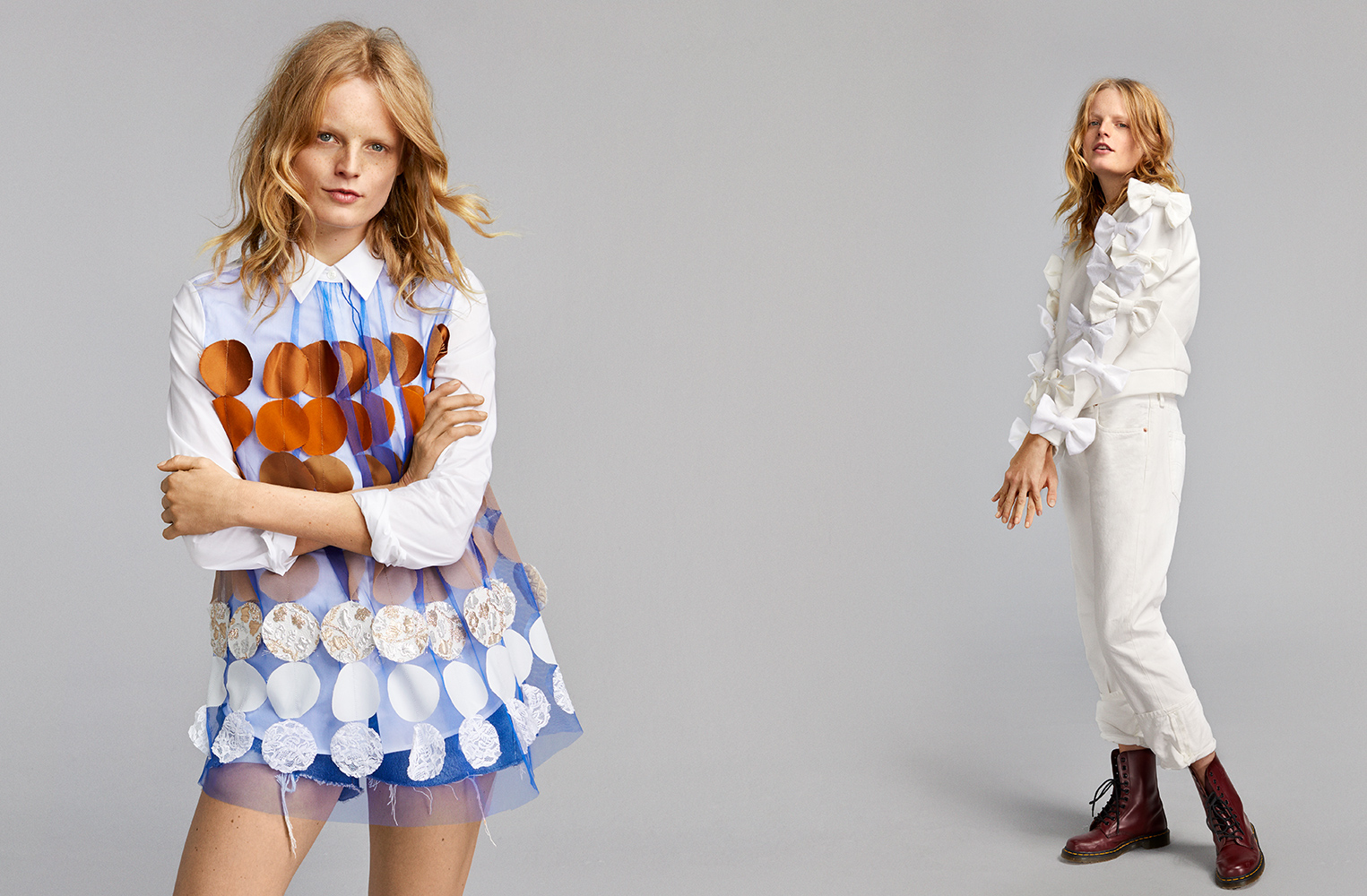 BERLIN, 10. januar 2018 // Moteguruene Viktor&Rolf lanserer, i samarbeid med motenettstedet Zalando, sin nye kolleksjon RE:CYCLE for våren/sommeren 2018. Kolleksjonen består av 17 plagg for dame som presenteres av den belgiske modellen Hanne Gaby Odiele. Alle de unike plaggene er redesignet av den nederlandske designerduoen ved hjelp av overflødige klær fra Zalandos lager. Kolleksjonen, som kommer i et begrenset opplag, selges eksklusivt på zalando.no fra 1. februar 2018.
Viktor&Rolf x Zalando RE:CYCLE er et resultat av idéen om å skape en bærekraftig stil, og en naturlig videreutvikling av Viktor&Rolfs siste haute couture-kolleksjoner. Med overflødige produkter fra Zalandos lager (klær som ikke blir solgt etter hver sesong), har designerduoen skapt noe nytt og kunstnerisk. Hvert plagg er unikt designet ved hjelp av resirkulerte tekstiler som er brukt som applikasjoner på de nye kreasjonene. Hele kolleksjonen kommer i et begrenset opplag. 
De 17 plaggene inkluderer alt fra t-skjorter, kjoler og skjørt, der alle er redesignet med Viktor&Rolfs avant-garde-signatur. Prisene varierer fra 500 kr til 2500 kr, noe som gjør den bærekraftige kolleksjonen tilgjengelig for alle. 
I forbindelse med kampanjen er det laget en kortfilm som illustrerer essensen i RE:CYCLE. Viktor&Rolf har brukt ulike kreative måter å resirkulere og transformere de 17 plaggene på, noe som presenteres på en leken og symbolsk måte i filmen. Gamle klær blir revet og kuttet i små biter som forvandles til de fire nøkkelformene i kolleksjonen: sirkler, diamanter, rosetter og lapper. Disse nøkkelformene, som er laget av resirkulerte materialer, gjenbrukes og transformeres på magisk vis til de kunstneriske plaggene som utgjør RE:CYCLE.
Viktor&Rolf hadde følgende å si om det nye motesamarbeidet: «For oss har haute couture alltid vært et laboratorium for eksperimentering. I våre tidligere haute couture-kolleksjoner har vi prøvd ut nye, kreative resirkuleringsmetoder ved å gjenbruke elementer for å skape noe nytt. Vi har for eksempel vevd inn tekstiler fra vårt 20 år gamle arkiv i nye materialer, og brukt elementer fra cocktailkjoler og festklær fra 1900-tallet på en surrealistisk måte for å skape nye og uventede silhuetter. I vårt kommende samarbeid med Zalando er vi glade for å kunne gjøre bærekraftig mote tilgjengelig for alle ved å gi nytt liv til gamle klær.» 
RE:CYCLE-kolleksjonen er Zalandos første designersamarbeid med fokus på bærekraftig mote. «Gjennom samarbeidet med Viktor&Rolf tilbyr vi våre kunder et bevisst motevalg. Det er utrolig å se hvordan Viktor&Rolf forvandler gamle tekstiler til noe nytt og vakkert som forlenger klærnes livssyklus. Designernes kreasjoner er mer enn haute couture, noe som passer perfekt til vårt motto «reimagine fashion for the good of all», sier Jolanda Smit, Head of Global Brand Communications. 
RE:CYCLE er et perfekt eksempel på hvordan Zalandos mål om å gjøre mote mer tilgjengelig for allmennheten kan settes ut i praksis. Zalando oppfordrer alle sine ansatte, kunder og partnere til å finne en mer bærekraftige tilnærming til mote – enten det gjelder produksjon, konsum eller handel. Allerede i 2016 utvidet Zalando sitt sortiment av bærekraftige produkter og jobber stadig med å gjøre denne informasjonen mer synlig på hjemmesiden. Dessuten er flere andre tiltak satt i verk i miljøkampen – i tillegg til at det ikke finnes ekte pels og eksotisk skinn i Zalandos sortiment. 
Viktor&Rolf x Zalando RE:CYCLE selges eksklusivt på zalando.no fra 1. februar 2018 samtidig som den nye kortfilmen lanseres på Zalandos hjemmeside.

#viktorandrolfxzalando
ABOUT VIKTOR&ROLF
Viktor&Rolf is the avant-garde luxury fashion house founded in 1993 by fashion artists Viktor Horsting and Rolf Snoeren after their graduation from the Arnhem Academy of Art and Design. Widely recognized and respected for its provocative Haute Couture and conceptual glamour, the house of Viktor&Rolf aspires to create spectacular beauty and unexpected elegance through an unconventional approach to fashion. Staging signature collections for over twenty years during Paris Fashion Week – ever since the first Haute Couture collection in Spring/Summer 1998 – Viktor&Rolf creations evoke a provocative spirit infused with surreal contrasts. With Viktor&Rolf Mariage, Viktor&Rolf presents its bridal collection - an exploration of iconic elements inspired by classic couture influences. Viktor&Rolf's luxury products include exclusive eyewear line Viktor&Rolf Vision, and an addictive catalogue of fragrances featuring worldwide bestsellers: Flowerbomb, Spicebomb, Bonbon and Magic. 
ABOUT ZALANDO
Zalando (https://corporate.zalando.com) is Europe's leading online fashion platform for women, men and children. We offer our customers a one-stop, convenient shopping experience with an extensive selection of fashion articles including shoes, apparel and accessories, with free delivery and returns. Our assortment of almost 2,000 international brands ranges from popular global brands And local brands, and is complemented by our private label products. Our localized offering addresses the distinct preferences of our customers in each of the 15 European markets we serve: Austria, Belgium, Denmark, Finland, France, Germany, Italy, Luxembourg, the Netherlands, Norway, Spain, Sweden, Switzerland, Poland and the United Kingdom. Our logistics network with four centrally located fulfillment centers in Germany allows us to efficiently serve our customers throughout Europe, supported by warehouses in Northern Italy and France with a focus on local customer needs. We believe that our integration of fashion, operations and online technology give us the capability to deliver a compelling value proposition to both our customers and fashion brand partners. Zalando's shops attract about 200 million visits per month. In the second quarter of 2017, 70 percent of traffic came from mobile devices, resulting in 21.2 million active customers by the end of the quarter.