What Our Customers Want
Findings from our Shopping Behavior Analytics
Findings from our Shopping Behavior Analytics
Customers are at the core of everything we do. And we know they want to make more sustainable choices. To find out exactly what they expect from us and what is most important to them in terms of sustainability, we conducted an online survey with roughly 3,000 Zalando customers in February and March 2019.

Only customers who had purchased at least one item of textile or shoes over the past six months were included in the survey. 76% of the participants were female, 24% male. Here are some key results.
39%
of our customers say they will very likely buy sustainable fashion in the coming 12 months.
The main factors preventing our customers from buying sustainable fashion are (perceived) higher prices (40%), unappealing designs (35%) or difficulty to filter out sustainable fashion (29%).
How our customers define sustainable fashion
We further asked what constitutes sustainable fashion in their eyes. Eco-friendliness was voted as very important by 73 percent, followed by fair working-/production conditions (63%), high quality (35%), animal protection (6%) and organic materials (2%).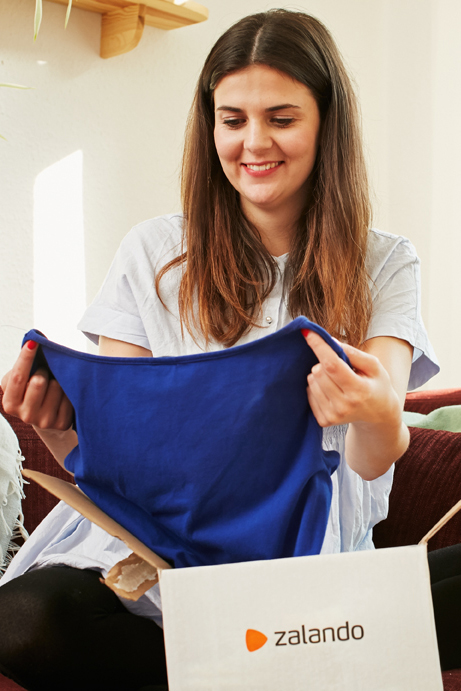 This is how our customers describe sustainable fashion in their own words (translated):
"Sustainability means wearing fashion items as long as possible and paying attention to high quality and durability."

"It means doing something for the environment."

"If you don't need to discard it [fashion] directly after washing it due to lousy quality."
"Workers should get paid minimum wages or more and European standards like the prohibition of child labor should also apply to other continents."

"To use as little plastic as possible."

"People who want to shop sustainably must pay attention to whether items are produced in an ethical, responsible and sustainable way that avoids harm of the environment and humans."
It is clear that our customers expect more from us. Sustainable fashion can be difficult to navigate because there are no official standards for what constitutes a "sustainable" item or brand. We can help change that.
We already show many sustainability criteria and certificates on the product detail pages in our shop and highlight more sustainable items with our Sustainability Flag. We are continuously growing our assortment of currently 20.000 more sustainable fashion items, and incentivizing partners to produce more desirable sustainability products. One target in our do.MORE strategy is to generate 20% of our GMV with more sustainable products by 2023.