The People Edit: Zalando's First Conscious Design Collaboration
The recent successful launch of the Viktor&Rolf for Zalando RE:CYCLE collection, inspired us to explore the employee perspective on our very first environmentally conscious design collaboration. We picked the brains of Jolanda Smit, Head of Group Brand Relations Marketing, and Frederik Brakel, Head of Premium, to shed some light on what goes on behind the scenes to make it all happen.  
As a fast-growing online fashion platform, we are aware that we can use our platform for good.

Jolanda Smit - Head of Group Brand Relations Marketing at Zalando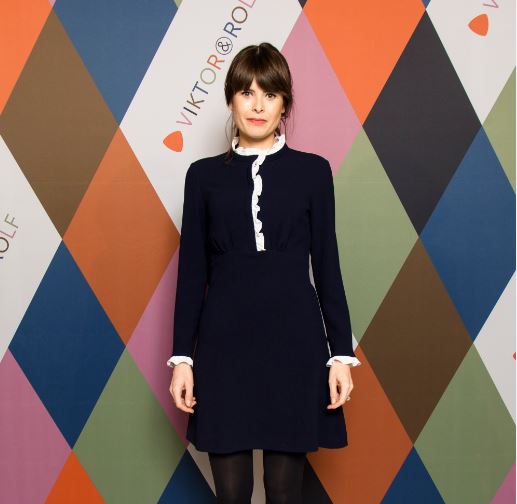 How did the collaboration come about?
Jolanda: Following the collaborations we did with Marni and Vivienne Westwood, Viktor&Rolf approached us with the idea of a recycled collection, as they saw Zalando as the right platform and partner to take their idea to a bigger audience. Our collaboration was announced last year during Bread & Butter, the Festival of Style and Culture, in Berlin after their first couture show outside of Paris. For this collaboration, the design process was in the creative hands of the Dutch fashion designers and we provide the platform for their designs to come to life and connect with our customers. As Zalando loves reimagining fashion we were on board immediately.
What was the driving force for this idea?
Jolanda: Viktor&Rolf for Zalando RE:CYCLE explores garment recycling and environmentally conscious design, transforming Zalando overstock into beautiful new pieces. The creations go beyond Haute Couture to reimagine fashion and make it accessible for everyone.
How did this collaboration take shape? What was the process? 
Frederik: It was an interesting and exciting collaboration to see how Viktor&Rolf made new items out of something old that appeal to our target customers. We wanted to create inspirational pieces with a conscious thought to show our customers that within our broad assortment from high to low, we offer conscious styles too.
The collection was a great innovative success and received a lot of coverage in the media - what do you take from that?
Jolanda: The collection of 17 designs was available in equal amounts in our 15 markets and sold out in 24hrs. We are super excited by all the positive responses received from the fashion industry and our customers around Europe, it really shows that innovation and being consciousness is important and on everyone's mind. As the demand is really high for such special collaborations, we continue looking for innovative collaborations and other ways to extend the fashion cycle. 
The collaboration is not the only step Zalando takes towards sustainability. Why is it important?
Jolanda: As a fast-growing online fashion platform, we are aware that we can use our platform for good. We strive to understand our environmental impact and are making active steps to become greener. From our boxes that are made of 98% recycled paper to the switch to 100% green electricity in all offices and fulfillment centers in Germany from January 1st 2018. Furthermore, our logistic centers are heated using climate neutral natural gas since the beginning of 2018. We believe that green energy is one of the most effective tools available in the fight against climate change and are proud to make this important step. Also our partnership with Fashion for Good - Plug and Play is a great example of the steps we're taking to this end.
What was the best part about working on this collaboration? 
Frederik: Partnerships like this is what needs to happen to make sustainable fashion the industry standard. Creating sustainable pieces the customers love, and can afford. This recycled design collaboration is an exciting way for Zalando to speak to the Gen Z customer. We are such a big enterprise now, but we still strive to maintain our start-up mentality, we aim to think outside the box and do something new and different. Being at Zalando for so long, I can definitely vouch for this being true.  
From a conscious perspective, what does the collaboration mean for you as an employee?
Frederik: In general, we have a young workforce, the average employee represents Gen Z. It was thrilling to see the passion for this topic shine through the teams working on this project. I find it really important that we keep pushing topics close to the heart of Zalando employees, it engages and involves the teams in an inspiring way. It was amazing to see what we can do collaborating with different departments ranging from Brand Marketing to zLabels and Zalando Lounge to our fulfillment centers.
What is planned for the future?
Jolanda: We are always open for innovative projects such as this one. Let's see what 2018 will bring us, it will be super exciting, especially with our 10th Anniversary ahead of us!
Find out more details about the V&R collection or about our latest initiatives like the switch to green energy or our partnership with Fashion For Good.
I find it really important that we keep pushing topics close to the heart of Zalando employees, it engages and involves the teams in an inspiring way.

Frederik Brakel - Head of Premium at Zalando