One day in Europe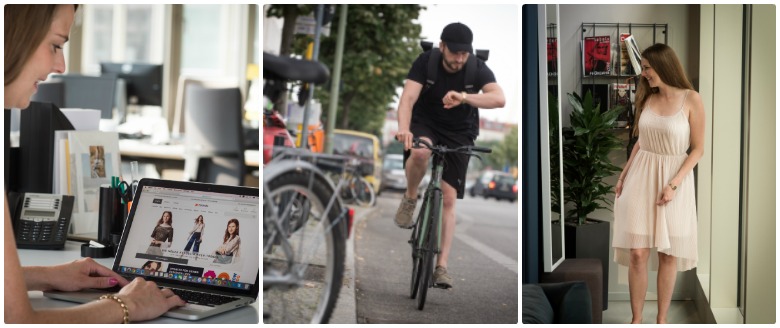 One year ago, in September 2015, Zalando started with first tests delivering customer's parcels same day. Today, we are surprising our customers in several cities in Germany with a silent upgrade and delivery on either the same or the next day. We are now going one step further – starting our first pilot for same day delivery outside of Germany – in Amsterdam.
The most convenient thing about shopping online, besides a huge assortment, is that customers can freely decide when and where they want to search for their new outfit – no need to consider opening hours or current location. But this flexibility is missing when it comes to delivery. According to a DHL customer survey published in July 2016 (here), delivery options still highly affect customer satisfaction. 85% of requested customers in Germany attach value to fast and reliable delivery, whereas 50% had at least once aborted the order process due to limited delivery options. This is why Zalando strives to constantly improve its delivery service for customers in Europe, i.e. by expanding our logistics network internationally. With the opening of the satellite warehouse in Stradella, Italy, for example, we could cut down delivery time for Italian customers by 1.5 days. A further satellite warehouse in France will be opened in early 2017 and will, among others, empower new pilot projects for delivery services such as same day or next day delivery in the region. 
At the moment, Zalando is testing same day and next day delivery in several cities in Germany, such as Berlin, Cologne, Dusseldorf and Essen, and at the same time is working on developing its local delivery network to offer the best service possible. Relevant questions we want to find answers to are: Is there a need for same day delivery when it comes to fashion? What is most important for our customers? Does the service add real value? How does the service influence order behavior? How can we set up processes to achieve reliable delivery and the highest efficiency? 
After surveying our customers, we've found out that a crucial element in delivery is receiving parcels during their preferred time slot.  Flexibility counts not only while ordering, but throughout the entire shopping journey, from ordering to returns (see info about Zalando's Instant Returns Service here). Some online shops are already offering wish-time-delivery. To this end, Zalando is experimenting with individual time slots in the test app ZipCart, where customers in Berlin and Cologne can order products with delivery within one hour, same day, or within a chosen time window in upcoming days. But these options are still an exception at online shops, even though customers tend to have increasing demands when it comes to a personalized delivery service. 
However, looking at the first results of our pilot projects in Germany, the speed of delivery plays a crucial role, as customers want to have their parcel as quickly as possible. We found that customer satisfaction increased compared to standard delivery and that customers place their next order faster if the previous order was delivered same day. We strongly believe that same day delivery will become more important and the new standard in metropolitan areas. This is why we are expanding our tests outside of Germany – to Amsterdam. For this pilot we silently upgrade orders from customers in Amsterdam. Between 7pm and 10pm they will have their parcel delivered by our new partner Trunkrs. During this test pilot the service is free. The goal is getting to know what our customers in the Netherlands look for, because there is no solution that fits all. We feel that localized and even personalized services should be part of Zalando's delivery offerings and look forward to the test phase in Amsterdam.