Local Retailers Selling Offline and Online – Simple and Flexible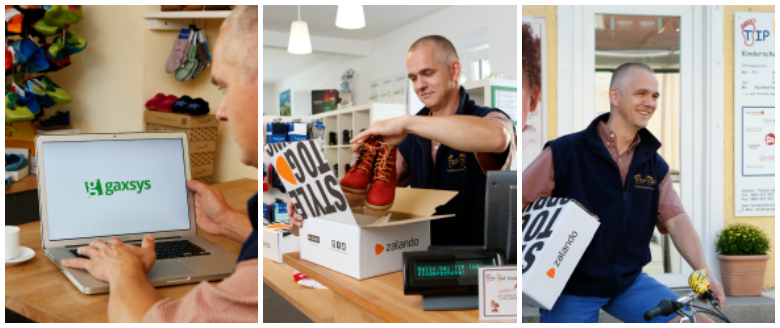 After a first pilot project with adidas in Berlin connecting stationary retailers (more information here), Zalando is now taking a further step within the #IntegratedCommerce initiative: In a new pilot project, smaller local retailers now have the opportunity to open up an additional sales channel with Zalando and thus follow their individual goals flexibly. The following story is an example from one of our first partners. It is the first cold Autumn day of the year. Thomas Ganguin is in his children's shoe shop in Weilheim as the door opens and a young mother with her two sons enters: "I urgently need new shoes for my two sons, it is suddenly so cold outside. Unfortunately, I do not know what size they are." In the first step, the owner measures the feet of the two boys. In fact, he always sees children whose shoes do not fit properly. He also knows that many mothers no longer have the time to shop. "I wanted to be here much earlier", says the mother apologizing, "but somehow there is always something else to do." Recently, she has increasingly ordered items online. "It is difficult for children to find the right shoes because they have such different feet that are constantly changing. And I do not want to buy the same brand again and again", explains the mother.
Thomas Ganguin is aware of the challenges his customers face, and he also notes this in his business. There are days in the shop where there is less going on and days when he hardly has time for anything else. In order to balance the quieter times and to reach a younger demographic, he has already thought about building his own online shop, but has always had reservations: "If we were running our own online shop we would need much more storage capacity and would have to schedule more personnel."
In search of a flexible solution, the owner of the children's shoe store decided to register with the gax-system, and is now also one of the first dealers in the pilot project from Zalando for local order fulfillment. Zalando offers smaller retailers, such as the children's shoe store in Weilheim, the opportunity to develop an additional sales channel. Relevant customer orders are forwarded to local dealers via the external, online-based gax-system. Whenever there are times when there is less to do, Thomas Ganguin can accept Zalando customer orders and send packages directly from his shoe shop.
"As a local store, our main challenge is reaching new customers, especially those of the younger generation. That's why, in order to generate extra revenue, e-commerce is important for us as an additional distribution channel. We are now able to sell more brands and benefit from Zalando's vast reach."
The owner just receives a push notification - a girl's shoe from Ricosta was ordered. Thomas Ganguin now has three hours to consider the order, but wants to complete the advisory service for the mother first. In fact, the desired model of Ricosta is still in stock and despite commission, it is worth looking into.  Thus, he decides to fulfill the order and prepares everything: Zalando packaging, the pair of shoes, shipping label, invoice, returns label. Since the post office is very close and he would like to support them, Thomas Ganguin will send the parcel himself. Ultimately, it will arrive quicker at the customer's shipping address, and the customer should be as happy as those customers who come to his shop in Weilheim.