#IntegratedCommerce: A Game Changer
How a connected fashion world can create a better consumer experience
You go online to find the shoe you really want, but your size is not available on Zalando? However, they might be available in a store, but how will you know? Zalando gives access to 150,000 articles from 1,500 brands but still, 90 percent of all stock in Europe lies in stores. In the future, we want to increase the access to all fashion products – together with our online and offline fashion partners.
In June, we started our first pilot project that brought us closer to this vision: We connected the very first brick-and-mortar stores, the adidas Performance and Originals stores in Berlin, to our online platform. We are digitalizing stock from these local stores and connect it to Zalando in order to create the best shopping experience for our consumers.
Christoph, VP Brand Solutions, and Jan, VP Logistics Products, give further insights on our first test pilot with adidas in the following video.
Using our deep strategic and collaborative partnership with adidas for this pilot in the first weeks, Zalando now, takes a further step  giving also smaller local stores the possibility to join the platform with only little effort and technological investment. With the support of the external local order management software gax-system, we pass on possible consumer orders, made at the Zalando online shop, to local partner stores that offer the ordered product as well. Within a two to four hour time-slot, the local store managers can decide whether they want to take over the order. If they, for example, don't have the capacities as there are too many clients in the shop, Zalando takes over.

We are convinced that the industry needs to stop thinking in purely online and brick-and-mortar concepts. We need to connect both worlds as it reflects the reality of our customers shopping behavior. No customer thinks in segments but in favorite fashion items they want to own – no matter if it comes from an online shop or the store around the corner. To incorporate changes of shopping behavior, Zalando is transforming from online retailer to fashion platform. Our goal is to create an operating system for the fashion industry that connects all players, be it consumers, brands and retailers, or local stores. We make it our joint mission to collaboratively imagine and predict the infinite points of interaction between fashion and people – and develop the technology to make this possible.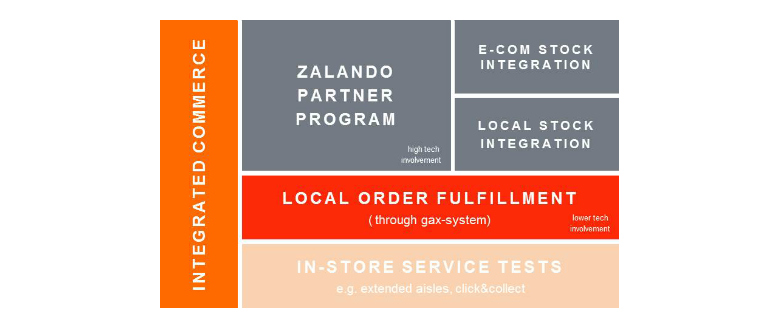 Our #IntegratedCommerce approach provides new ways how fashion partners can join the Zalando platform through either connecting their stock from warehouses and local stores or by taking over order fulfillment. This is a huge opportunity with regards to the overall efficiency of inventory-sharing across partners in our ecosystem. With a bigger network and more learnings from our tests, we can prospectively extend the same-day delivery offers, increase the availability of products and sizes in our online shop as well as local stores. And even smaller local stores have the opportunity to participate in Zalando's online business and add further sales without having to deal with an own online shop.
With #IntegratedCommerce we want to take the fashion retail world to the next level. We want to make every fashion item available - at anytime and anywhere - and offer individual consumer services.
Click here to find out more about the consumer experience ordering an adidas product from one of the Berlin stores with same-day delivery in Berlin.