How Zalando Develops Digital Strategies for Fashion Brands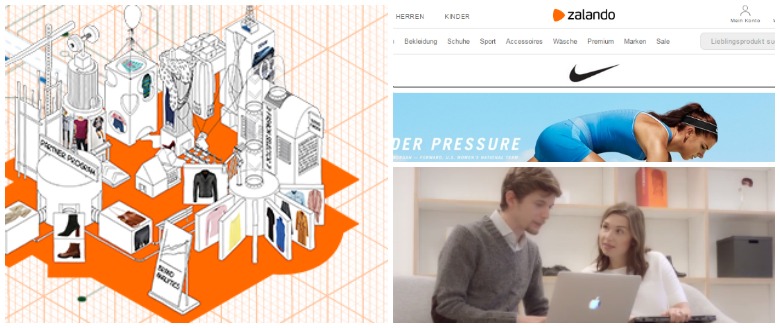 Zalando has evolved from an online retailer to a fashion platform. Our aim is to connect all the players of the fashion industry - whether they be fashion brands, service providers, customers, bloggers, or brick-and-mortar retailers. A key element for the platform is our cooperation with fashion brands. In our annual report we illustrate how Zalando works in this area.
Brand Shops
In this video, Freya, Brand Relations Manager for our Women's Category and Fabio, Senior Product Specialist for Brand Solutions in Zalando's Berlin Tech Hub, tell us how brands can create their own Brand Store at Zalando. "The benefit of the brand shop for brands is that it puts the brand in the driver seat. This means they are able to update the brand shop whenever they like and how ever often they like," says Freya, who works with the Top 30 women's brands at Zalando. Fabio works in the field of Brand Solutions: "We are a tech department: We create products that allow the fashion business to connect, engage and sell. So in a few words, we help brands to get online."
With the brand shops, brands create their own appearance on the Zalando store. By using our content management system and statistical analysis, brands have sovereignty over their content and get detailed data-driven insight into the online shopping habits of their customers. More than 120 brands have different brand shops at Zalando, for example Nike, G-Star, mint&berry, adidas.
Partner Program
Another offer for brands: Within our Partner Program, you can sell additional assortments via the Zalando shop. Zalando cares of payment and customer service, whereas the logistics process is looked after by brands. The inventory control systems are linked up and Zalando customers can choose from an even broader range of products. Christoph Lange, VP Brand Solutions, recently comments: "We know the challenges faced by the online fashion market, which are taking on a whole new dimension with the trend towards mobile. We use this knowledge to develop tools that seamlessly integrate our brand partners' operations into our platform. This allows them to focus on their passion. And on what our platform is ultimately about – fashion."
You can find an interesting video on brand relations here, it shows a round table discussion at our Playday. We are currently working on connecting brick-and-mortar retailers to our Zalando platform, with a first test currently ongoing with the street style shop Bodycheck in Berlin.