How The Rivaling Cities of Amsterdam and Rotterdam Agreed on Something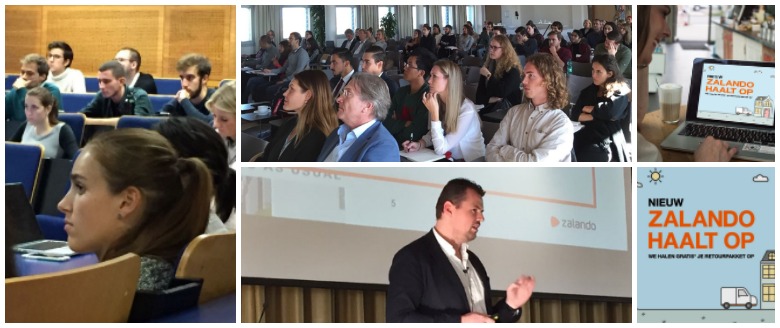 The competition between Amsterdam and Rotterdam is legendary. Which is the best Dutch football team? Would you prefer to live in the city where Europe's biggest port is located? Or would you rather call the city of more than 1500 bridges your home? Depending on who you are asking, you will get different if not opposing answers. But in the beginning of October 'Amsterdammers' and 'Rotterdammers' as they are called in Dutch agreed on some things.
Students from the 'Rotterdam School of Management' (RSM) and the 'Amsterdam School of International Business' (AMSIB) had invited Zalando to discuss career opportunities, the future of ecommerce and how Zalando developed form a start-up to a company listed on the stock exchange. In Rotterdam as well as in Amsterdam the students concluded that practical insights are crucial to learn and make career choices.
"The ecommerce business is moving and changing so fast. There are so many new ideas being tested and developed every day. I love to discuss these developments with professionals and combine these insights with what I have learnt during class", said Yassine (22), who is a student of Commercial Economy at AMSIB.
Emma (21) who is pursuing a Master in Finance & Investemts at RSM pointed out: "There is so much to learn from a face to face discussion with professionals. Not only with regards to the industry but also when it comes to the culture of a company. I really appreciate the 'failing forward' approach that Zalando has. Employees are encouraged to try out new things and it is ok to make mistakes".
Next to valuing industry insights, recently there was another topic that people from Rotterdam and Amsterdam had a shared opinion on. In the past months Zalando has been testing a new instant return service in both cities. The tests turned out to be so successful that the service has now been rolled out nationally. With 'Zalando halt op' Zalando customers across the Netherlands can benefit from getting their returns being picked up directly at their home, work or wherever they are. 'Rotterdammers' and 'Amsterdammers' might not agree on which is the best football club but both value good customer service.