The future working world starts at Zalando in Berlin
Zalando currently employs more than 5,700 people working in various offices across Berlin. With the Zalando Campus we want to bring our employees closer together and thus facilitate a lively exchange. The Campus consists of several offices near the Mercedes Benz Arena and is well within walking distance. One of the buildings has just been finalized with appropriate teams moving in soon after. We speak with Robert Höhne, Lead Construction & Development at Zalando, to find out more about Zalando's brand new working world.
What the lowdown on the new Zalando locations in Berlin?
As our team continues to grow, so too does our need for more office space. Last week, the first teams moved into the new office building, M_Eins, which is next to the Mercedes Benz Arena and just a few steps away from our current headquarters at Tamara-Danz-Straße. Construction for our new headquarters – the heart of the Zalando Campus – is going as planned and will be finalized Autumn 2018.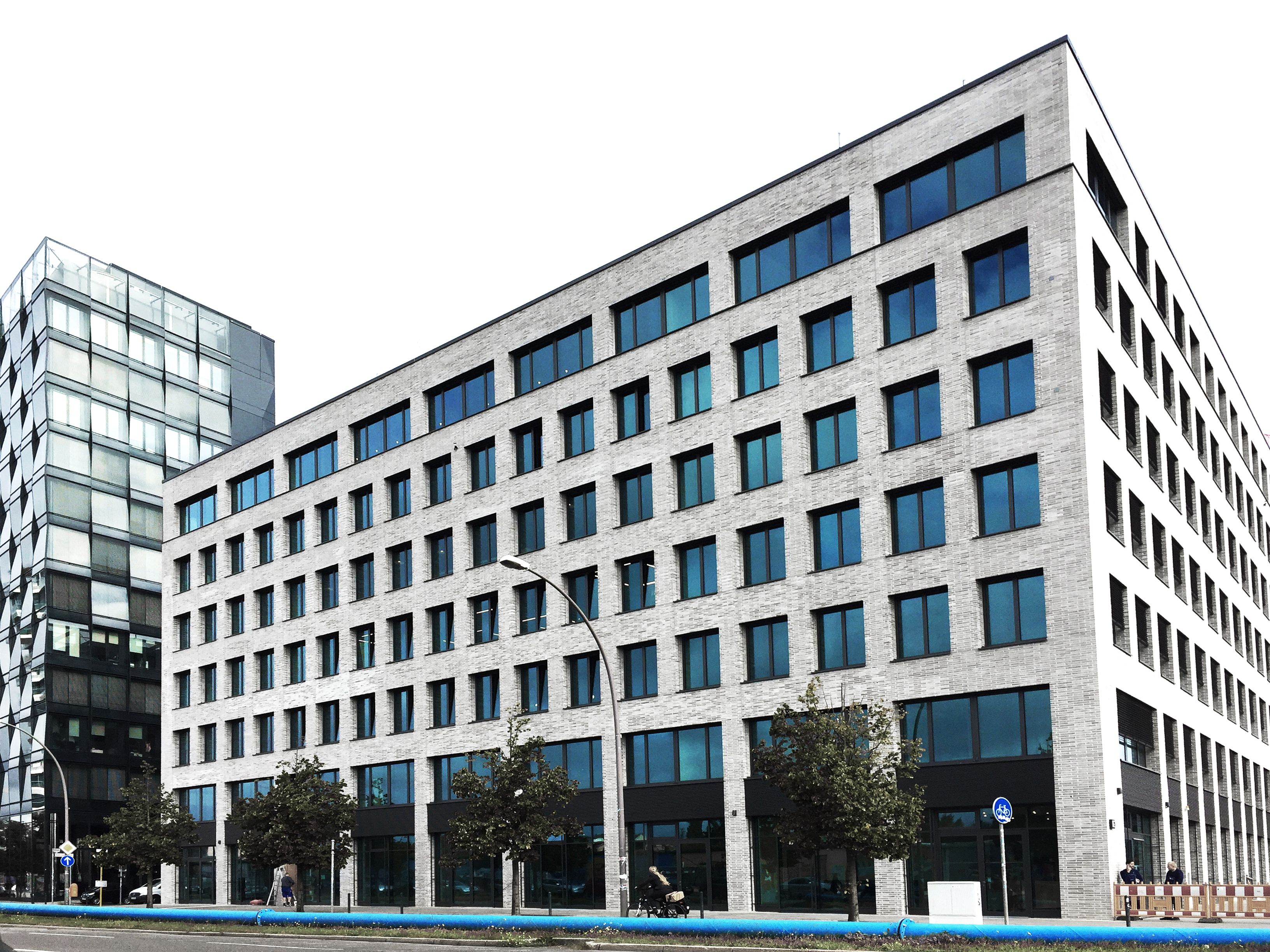 What is special about M_Eins?
The newly built 15,000sqm office consists of seven floors and has a rooftop terrace. It holds 860 desks for our teams, contains 55 parking spaces, an Innovation Lab, a training room, and a bistro on the ground floor. Zalando employees can make use of at least nine meeting and project rooms on each floor. There's also a parent room for those who need to bring their kids to work.

M_Eins is the first building that is fully equipped with the concept of our new working environment, and contains our newly created spaces such as Living Rooms, Urban Catwalks and Neighborhoods.
A Living Room in the office?
Yes, absolutely. There are so called "Living Rooms" on each floor where you can find cozy chairs for informal meetings, and sometimes plants and water stations. On every other floor you'll find an open kitchen to grab a coffee or heat up your lunch; basically everything you need for a communicative atmosphere. The goal behind it? We want to enable our employees to meet and interact with each other more often. In the past, different departments who sat on one floor did not necessarily interact with each other. Some of them never even met because of the decentralization of our amenities. With our centralized Living Room area, we think we can change that.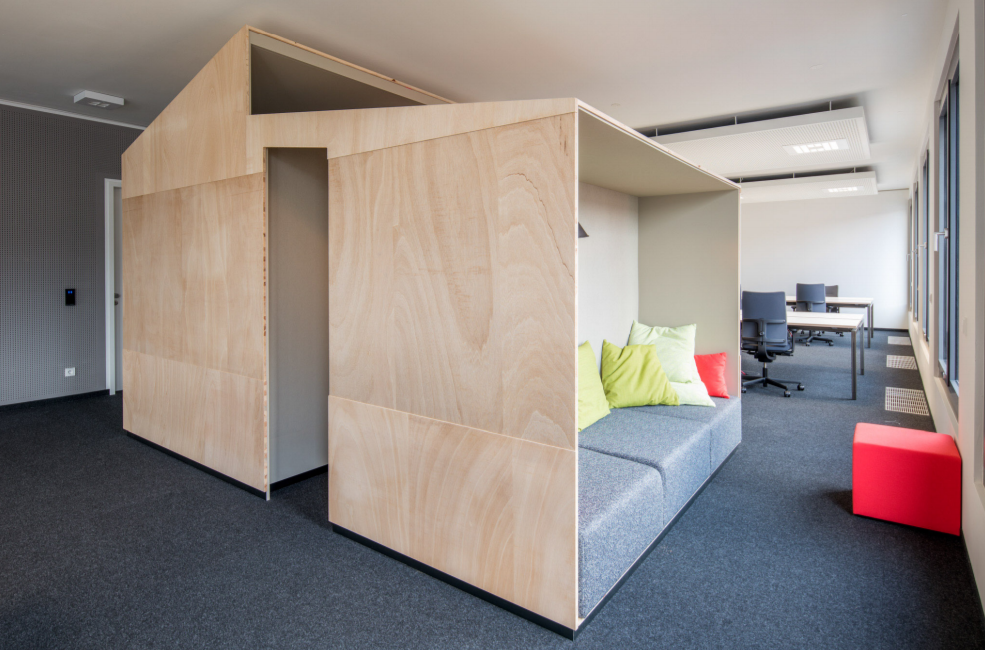 Where did you get the inspiration for the new work world from?
First of all, we asked our employees. We conducted a huge survey that helped us find out how Zalandos work: What don't you like about your current working environment? What would you like to change? And so on. One pain point, for example, was the lack of meeting rooms. Some employees mentioned that it was too loud in the open spaces and they could not concentrate. Others didn't respond well to telephone calls from colleagues. Some said that there was not enough whiteboard space and thus they could not be as creative as they wanted to be. To solve these problems, we established new spaces such as the Creative Suite, the Chatbox and the Telephone Box.
The new Chatboxes contain small spaces for informal meetings and relaxation, as well as whiteboard walls. They've been placed in the open offices to give our employees even more space to meet or make a telephone call without disturbing their colleagues. The Urban Catwalks connect these functional areas with each other and also guide people to water stations, lockers and meeting rooms.
And what are the "neighborhoods" about?
Neighborhoods encompass the five different workplace typologies. But let's start at the beginning. In our survey we found that half the desks in our offices are not permanently occupied during the day. Can you believe that? Of course you can: Zalandos tend to have a lot of meetings away from their desks, moving around between different locations, working with different teams, etc. Everyone has different working styles. Now, in the new Zalando working environment, only very few people will have fixed desks. The rest just enter the office in the morning and decide what kind of space they actually want to use that day. We call this "Activity Based Working" or ABW for short. Our ideal is to create opportunities to work differently rather than force our employees into one workplace setting. You can chose if you want to sit at a flex desk that will be fully equipped with a screen, keyboard and mouse, or work at a Stand Desk for a few hours. Sometimes silence is necessary to work. For this, we established silent spaces, just like in a library. For those who often jump between locations or maybe have 20 minutes between meetings and would like to sit down briefly to work, Hot Desks are available for short periods.
If you compare the old Zalando working world to the new one, what are the differences?
In the past, everyone had their dedicated desk, some people even two. One can agree that this doesn't seem very modern or economic. The new concept enables our employees to be much more flexible. It also demands a behavior change from some people in order to be successful. We offer various spaces to be more creative or work in an interdisciplinary team set-up; a co-working environment if you will. We want you to move between spaces and work where you think you can work best, be it the Silent Space, a Stand Desk or even the Living Room. What I like most about the new concept, is that we were able to establish it mostly together with the employees. There have been some small hiccups, but so far we've received a lot of positive feedback. I think everyone is very welcoming of the concept.