Zalon: Spotlight on Switzerland
What do Swiss buyers prefer when it comes to fashion?
BERLIN, APRIL 30, 2019 // Zalon is Zalando's curated styling service. When advising customers, it is important for Zalon to understand the style preferences and needs of customers. Against the backdrop of cultural differences, Zalon examined their influence on the consumer behaviour of men and women in the German and French-speaking parts of Switzerland. This is what they found: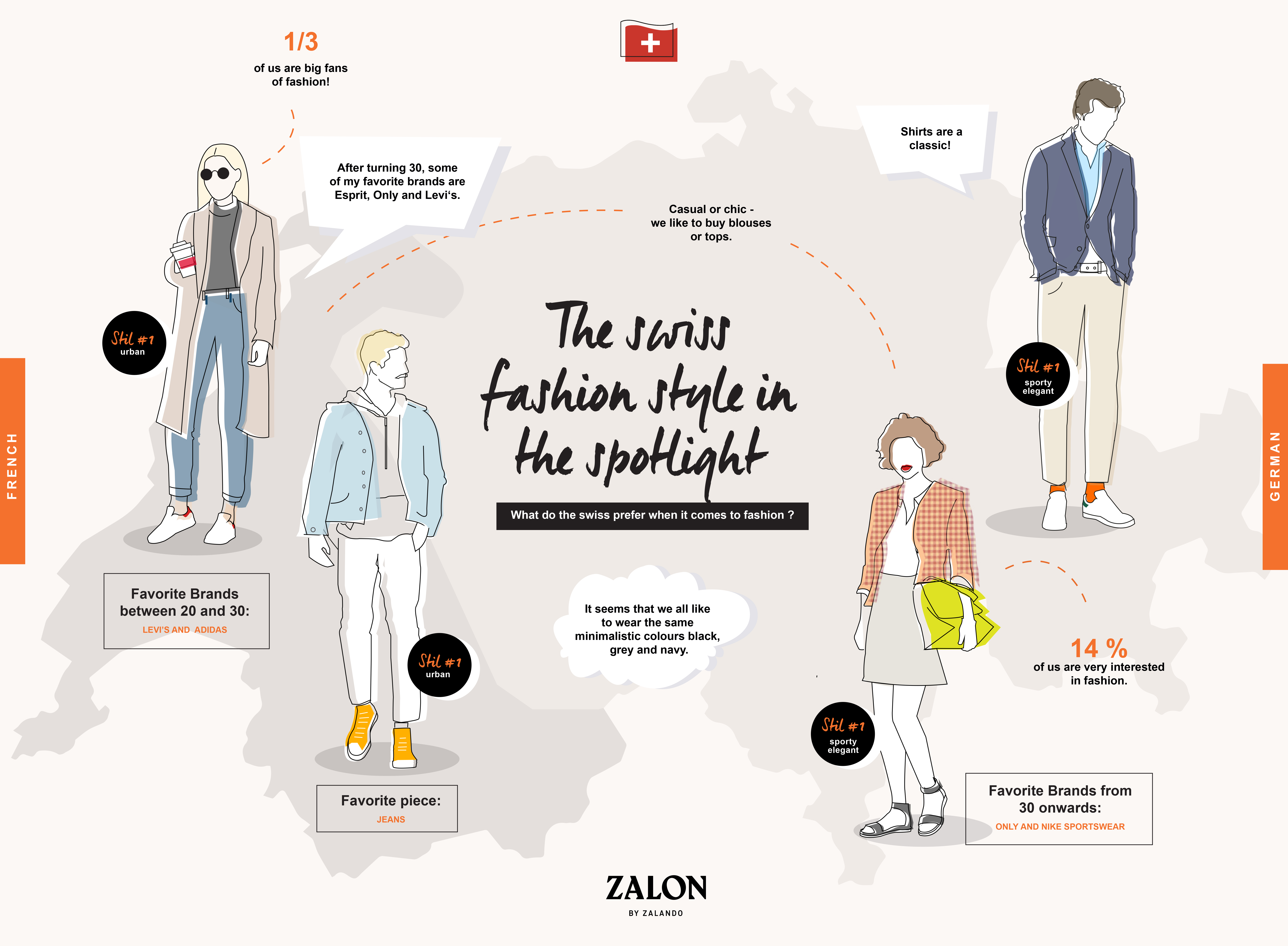 1. Fashion is my middle name
There are some differences in fashion interest according to each region. In the French part of Switzerland, the interest in fashion is higher (30%) compared to the German part (14%). The Swiss-French customer seems to be more interested in shopping for fashion (52%) than their Swiss-German counterparts (39%).
2. It's is a matter of style preference
There are similarities in style preferences in all age groups regarding their favourite outfits. However, they differ from region to region. For example, women in the Swiss-German part prefer sporty-elegant outfits while women in the French part prefer urban styles.

For men, we noticed similar style preferences related to different age groups. For example, Swiss-German men older than 30 prefer sporty-elegant styles, while men between 20-30 years go for casual outfits. In the French part of Switzerland, men under 30 show interest in urban styles while men above 30 tend to prefer more natural and sporty-elegant outfits.
3. My favorite colors are...
Neutral and minimalist colors are among the favourites of Swiss people of all ages and genders. Women prefer gray, black and light blue, while men prefer black, gray and dark blue. Bright colous, on the other hand, are rarely chosen. Less popular colous include orange, red and gold. Basic colors that can be easily combined are also desirable.
4. From premium to sports brands
Women from both parts of Switzerland have similar brand preferences. For example, women above 30 prefer Esprit, Only, COMMA and Levi's. Younger women from 20-30 years old prefer sporty brands like Nike sportswear, adidas Originals, ONLY or Levi's.

There are differences in age and region among men. German-Swiss men opt for Boss, Tommy Hilfiger, Jack & Jones or Nike sportswear. Men from French-speaking Switzerland tend to go for Boss, adidas Originals, Nike sportswear or Jack & Jones.
5. One for all and all for one
Switzerland unites a range of cultures. In such a multicultural environment, it is interesting to see the differences but also similarities in order to better understand the uniqueness of the country and the wishes of our customers. Zalon by Zalando is listening to each client's needs to cater the best personalized experience to them.