Hacking Sustainability
Zalando invites external experts and media representatives to help solve some of the fashion industry's biggest sustainability challenges during Press Day Hackathon
With the launch of our new do.MORE strategy, we set ourselves ambitious sustainability targets. To achieve them and become a sustainable fashion platform with a net-positive impact for people and the planet, we have yet to tackle many of our industry's biggest challenges over the next years. Solutions will have to involve not just us as a company, but our entire industry and customer base. That's why we strive for working hand in hand with everyone involved. 
This approach fits right in with Zalando's company culture, which is based on collaboration, speed, innovation and transparency. We believe that the best ideas come from diverse teams bringing many different perspectives to the table. And we see the indispensable value of exchanging knowledge and insights to expedite solution finding and, at the same time, taking our partners on the journey with us.
For this reason we chose to host a joined hackathon with external participants and our own employees. The sprint-like format has proven successful for internal problem solving and innovation as well as for working together with our partners in the past.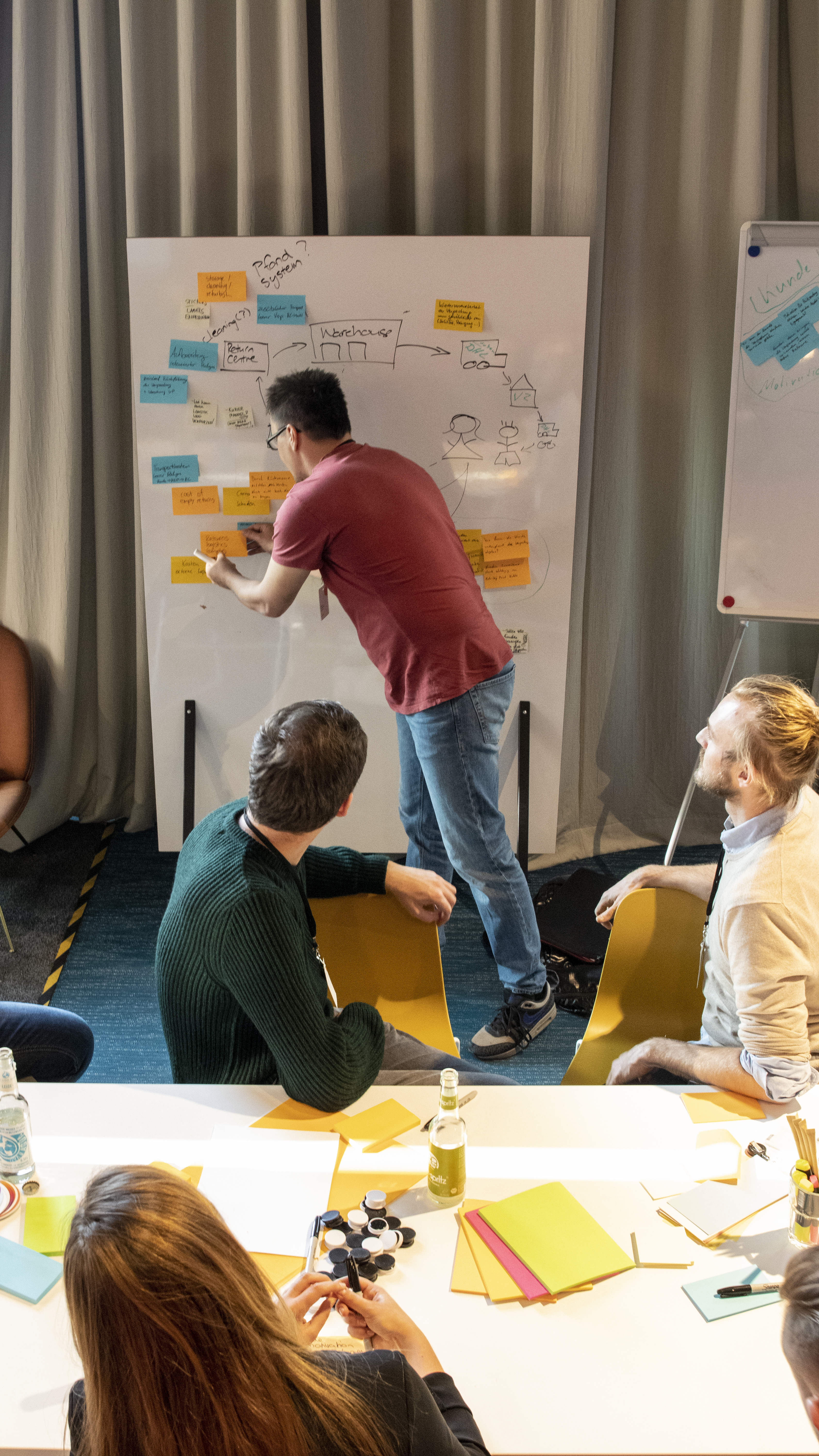 Let's Get Hacking
59 participants joined us on October 29th for a full day of hacking sustainability challenges in the Hub on our Berlin campus. Amongst them were journalists and delegates from the Sustainable Apparel Coalition, Berliner Agentur für Elektromobilität, Deutsches Verpackungsinstitut and Post CH AG.
The external participants were grouped into six teams with Zalando employees to gain first-hand insights on what we are currently working on internally, including topics such as how to achieve a balance between customer convenience and the environmental footprint, or how to help our customers understand the complexity of more sustainable fashion.
With an impressive amount of energy and dedication the teams worked for six hours straight. Our aim of creating a sense of togetherness and collaboration was well received by all participants. 
The First Ideas
To give an impression of the team's achievements, here are three of the original challenges and summaries of solutions the teams came up with within just a few hours. The results show that diverse teams and perspectives greatly benefit fast and creative problem solving.
Challenge 1: Delivery to Pick Up points reduces CO2 emissions and traffic compared to home delivery - How can we increase user acceptance and usage in Germany?
Proposed solutions: Using social media and collaborations with influencers to make Pick Up points (PuPs) more attractive, promote PuPs in the check-out experience and educating about its positive impact (reduced air pollution, noise pollution, traffic). Furthermore, PuPs could be used for additional purposes and even as a space for social events or special offline-like shopping experiences.
Challenge 2: How do we present customers with credible, understandable, relevant and empowering information on sustainability instead of overburdening them with facts?
Proposed solutions: Display sustainability information in our Fashion Store as easy and consistent as possible, e.g. understandable wordings, visual cues and guidelines, glossaries etc. Participants also suggested more offline interactions like hackathons, workshops, clothing swaps, etc. to educate and inspire customers in a more engaging way.
Challenge 3: Balancing customer convenience with environmental impact. How can we continue delivering exceptional convenience while reducing our environmental footprint? 
Proposed solutions: Make the impact of their individual decisions more visible to customers by highlighting the benefits of choosing delivery to Pick Up points or parcel consolidation, and working with a reward program. Evaluate potential for collaborations with existing long haul transportation companies and delivery fleets. Avoiding unsuccessful deliveries by letting customers adjust their delivery preferences more spontaneously when their schedule changes.
 
What Happens Next?

The hackathon was a success on all levels. Not only did the teams generate many  ideas, everyone also gained a better understanding of the complexity of the challenges our industry is facing. Some participants even got inspired to change their personal behavior as they learned more about services Zalando is already offering or currently testing such as Pick Up points or opting-in to offset carbon emissions during check-out.
By organizing the challenge groups around Zalando employees who work on these topics, all insights and ideas are taken back into the actual teams within the company where they will be discussed for applicability.
Some of the ideas were such a great fit that we are already evaluating how to realize them as soon as possible, for example, we see great value add for displaying the environmental impact of different delivery options right on the check out page in our Fashion Store. That way, customers can make a conscious choice.