Viktor&Rolf giver moden nyt liy helt eksklusivt for ZALANDO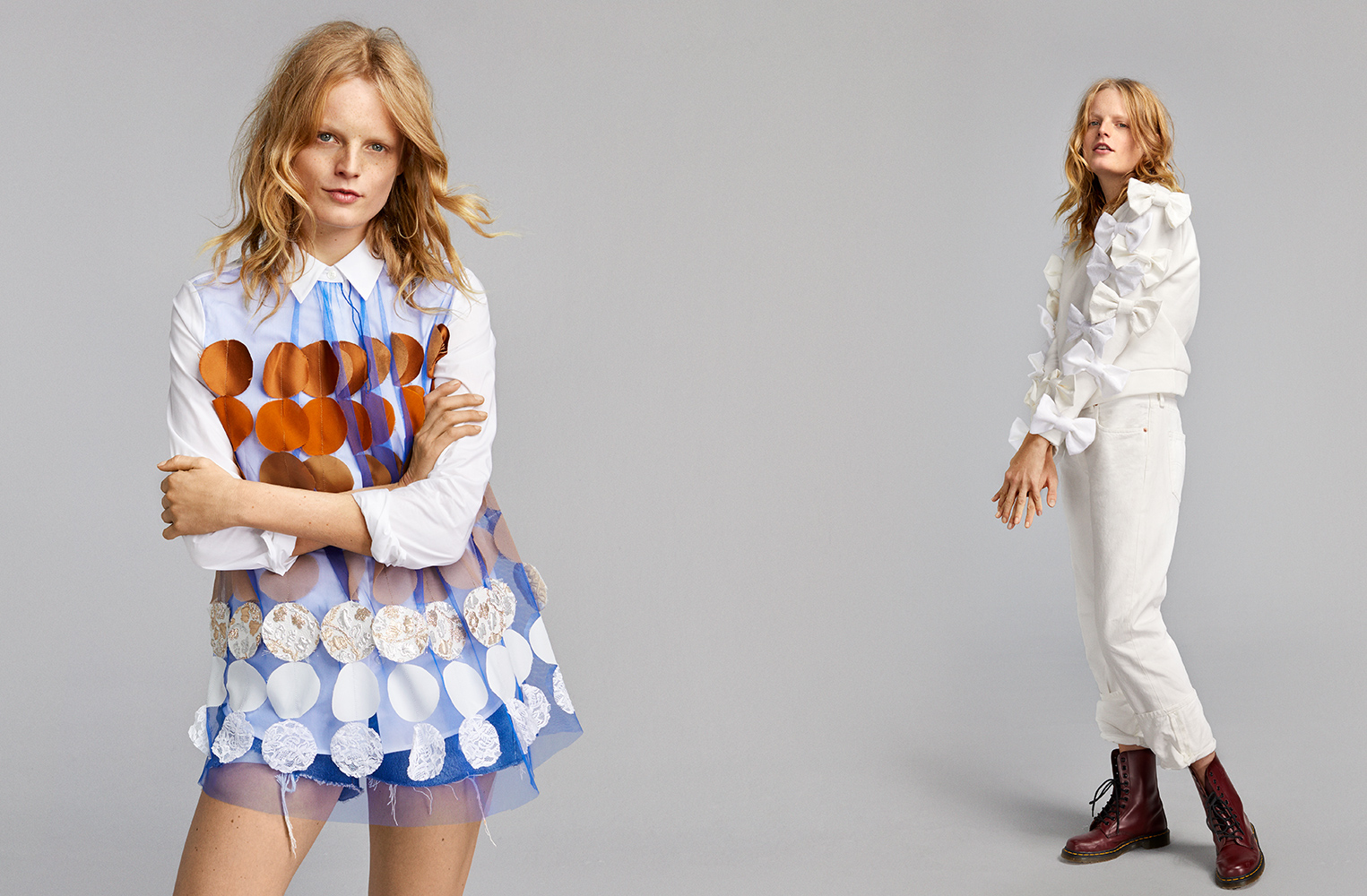 BERLIN, 10. JANUAR 2018 // Den hædrede modeduo Viktor&Rolf og online modedestinationen Zalando lancerer den nye Re:Cycle Spring/Summer 2018-kollektion. Damekollektionen, der består af 17 pieces, er båret af den belgiske model Hanne Gaby Odiele, og er lavet af genbrugsmaterialer. Den vil kunne shoppes helt eksklusivt på Zalando.dk fra den 1. februar 2018. 
Viktor&Rolf for Zalando RE:CYCLE er håndværk skabt med fokus på bæredygtig stil, og er en naturlige evolution af Viktor&Rolfs seneste Haute Couture-kollektioner. Denne gang har Viktor&Rolf kastet deres kærlighed på tøj, som er kommet i overskud hos Zalando, og har formet det til noget nyt og kunstnerisk. Alle styles i den eksklusive kollektion er skabt med applikationer som stammer fra genbrugsmaterialer.
Kollektionen består af 17 pieces, med alt lige fra T-shirts til kjoler til nederdele, som er skabt med Viktor&Rolfs velkendte, kunstneriske signatur. Kollektionen vil kunne fås til priser fra 350 kr til 1800 kr, hvilket understreger filosofien om at skabe bæredygtig mode med mening for alle.
En legende kortfilm er blevet skabt specielt til kollektionen, og den fanger essensen af de kreative genbrugsmetoder fra Viktor&Rolf for Zalando. Derudover får man et indblik i hele processen symboleret ved makulering og poppende majs. Gamle beklædningsgenstande bliver flosset, revet i stykker og skåret indtil de falder ned og skaber kollektionens fire nøgleformer: cirkler, sløjfer, diamanter og stumper. Disse fire former, som er skabt af genbrugsmaterialer, bearbejdes efterfølgende og skaber RE:CYCLE kollektionenes styles.
Om den nye collab fortæller Viktor&Rolf: "For os har Haute Couture altid været et eksperimenternes laboratorium. Med vores foregående Haute Couture-kollektioner har vi udforsket kreative genbrugs-metoder: nye, kunstneriske måder at genbruge elementer fra fortiden og skabe noget helt nyt. F.eks. blev tekstiler fra vores arkiv omformet til nye materialer og silhuetter; og fragmenter af eksisterende cocktail- og aftenbeklædning fra det 20. århundrede ændret på surrealistisk vis, med henblik på at skabe nye, overaskende former. Med vores kommende samarbejde med Zalando glæder vi os til at bygge videre på denne modige og tilgængelige tilgang til bæredygtig mode, ved at give nyt liv til glemte beklædningsgenstande."
Det nye designersamarbejde for Zalando er online platformens første kollektion, som fokuserer på bæredygtighed. "Samarbejdet med Viktor&Rolf betyder, at vi kan tilbyde vores kunder en bevidst stil. Det er fantastisk at se, hvordan Viktor&Rolf transformerer gamle beklædningsgenstance til noget nyt og smukt. Det forlænger modens livscyklus. Deres kreationer går ud over haute couture, hvilket passer til vores formål med at genskabe mode for alles fordel", fortæller Jolanda Smit, Director of Group Brand Relations Marketing. 
Zalando benytter lejligheden til at skabe en ny tilgang til moden, som er for alles fordel. Derfor motiveres medarbejdere, kunder og partnere til at finde mere bæredygtige måder at producere og forbruge mode på, samt at drive forretning. Tilbage i 2016 udvidede Zalando sit sortiment af bæredygtige produkter samtidig med, at informationen om dette på websitet blev forbedret. Mange andre initiativer ligger i støbeskeen, bl.a. en reducering af det miljømæssige fodaftryk, og derudover har man helt udelukket pels og eksotiske skind.  
Viktor&Rolf for Zalando RE:CYCLE kan shoppes helt eksklusivt på Zalando.dk fra den 1. februar 2018.  Samme dag vil det være muligt at opleve kortfilmen på kollektionens dedikerede site for første gang.


#viktorandrolfxzalando
ABOUT VIKTOR&ROLF
Viktor&Rolf is the avant-garde luxury fashion house founded in 1993 by fashion artists Viktor Horsting and Rolf Snoeren after their graduation from the Arnhem Academy of Art and Design. Widely recognized and respected for its provocative Haute Couture and conceptual glamour, the house of Viktor&Rolf aspires to create spectacular beauty and unexpected elegance through an unconventional approach to fashion. Staging signature collections for over twenty years during Paris Fashion Week – ever since the first Haute Couture collection in Spring/Summer 1998 – Viktor&Rolf creations evoke a provocative spirit infused with surreal contrasts. With Viktor&Rolf Mariage, Viktor&Rolf presents its bridal collection - an exploration of iconic elements inspired by classic couture influences. Viktor&Rolf's luxury products include exclusive eyewear line Viktor&Rolf Vision, and an addictive catalogue of fragrances featuring worldwide bestsellers: Flowerbomb, Spicebomb, Bonbon and Magic. 
ABOUT ZALANDO
Zalando (https://corporate.zalando.com) is Europe's leading online fashion platform for women, men and children. We offer our customers a one-stop, convenient shopping experience with an extensive selection of fashion articles including shoes, apparel and accessories, with free delivery and returns. Our assortment of almost 2,000 international brands ranges from popular global brands And local brands, and is complemented by our private label products. Our localized offering addresses the distinct preferences of our customers in each of the 15 European markets we serve: Austria, Belgium, Denmark, Finland, France, Germany, Italy, Luxembourg, the Netherlands, Norway, Spain, Sweden, Switzerland, Poland and the United Kingdom. Our logistics network with four centrally located fulfillment centers in Germany allows us to efficiently serve our customers throughout Europe, supported by warehouses in Northern Italy and France with a focus on local customer needs. We believe that our integration of fashion, operations and online technology give us the capability to deliver a compelling value proposition to both our customers and fashion brand partners. Zalando's shops attract about 200 million visits per month. In the second quarter of 2017, 70 percent of traffic came from mobile devices, resulting in 21.2 million active customers by the end of the quarter.