Zalando Outperforms Market and Improves Profitability
Q3 revenues EUR 835 million (+17.1%), adjusted EBIT margin 2.3%
9M revenues EUR 2,547 million (+21.9%), adjusted EBIT margin 4.7%
Revenue guidance reconfirmed; profitability guidance for FY 2016 raised to adjusted EBIT margin of 5.0-6.0%
BERLIN, NOVEMBER 10, 2016 // Zalando posted a successful performance in the first nine months of 2016, with strong growth and profitability, and increased its full-year adjusted EBIT margin guidance to 5.0-6.0%. In the third quarter, Europe's leading online platform for fashion continued to outperform the market despite challenging market conditions and comparison with a strong Q3 2015 and managed to gain market share.
Zalando increased profitability across all major operating cost lines, including cost of sales, fulfillment and marketing. At the same time, the company continued to invest into its customer proposition, including mobile, brand, assortment and convenience. Combined with strong working capital management, and significant capex of EUR 116 million, this resulted in a positive nine-month free cash flow of EUR 66 million.
"It's amazing to see that two years after our IPO, Zalando continues to go from strength to strength," says Rubin Ritter, co-CEO. "We have built a strong platform for ongoing progress and an exciting 2017."
Zalando continued to improve its mobile offering in the third quarter and its Android app recently won the renowned Editor's Choice award from Google Play. Mobile traffic share increased to 67%, while the share of mobile orders surpassed 50%. The sold-out Bread&Butter fashion event attracted more than 20,000 visitors, showcasing Zalando's ongoing investments into brand visibility and reach. During the event, Zalando gathered more than 800 million impressions across all media and social media channels. Gigi Hadid presented Tommy Hilfiger's Tommy X Gigi collection, which she co-created, and Marni's exclusive shoe collection for Zalando was introduced, currently available at Zalando. Further popular brands were added to the assortment in the past quarter, increasing the number of available items on the Zalando stores to approximately 200,000.
The operational backbone of Zalando's platform is evolving strongly, supporting its development to provide the best fulfillment experience for fashion in Europe. After the successful launch of the Italian satellite warehouse, which now fulfills 70% of Italian orders, Zalando will start operations at another satellite warehouse close to Paris, France, in the first quarter of 2017. Zalando further announced the construction of another large-scale fulfillment center close to Szczecin, Poland. It will cover 130,000m² and is expected to start manual operations in autumn 2017. 
Employee numbers increased strongly to approximately 11,200 as of September 30, 2016, up from approximately 10,000 employees as of December 31, 2015 – primarily driven by headcount in Technology and Operations. Zalando's tech team continued to grow, with approximately 1,600 members at its headquarters in Berlin and across six further locations by the end of the third quarter.
Zalando reiterates its growth ambition for the next few years of 20-25%. For 2016, Zalando expects revenue growth to come in towards the higher end of the 20-25% growth corridor, and increases full-year adjusted EBIT margin guidance for 2016 to 5.0-6.0%.
Zalando's nine-month report is available online; further details can be found in the investor earnings call presentation. Zalando will report figures for the full year and fourth quarter 2016 on March 1, 2017, and publish a trading update prior to that. The publication date of the trading update will be announced on the Zalando Investor Relations website ahead of time.
Zalando group – Revenue and adjusted EBIT (EUR million)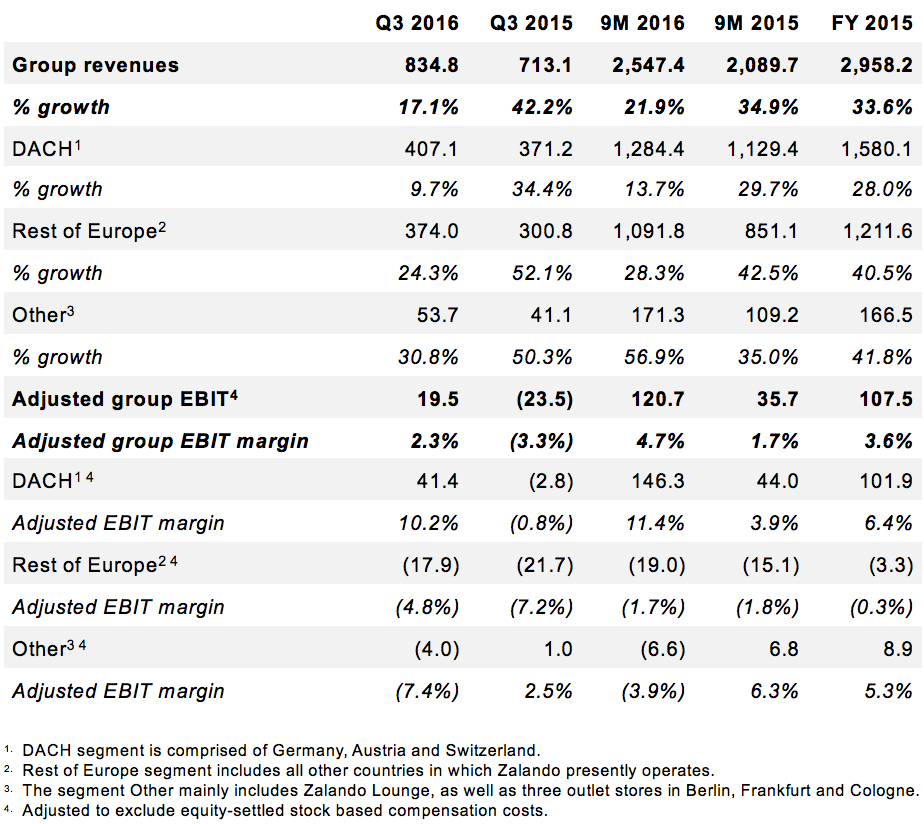 Zalando group – Key performance indicators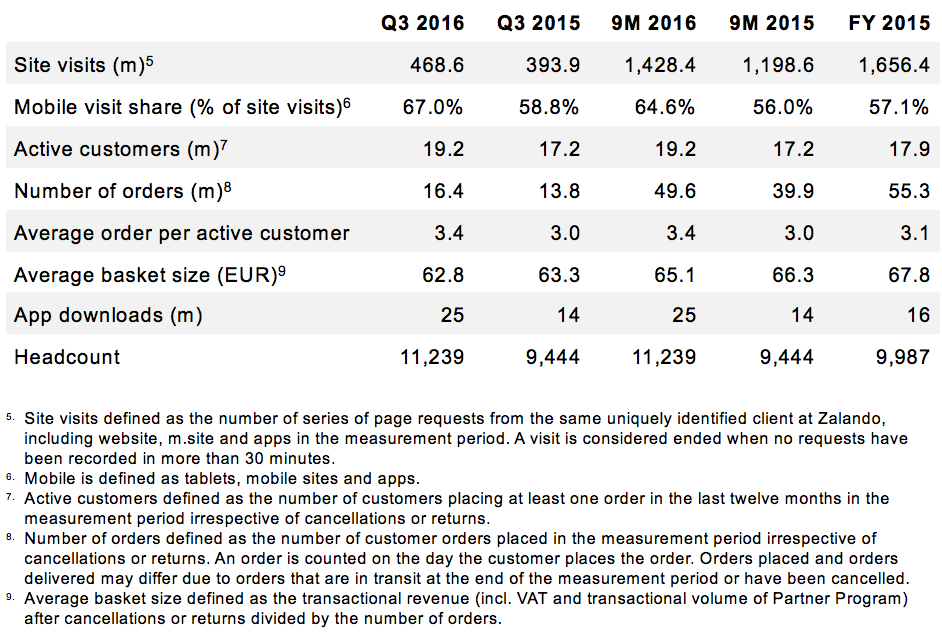 ABOUT ZALANDO
Zalando (https://corporate.zalando.com) is Europe's leading online fashion platform for women, men and children. We offer our customers a one-stop, convenient shopping experience with an extensive selection of fashion articles including shoes, apparel and accessories, with free delivery and returns. Our assortment of over 1,500 international brands ranges from popular global brands, fast fashion and local brands, and is complemented by our private label products. Our localized offering addresses the distinct preferences of our customers in each of the 15 European markets we serve: Austria, Belgium, Denmark, Finland, France, Germany, Italy, Luxembourg, the Netherlands, Norway, Spain, Sweden, Switzerland, Poland and the United Kingdom. Our logistics network with four centrally located fulfillment centers in Germany allows us to efficiently serve our customers throughout Europe, supported by a warehouse in Northern Italy with a focus on local customer needs. We believe that our integration of fashion, operations and online technology give us the capability to deliver a compelling value proposition to both our customers and fashion brand partners.
Zalando's shops attract over 160 million visits per month. In the third quarter of 2016, more than 65 percent of traffic came from mobile devices, resulting in 19.2 million active customers by the end of the quarter.
CONTACT ZALANDO
René Gribnitz / VP Communications
rene.gribnitz@zalando.de
+49 30 20968 2022