Zalando to Continue on Growth Path in 2015
Eyes revenue growth target corridor of 20-25 per cent
Expects 2015 EBIT margin broadly around 2014 level
Company to expand fashion platform in 2015, large scale new hires
Concluded 2014 successfully, DACH clearly profitable
BERLIN, MARCH 5, 2015 // Zalando SE, Europe's leading online fashion platform, eyes continuing its growth path in 2015 with a revenue growth target corridor of 20-25 per cent. The company will continue to focus on delivering profitable growth and capital efficiency. Zalando expects the 2015 EBIT margin to be broadly around the strong level of 2014, driven by investments in long-term growth: Zalando will further expand its fashion platform and increase capabilities to connect customers and brands. Several projects are already underway, among them Zalando's recently launched curated shopping service and deepened categories, for example in women's sportswear. To support expanding its fashion platform, Zalando will hire new employees on a large scale.
Rubin Ritter, Member of the Management Board, said: "Zalando is in the pole position to continue to outgrow and drive the European online market in fashion. We have unrivaled access to customers and brands and have the necessary infrastructure with capacity for future growth. We will certainly not take the foot off the gas, not even a bit."
Zalando had a very successful year 2014 with continued strong revenue growth above market and for the first time achieved annual group wide EBIT profitability, confirming preliminary figures. Group revenues in 2014 were up about 26 per cent to EUR 2.2 billion (2013: EUR 1.8 billion), further increasing Zalando's market share in European online fashion. The DACH segment grew about 17 per cent to EUR 1.2 billion (2013: EUR 1.1 billion), while the Rest of Europe segment grew about 37 per cent to EUR 0.9 billion (2013: EUR 0.6 billion). Zalando achieved a group wide adjusted EBIT of EUR 82 million1  (2013: EUR -109 million), corresponding to an adjusted EBIT margin of 3.7 per cent. The DACH region is now clearly profitable with an adjusted EBIT of EUR 83 million (2013: EUR 8 million) or a margin of 6.7 per cent (2013: 0.8 per cent). The Rest of Europe segment is on an accelerated track towards profitability with a margin of -1.3 per cent (2013: -15.7 per cent). 
In the fourth quarter of 2014, Zalando achieved revenues of EUR 666 million, up about 21 per cent (Q4 2013: EUR 550 million). Continued operating leverage across several cost lines, especially cost of sales and marketing, resulted in strong fourth quarter profitability. Adjusted EBIT was EUR 66 million at group level, corresponding to an EBIT margin of 9.9 per cent, and even 12.3 per cent in the DACH region. Zalando generated a strong free cash flow of EUR 73 million in the fourth quarter (2013: EUR 36 million), driven by a strong operating cash flow and continued focus on capital efficiency.
By the end of 2014, Zalando counted 14.7 million active customers, adding roughly 600,000 new active customers in the fourth quarter. Zalando has also become an attractive partner and destination for international brands, such as Topshop or GAP, as well as local fashion labels. Mobile traffic hit a new all-time high: 48 per cent of traffic in the fourth quarter came from mobile devices, hitting new highs around Christmas in some countries with over 60 per cent. The push towards mobile has been a major theme throughout the entire year, with mobile share up to 42 per cent from 27 per cent in 2013 and the Zalando app downloaded more than 7 million times by the end of 2014.
Please see our full annual report "The Zalando Code" online at https://corporate.zalando.com/en/annual-report-2014. Zalando will report figures for the first quarter 2015 on 12 May 2015. 
Note to Editors:
Rubin Ritter will be available for Q&A during a conference call for media today at 09.00 am CET. Please dial in at +49 69 222 229 044, using the participant code 26724309#.
1 Adjusted to exclude equity-settled stock based compensation costs.
Table 1: Zalando Group – Revenues and adjusted EBIT (EUR million)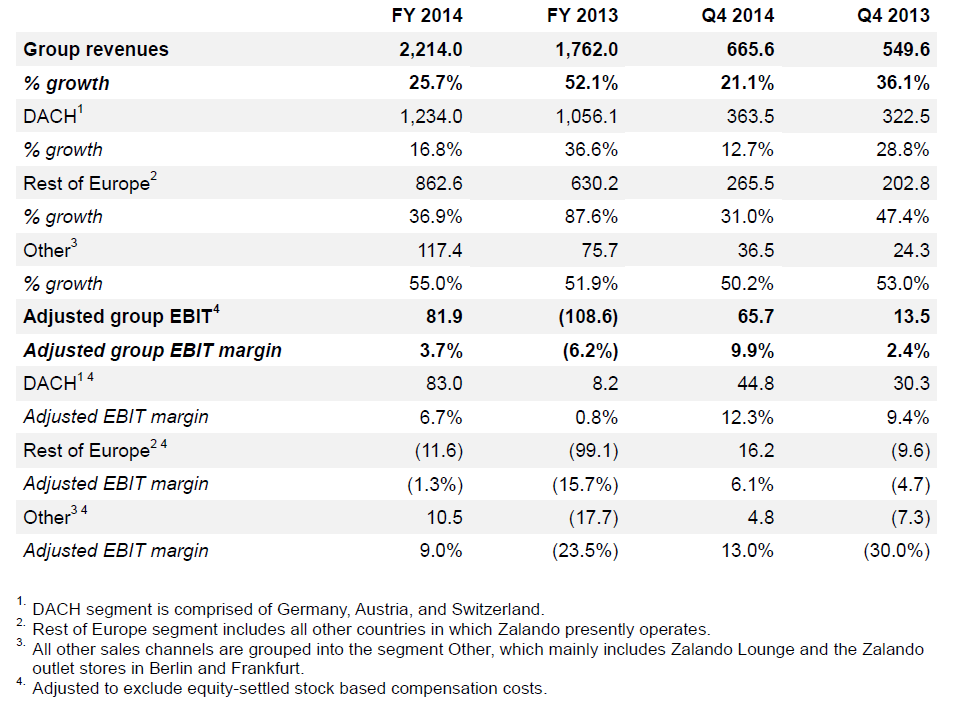 ABOUT ZALANDO
Zalando (https://corporate.zalando.com) is Europe's leading online fashion platform for women, men and children. We offer our customers a one-stop, convenient shopping experience with an extensive selection of fashion articles including shoes, apparel and accessories, with free delivery and returns. Our assortment of over 1,500 international brands ranges from popular global brands, fast fashion and local brands, and is complemented by our private label products. Our localized offering addresses the distinct preferences of our customers in each of the 15 European markets we serve: Austria, Belgium, Denmark, Finland, France, Germany, Italy, Luxembourg, the Netherlands, Norway, Spain, Sweden, Switzerland, Poland and the United Kingdom. Our logistics network with three centrally located fulfillment centers in Germany allows us to efficiently serve our customers throughout Europe. We believe that our integration of fashion, operations and online technology give us the capability to deliver a compelling value proposition to both our customers and fashion brand partners.
Zalando's websites attract more than 100 million visits per month with 48 per cent coming from mobile devices during the fourth quarter 2014, resulting in close to 15 million active customers by the end of the quarter.