Working at Zalando Logistics
The thousands of employees working in logistics make a significant contribution to our success.
Zalando Logistics has experienced rapid change in recent years. To date, our European network comprises nine fulfillment centers in five markets and our new site in Sweden recently started operations. Every day, Zalando Logistics employees in Germany and our locations operated by service providers in other markets ensure that more than 28 million Zalando customers in 17 European markets receive their packages quickly and reliably thanks to their high level of commitment.
The competition for a good workforce is huge and Zalando Logistics must fulfill high standards to ensure it is attractive for potential applicants and current employees. We therefore strive to provide optimum working conditions, remuneration models and favorable social welfare standards. We also expect these standards from locations operated by service providers. Only with a motivated and strong team will we be able to continuously operate and expand the logistics side of the business in the future.
SHIFT FOR PARENTS 

Benefits reconciliation of family and worklife. Idea from the workforce.

PARTICIPATION

Works committee, regular surveys and consultation-hours enable direct co-creation of working conditions and operation procedures.

EMPLOYEE SURVEY

76 percent are satisfied with working at Zalando.
82 percent feel treated fairly by superiors and 77 percent enjoy their tasks.

PROGRAMS FOR DEAF PEOPLE

For better integration of disabled persons.

STIMULATION OF THE LABOR MARKET

Approx. 50 percent of employees received unemployment benefits before. New opportunities for long-term unemployed, lower burden on public budgets.

TEMPORARY EMPLOYMENT

Equal pay for all employees. Temporary employment represents an additional recruitment channel.

YOUNG AND OLD

At our fulfillment centers more than 25 percent of our staff is older than 50 years.

INTERNATIONAL STAFF

Employees from more than 100 nations work in Zalando Logistics.

HOME-MADE LOGISTICS SOFTWARE

Developed and implemented by the Zalando Tech Team.

PERSONAL COUNSELLING

Direct on-location-support by social education workers and integration managers.

PAYROLL PACKAGE

Based on regional collective bargaining agreements for logistics. Several perks and reductions (e.g. Christmas and holiday bonus, job ticket for public transport, free beverages and fresh fruit).
International Fulfillment Locations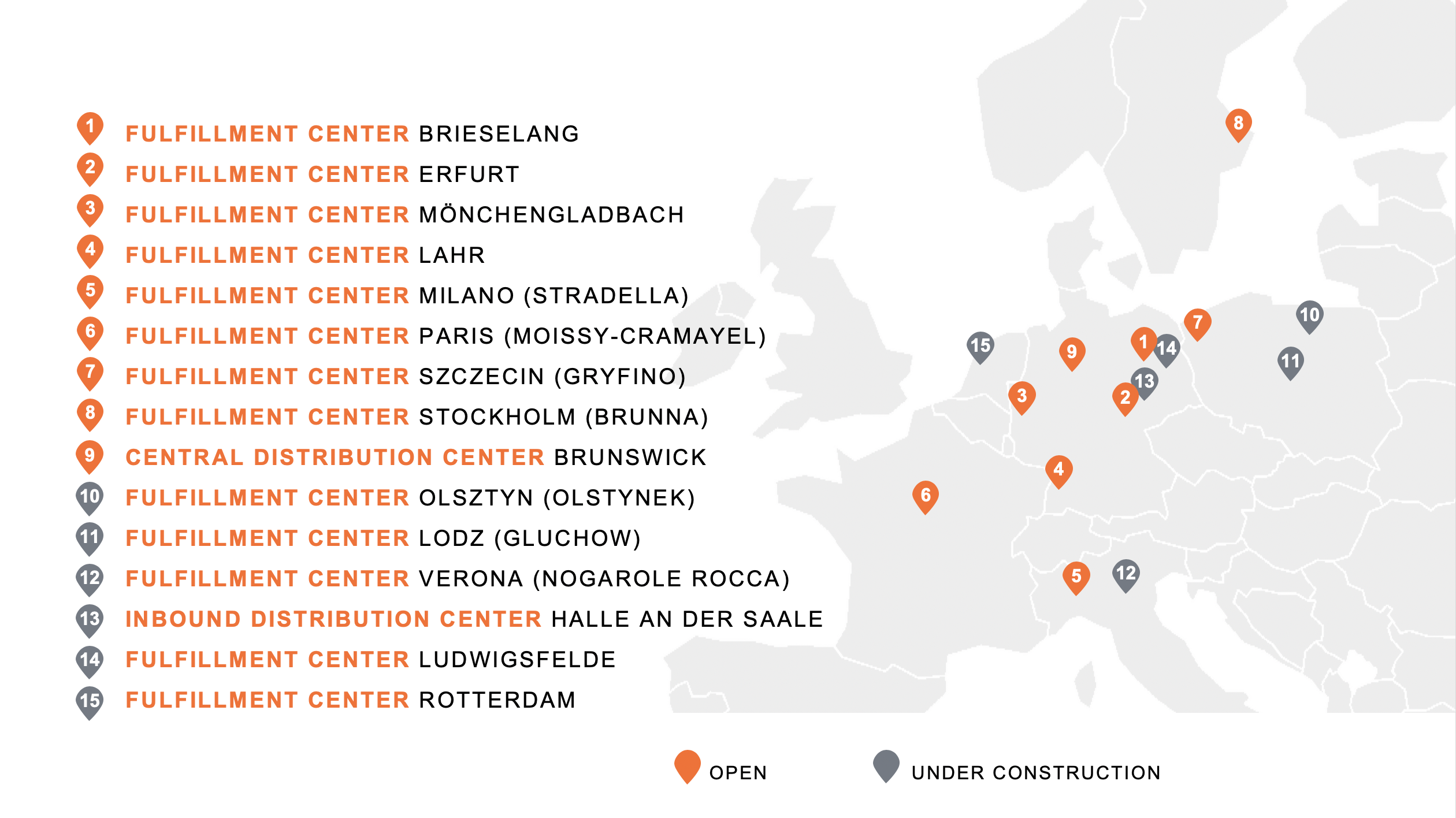 Modern Working Conditions
We follow the guidelines of employee feedback and motivation, fairness, respect and openness. Providing good and modern working conditions at Zalando Logistics is our top priority. This is why social standards were adopted as early as 2012 – the year that Zalando began its logistics operations. These standards apply both for locations of Zalando Logistics and those operated by service providers. In addition, we have implemented a range of social welfare benefits to ensure a good working environment, including activities that mainly involve standing and those that entail the use of walkways. All activities will be continually developed and optimized in the future.

For us, it is key to walk hand in hand with our employees when it comes to shaping working conditions. Therefore, a constructive exchange of views with colleagues from the outset is standard practice at all locations. At the fulfillment centers in Brieselang and Erfurt, we also work closely with works councils.
Our measures aimed at ensuring good and modern working conditions include:
A work culture in which everybody is valued and treated the same – regardless of their hierarchical level, gender, age, origin or other personal qualities

Equal pay for temporary and permanent staff

Continuous renewal of contracts

Ergonomic work stations

Canteens with a wide variety of dietary options

Parent shifts for better compatibility between work and family life

Shifts aligned with local transport timetables as well as additional Zalando buses on commuter routes

Regular feedback for all employees, whether permanent or temporary

Employee magazine for logistics to improve the flow of information

An independent representative

Social welfare advice on site

Free fruit and water

Free flu vaccinations and health advice

Various sports options
A Fair Remuneration Model
At Zalando Logistics, good working conditions also include fair pay. Zalando Logistics therefore offers a remuneration package, which is based on the locally applicable wage agreements of the logistics industry including a range of extra-contractual benefits. We aim to further develop this approach in the future.
The extra-contractual benefits include:
Offers for company pensions

Contributions to public transport tickets

Discounts for canteen food

Bonuses at Christmas and vacation pay

Employee discount of 40 percent in the Zalando shop

Employee participation programs (employees receive shares at no extra cost as well as the opportunity to secure additional company shares easily and at a reasonable cost)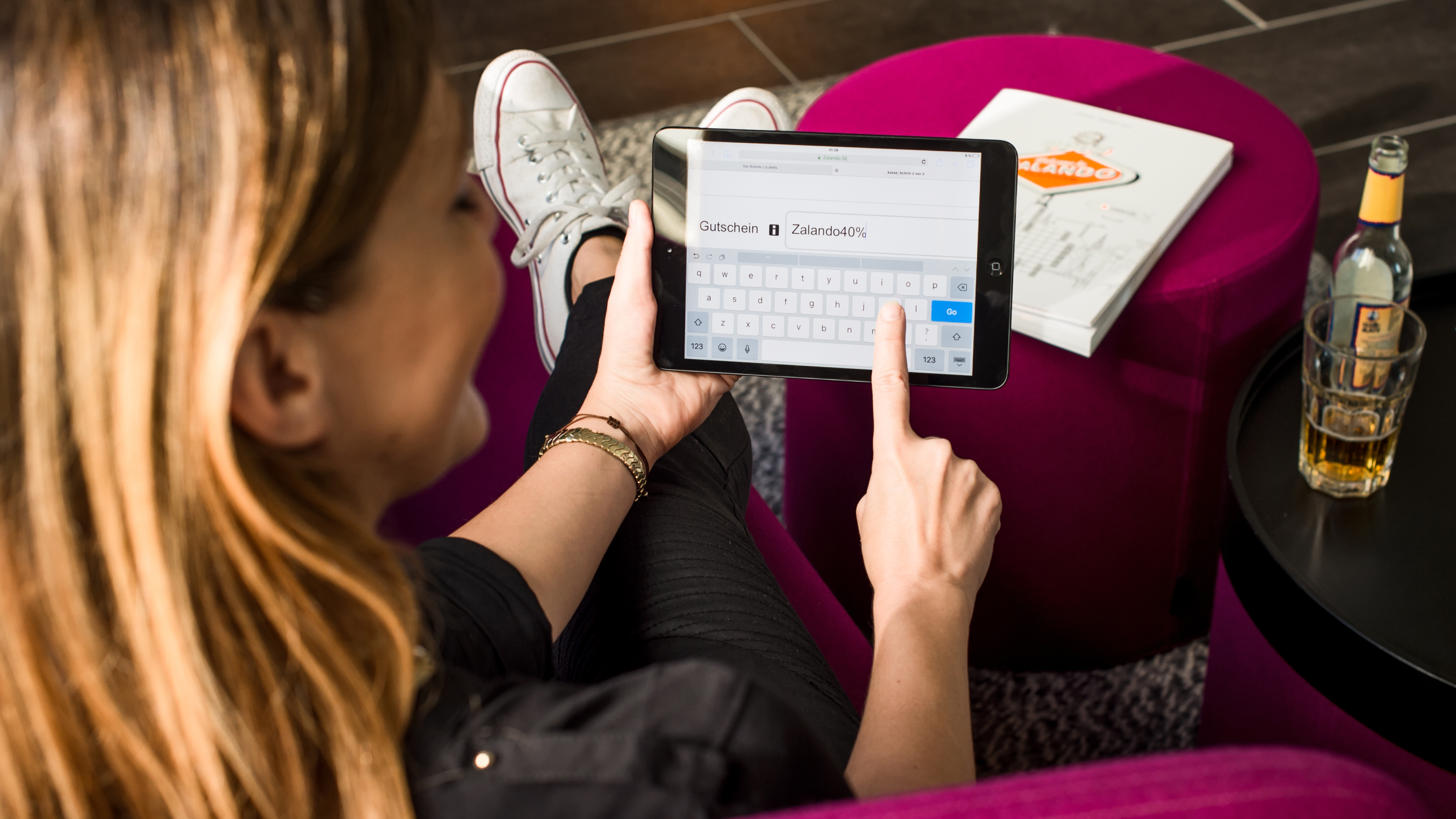 Social Standards Review
At our fulfillment centers, we have established a set of social standards, which ensure that employees can perform their work under optimum conditions. The implementation and compliance with these standards are regularly reviewed both internally and externally by an independent testing and certification company, which carries out its inspections unannounced, twice a year. All previous inspection reports have yielded very good results and confirmed the implementation of a range of suggestions for improvement. In the last set of reports, we achieved an average score of 1.5 (Brieselang: September 10, 2018, Erfurt: September 24, 2018, Mönchengladbach: September 27, 2018, Lahr: October 1, 2018, evaluated on a scale from 1 – very good to 4 – not acceptable). We were delighted with this result, showing that we are on the right track with our measures. It also encourages us to continue working on further improvements in the future.
In addition to official inspections, we also regularly open the doors of our fulfillment centers to external visitors from the world of politics and the press, allowing them unfiltered access to all employees on site.
How does Zalando ensure good working conditions in the logistics division?

The competition for a good workforce is huge and Zalando Logistics must fulfill high standards to ensure it remains an attractive employer – both for current employees and applicants. We have established a set of uniform social standards across all our fulfillment centers. These follow the guidelines of appreciation, fairness, respect and openness and include, for example, equal pay for temporary and permanent staff, ergonomic work stations, sufficient break room availability and regular feedback. Inspections are performed to ensure that our social standards are upheld – both internally and externally by an independent testing and certification company, which has confirmed our very good results and the implementation of countless suggestions for improvement. In the latest reports for our three locations, we received an average score of 1.4 (1 – very good, 4 – not acceptable). We also regularly carry out anonymous employee surveys in Zalando Logistics. In the last survey conducted in the summer 2016, 76 percent of employees at the fulfillment centers stated that, overall, they were happy. 82 percent felt as though they were treated fairly and respectfully by their manager and 77 percent of employees said they enjoyed their job.

Does the principle of equal pay apply at Zalando?

At all our fulfillment centers, temporary workers receive at least the same hourly rate as permanent employees. All employees – regardless of whether they are new starters, temporary or permanent – are treated the same and paid according to the same rules.

What is employee participation like at Zalando Logistics?

Trust and transparency are considered core values. This also includes a constructive exchange between employees and management, which is standard practice at Zalando Logistics and has been implemented at all locations from the outset. There are a range of options for our colleagues to get involved in and actively contribute towards the day-to-day running of the company, including weekly consultation hours with location managers, round tables and anonymous surveys.

For example, the introduction of parent shifts was a staff idea, which was discussed at a round table and consequently implemented. At our fulfillment centers in Brieselang and Erfurt, we also work closely with works councils.

How high is the proportion of unlimited contracts at Zalando Logistics?

At the beginning, Zalando Logistics launched large-scale programs in collaboration with local employment agencies at all locations to recruit workers from long-term unemployment. Some of these programs are still in action today. We also try to give every person the opportunity to return to working in a permanent role. As a young company, we want to continue to establish ourselves in the independent logistics industry. For these reasons, we are initially limiting the duration of employment contracts.

However, it is a clear objective of Zalando Logistics to establish a long-term presence in the respective regions and build up a well-coordinated team at these locations. Therefore, we continuously renew employment contracts. The number of permanent employment contracts increases the longer the site is in operation. The current rate of employees with unlimited contracts at our fulfillment centers in Brieselang and Erfurt is above 70 percent. At our newer fulfillment center in Mönchengladbach, the rate is above 60 percent. The center in Lahr is currently undergoing intensive development so a reliable rate is not yet available at this location.

Which criteria is remuneration based on at Zalando Logistics?

Wages at our fulfillment centers are based on the regionally applicable wage agreements for the logistics industry. The amount of Christmas and vacation pay is also based on these regional wage agreements. In addition to our remuneration package, we also offer a range of extra-contractual benefits, including company pensions, public transport subsidies and a 40 percent employee discount in the Zalando shop.