Reducing Our Ecological Footprint
We are dedicated to growing our business responsibly while minimizing our environmental impact.
Climate change is one of the defining issues of our time, posing significant challenges to our business, employees, partners, customers and communities across the world. In order to do our part, in 2018 we launched our first climate protection strategy. The strategy sets out our ambition to reduce our environmental footprint as we continue to grow, with a twin focus on resource efficiency and renewables.
Cutting Our Carbon Footprint
In the past years, the main sources of CO2 emissions at Zalando have been customer deliveries, energy and packaging. This has shaped our climate protection strategy, and the reduction of emissions in these areas is a key priority for us going forward. In 2018, we achieved a 16% reduction per order by switching to renewable energy throughout all our German and Polish fulfillment centers and at almost all of our offices. 
We are also collaborating closely with our suppliers and partners to reduce our collective carbon footprint. This year, over 80% of our nationwide carriers provided us with CO2 data, enabling us to measure our impact more accurately. By 2020, we want 100% of our packaging suppliers and nationwide carrier partners to provide us with this data and commit to reducing CO2 emissions. 
2.13kg
CO₂ Output per Order (2018)
CO₂ Emissions Based on Source (2018)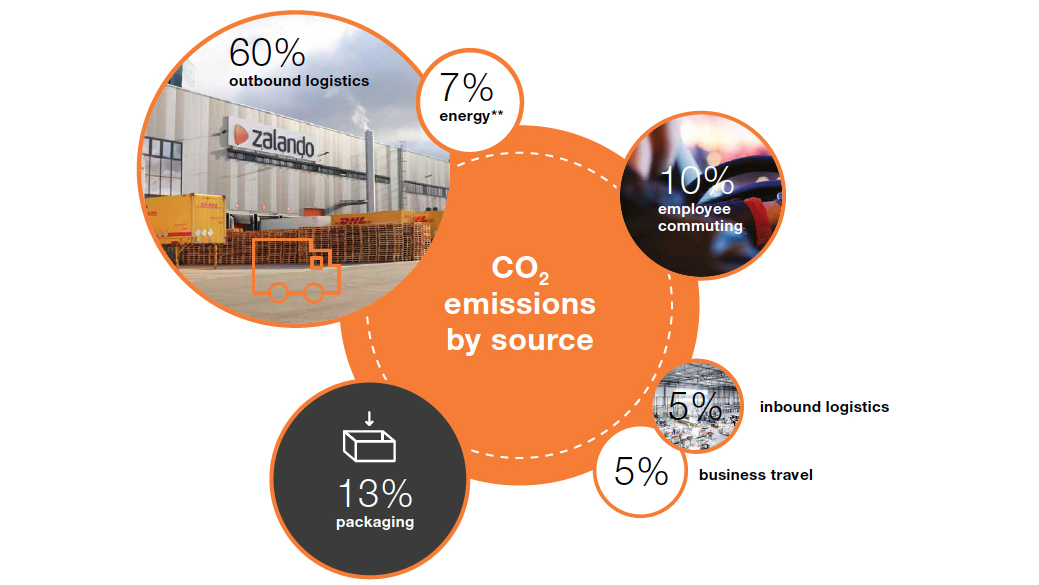 *) Outbound logistics considers customer deliveries incl. returns from Fashion Store, zLabels, Zalando Lounge, Zalon and Partner Program; packaging considers the production of packaging materials; inbound logistics considers the upstream transportation of zLabels products and packaging materials, and also storage in spoke warehouses; employee commuting calculated based on commuting scenarios; energy incl. energy consumption as well as fuel and energy-related activities.
**) Energy emissions contain all of our offices and offline-stores with more than 40 employees and our logistic locations in Brieselang, Erfurt, Lahr, Mönchengladbach, Szczecin (Gryfino) and Lodz (Gluchow).
Improving Our Logistics
In 2017, we implemented a logistics feature to automatically bundle customer orders. We continue to see a positive impact through combining customer orders into single shipments, thereby reducing the carbon emissions from our deliveries. Additionally, on the return page of our online shop, we started to encourage our German customers to return multiple orders in a single shipment by reminding them of the positive impact they can have on the environment.
Encouraging Sustainable Travel
Commuting and business travel is an important part of running a successful business, and we continue to explore ways to minimize its effect on the environment. Our company car guideline provides financial incentives for employees who select hybrid or e-vehicles as their company cars. To reduce the impact of commuting, we have added e-vehicles to our carsharing fleet. 
We actively encourage employees to take public transport wherever possible, and we have worked closely with local public transport companies to improve routes and connections to and from our fulfillment centers in Erfurt and Lahr. Additionally, we continue to offer a monthly employee public transportation subsidy to all our employees, whether they work in an office or in a fulfillment center.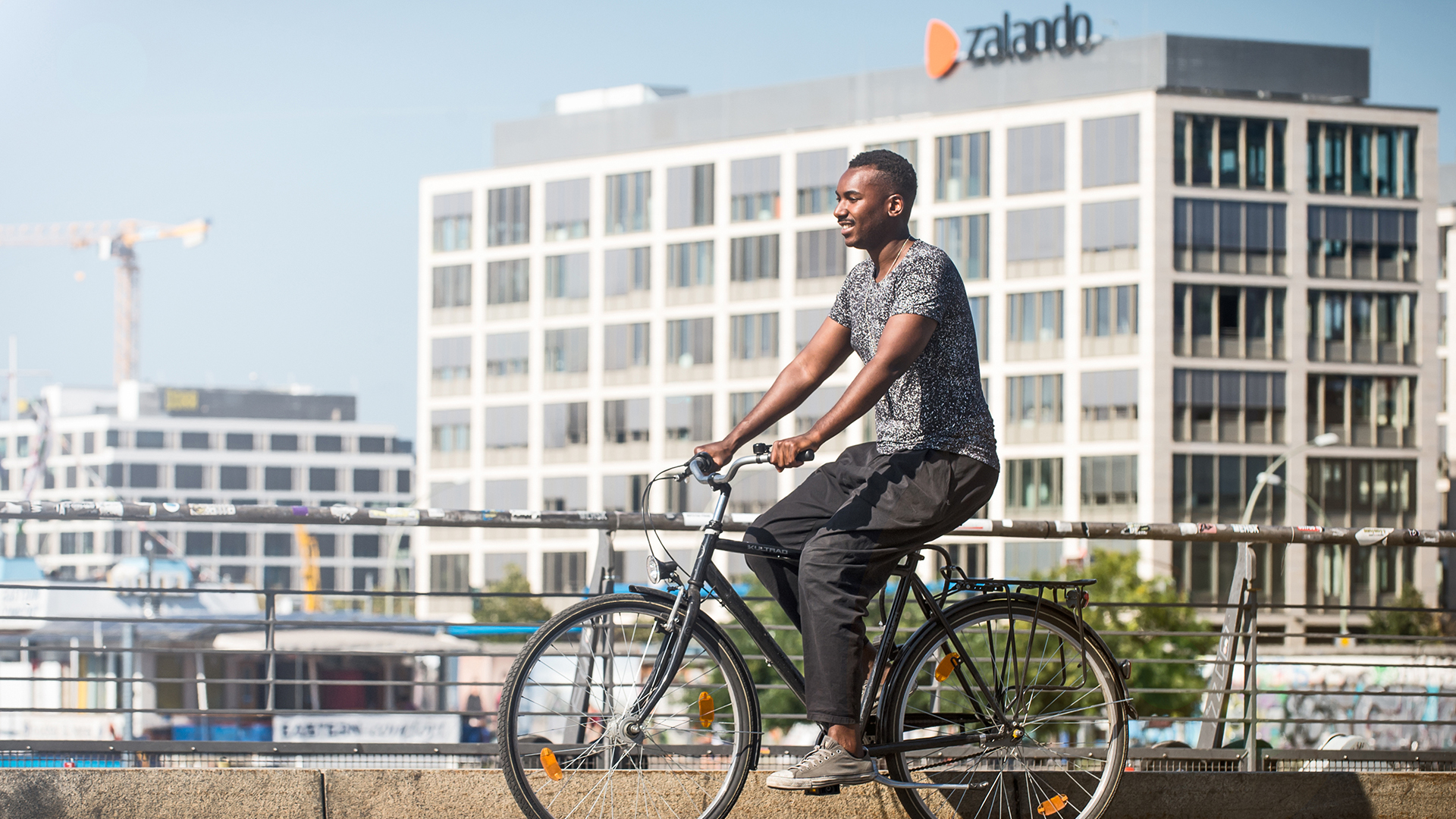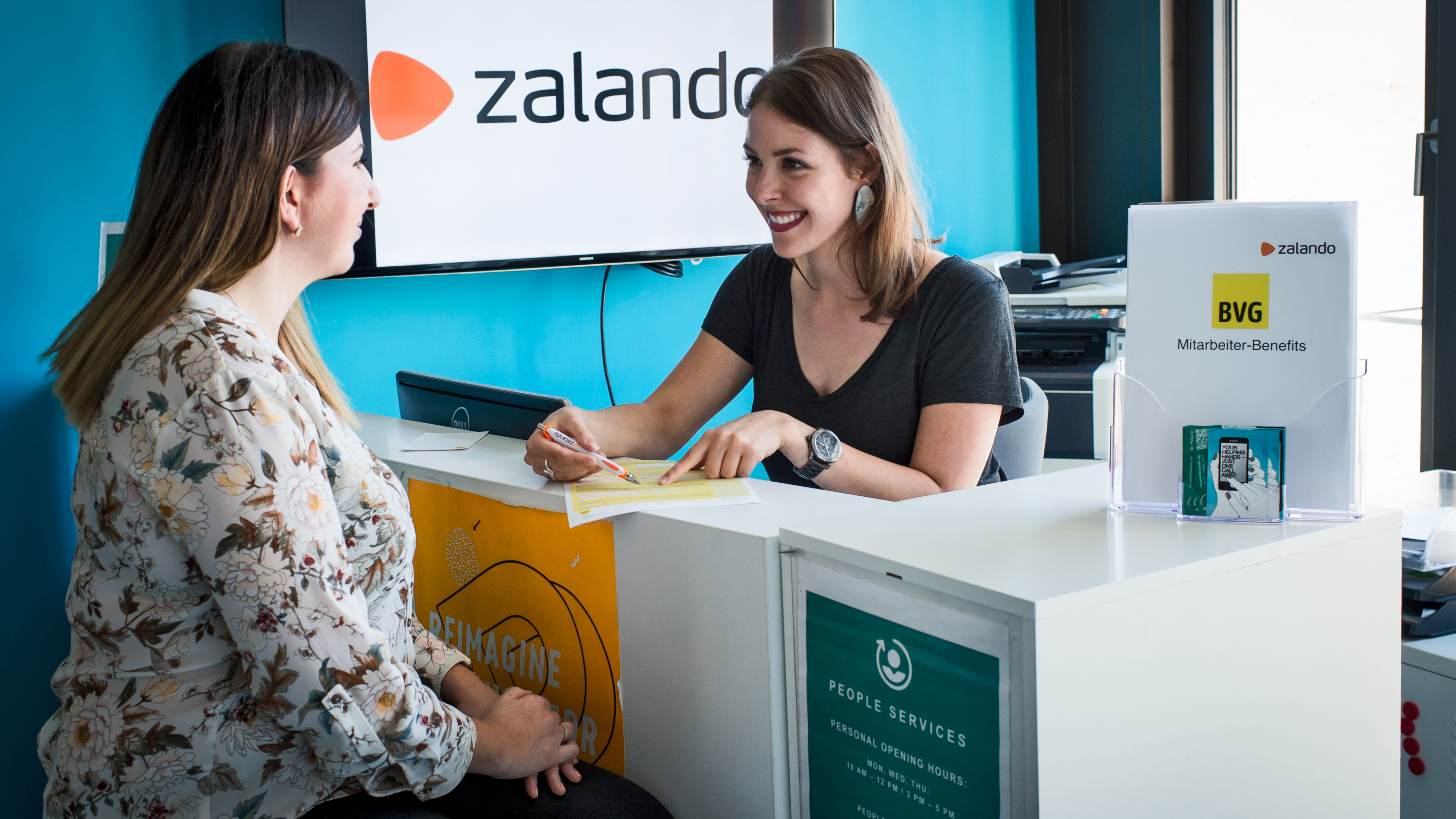 Looking Forward
Because our business is growing fast, we only consider our target aspiration to be fulfilled if we achieve a 10% reduction in 2020 in comparison to our 2017 baseline. We will continue to work on reducing the impact of our shipments by piloting climate protection measures for customer deliveries.