Under Armour and the power of social storytelling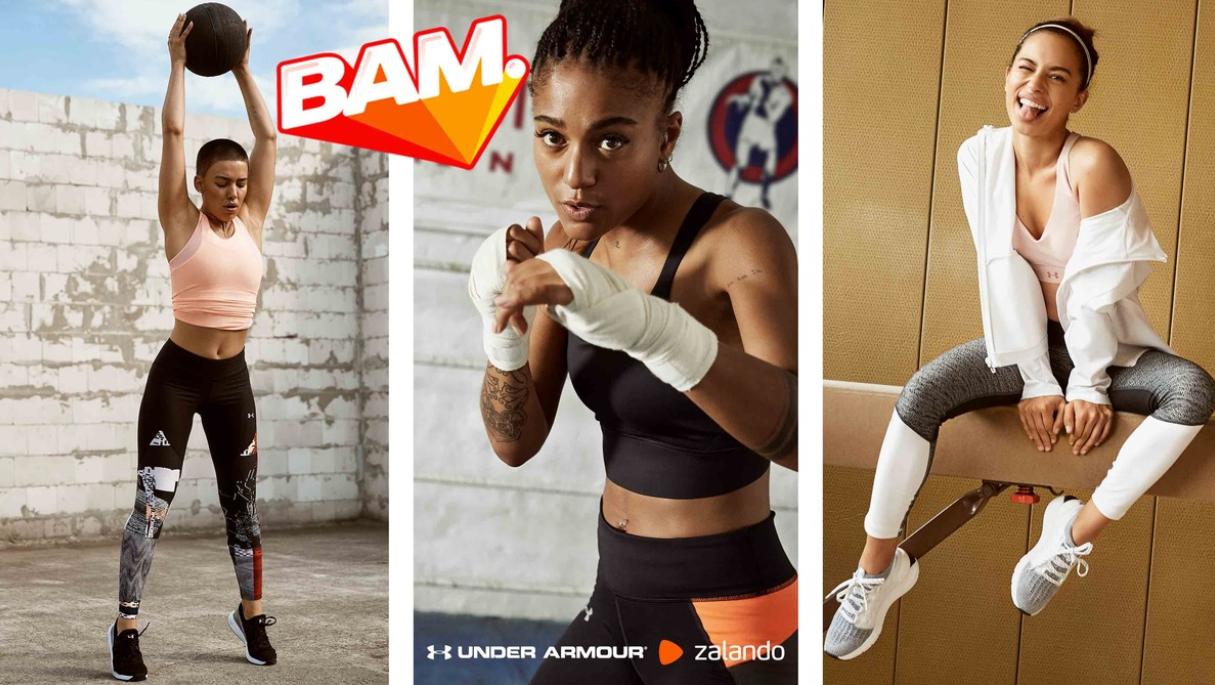 In order to connect with female customers, Under Armour collaborated with Zalando Marketing Services (ZMS) to create a powerful 360° digital campaign, using influencers, and highlighting Under Armour's proposition for active women.
Leveraging a 360° digital marketing campaign to connect with an active female audience
+26%
women's sales uplift
+211%
return on influencer investment
Under Armour creates state-of-the-art products engineered to solve problems and make athletes better, as well as digital health and fitness apps built to connect people and drive performance. From their origins in Baltimore, where their global headquarters are located, they've grown into a multibillion-dollar brand made, sold, and worn worldwide. 
With Zalando, Under Armour developed an innovative 360° marketing campaign to raise brand awareness among young, female consumers. To do so, they made use of various Zalando services such as ZMS and Consumer Insights.
Under Armour has traditionally been a more male-oriented brand, so in addition to gaining a foothold in Europe, the aim of the campaign was to target the young, female consumer who may not traditionally consider Under Armour.
A cross-functional team of experts at ZMS worked closely together with Under Armour create a powerful 360° digital campaign, highlighting Under Armour's proposition for active women. The approach can be broken down into three parts.
1. Deep customer insights: In-depth research was conducted based on Zalando customer data to understand Under Armour's brand positioning and perception in Europe. These insights formed the foundation to the creative concept.
2. Spot-on storytelling: To deliver on the campaign objective, the creative teams at ZMS came up with the campaign concept: BAM – "joy of achievement". What is BAM, you ask? BAM is that feeling when you unleash performance, achieve the unexpected and make yourself proud. To bring this to life in a meaningful way for the target customer, the overarching concept focused on social storytelling, hereby strategically leveraging selected influencers to created relevant and authentic content pieces.
3. Excellent media execution: ZMS developed a comprehensive media strategy using a mixture of influencer marketing, highly visible placements on Zalando as well as prominent features and innovative formats on 3rd party websites and social media.
By combining customer-centric creativity with a data-infused marketing approach, the campaign led to significant increases in brand awareness, return on ad spend and sales.
ZMS created an outstanding concept, which was a good introduction to new consumers. The campaign was a brilliant success for us in terms of branding and engagement."

Johannes Mulert, Strategic Channel Marketing Manager and Lead Pure Players EMEA at Under Armour
By finding synergy between data and creativity, ZMS was able to create an exceptional brand experience on behalf of Under Armour which engaged a significant number of female customers and boosted sales in the target audience. 
With 12 influencers involved, 117 million ad impressions generated, and 37 million unique female users reached, Under Armour was able to increase their sales in the Women category by +26% year-over-year. Return on ad spend was +398%, while return on investment for influencer marketing totaled 221%. 
Based on the success of the BAM campaign, Under Armour decided to follow up with an even bigger activation under the concept of SHEPWR. The follow up campaign was live in August and September 2019 and again aimed to engage with a female target audience based on authentic influencer content.
 
 
Goal

Increasing share of sales to young, female customers 

Brand Specs

Founded in 1996

Based in the US

14.000 employees

5,2 billion EUR annual turnover

Markets

All 17 Zalando Markets 

Categories 

Women, Men, Kids

Sports

Services
mentioned