How Schiesser reached >580k users on Instagram with authentic storytelling 
Schiesser leveraged ZMS's influencer marketing platform, Collabary, to reach a wider audience, increase brand relevance and gain greater visibility for their high-quality, cozy assortment.
Schiesser is one of the largest producers of loungewear and underwear in Germany. They're active on Zalando in both wholesale and Partner Program, and often leverage Zalando Marketing Services (ZMS) to reach customers and grow the brand.
First and foremost, Schiesser's goal was to give the brand amazing visibility, not just among the general population but in particular among their target audience, who they defined as social-media and Instagram savvy modern families. Schiesser's own Instagram account has around 8000 followers, so the brand knew there was definitely room to grow in terms of getting exposure to the right kind of customers. This is where Collabary comes in! Collabary is Zalando's influencer marketing tool, a key component of ZMS, where brands and key creators come together to create authentic content. 
"Collabary really enabled our entry into influencer marketing, we would never have been able to run this campaign or reach the customers we wanted to, had it not been for the tool. It's also a question of cost-saving, Schiesser is a super local brand, and therefore, our budget was small. Collabary allowed us to achieve a lot with little."
Isabel Sonnleitner, Key Account Manager E-Commerce, Schiesser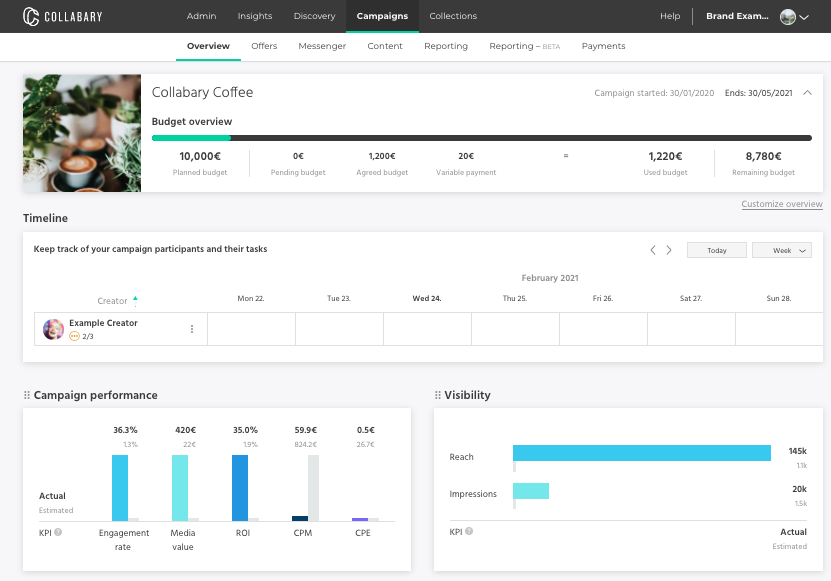 The most important consideration for Schiesser when deciding to leverage influencers on Instagram was collaborating with influencers who had real "human engagement," not just a high follower base and no authentic interaction. In terms of reach, Schiesser approached influencers with follower bases between 40k - 250k. Success was measured through likes and comments, engagement with the posts, as well as discount codes that could be used directly on their own online shop. Just as a quick reminder, the engagement rate is the sum of reactions (likes & comments) on an Instagram post in relation to the number of followers.
Schiesser started by defining their target audience: customers who want something of high quality and are searching for articles that cover all life stages. For this reason, they narrowed their target customer group down to the modern family – families who are working, and who are looking to maintain a good work-life balance at home. Those who have a lot to achieve but still want to keep things cozy, who want to look good and feel good, and therefore shop Schiesser. Schiesser has many articles that really speak to this consumer group, but brand awareness among their target audience was missing.
About the campaign:
The theme of the campaign was "#hygge cozy home and daywear for home office."   
Schiesser focussed on pure and natural imagery to support their timeless brand image. 
Nine influencers were selected to produce authentic content featuring Schiessers' Autumn Winter collection in a real-life setting with their family, at home during lockdown.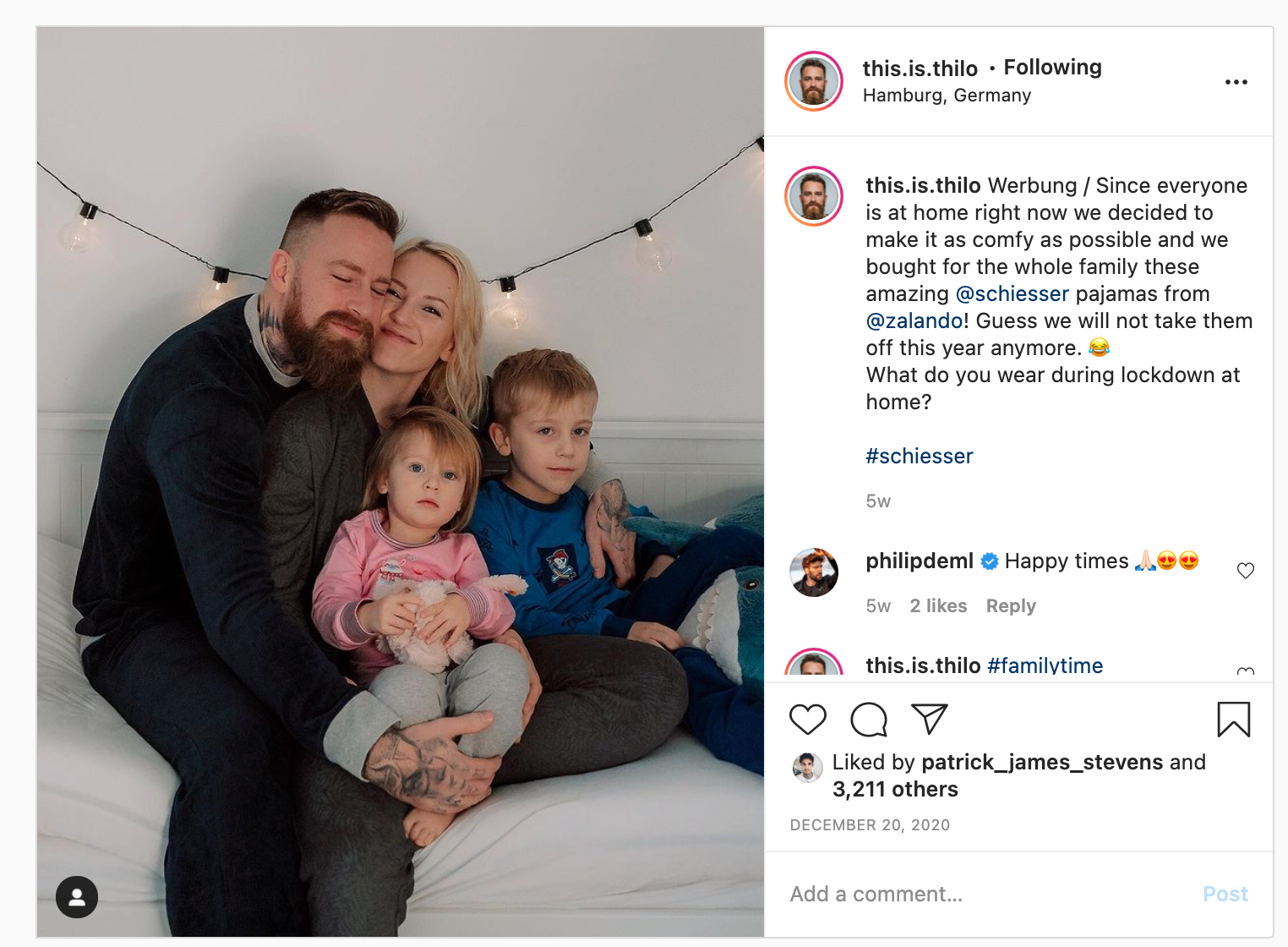 Thilo Miles for Schiessers' #hygge cozy home- and daywear campaign in December 2020 
Source: Thilo Miles
Collabary's Creator Discovery
Schiesser noted the feature Creator Discovery on Collabary as particularly helpful in getting them in contact with the right influencers. Here's what they had to say:
"We use filters in the Creator Discovery pretty frequently! For us, the first filter we decided on was defining the target market, which was Germany. Then we defined the target age, which we decided shouldn't be overly young – not just influencers in their 20s. Another important element was defining the influencer's interests in terms of home interior, hobbies, and food, as creating the correct campaign aesthetic meant more than just fashion. Follower numbers and engagement rates were also really important to us and the response rate of the influencer's followers. We also really liked that you can search for specific influencers and not just rely on filters only, because often we found that we saw an influencer while browsing social media and then we were able to find this specific influencer and start a conversation."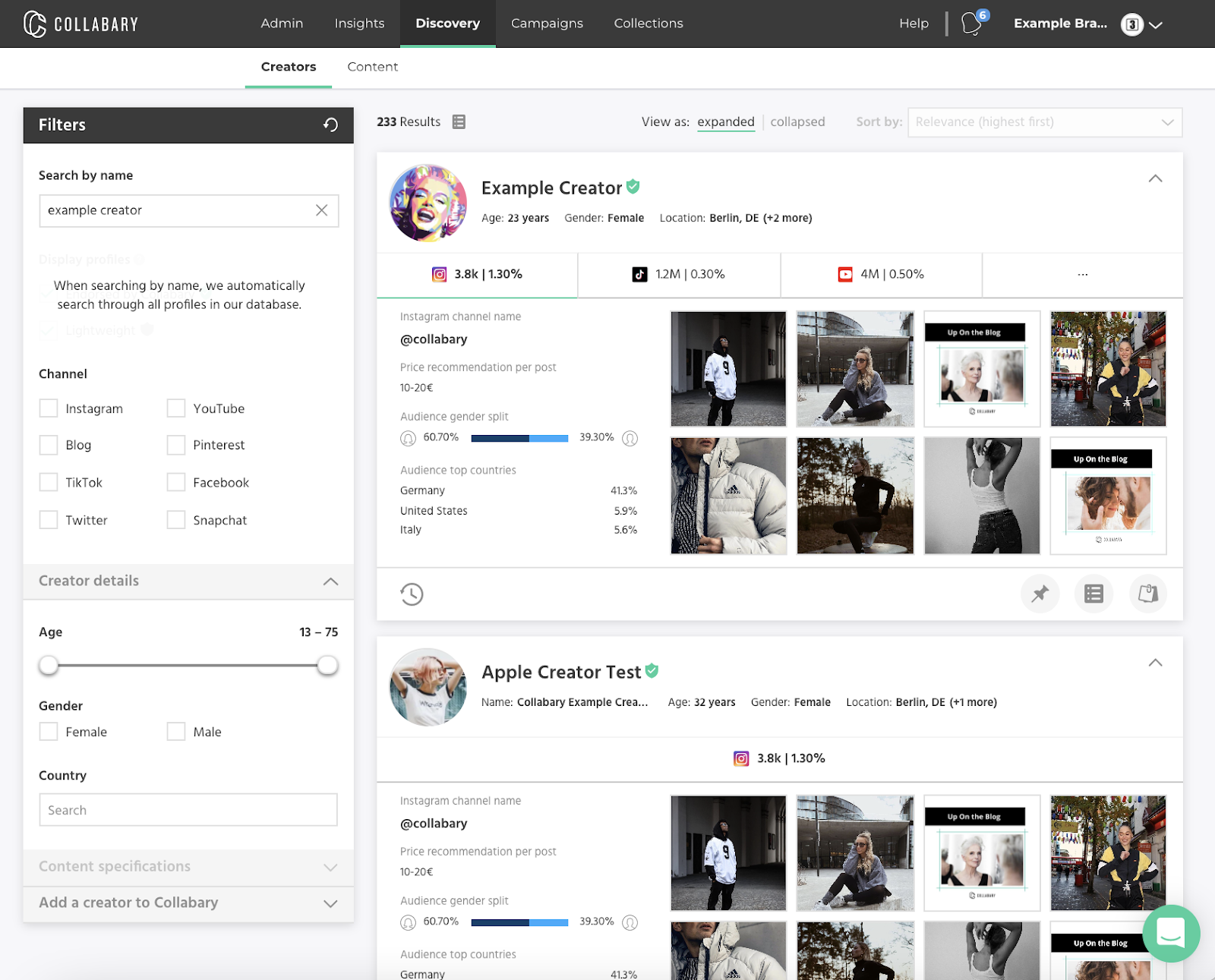 In Schiesser's own words
"The platform is super user-friendly, you just have to have a vision in mind for your Instagram campaign, then you type in a few keywords, a headline, some impressions of your brand, and your budget. Then, with the filters which you define you get a selection of suitable influencers who you can connect with and talk to. You can get reporting, you can forward this to Marketing and Management, it truly feels like a full service offering even though you're in the driver's seat. The portfolio of influencers is huge, in the past we had tried to work with influencer agencies, but their portfolios were very slim, so they would really have to fit your brand which isn't always easy. So instead of working with 10 agencies, you just have it all in one tool which we find really powerful." 
Tips for brands
Schiesser has some hot tips for brands thinking of using Collabary for authentic brand storytelling:
Fill in as much information about what you're planning as possible so that when the influencer gets your request they can immediately discern whether or not your brand is a good fit for them.  
Define your target group! Define what your goal customer looks like and then define what sort of influencer would speak to that customer's interests and inspire them.  
Make sure these are influencers that are truly connected to their followers and interact with them, and don't just post a different campaign every day.
Schiesser managed to gain 613k impressions on nine Instagram posts as well as 249k impressions via 4 Instagram stories, with an engagement rate of 3.3% (+3.48% above the Collabary benchmark) and a whopping 116.3% return on investment!
 
 
Goal

Increasing brand relevance and reaching the target audience: modern families

Categories 

Men's Apparel

Women's Apparel

Kid's Apparel

Services
mentioned

Collabary, ZMS

Founded 

1875

Based in

Radolfzell am Bodensee

Employees
923
Annual turnover
€192M (2019)