Cyber Week 2019 – Celebrating joint successes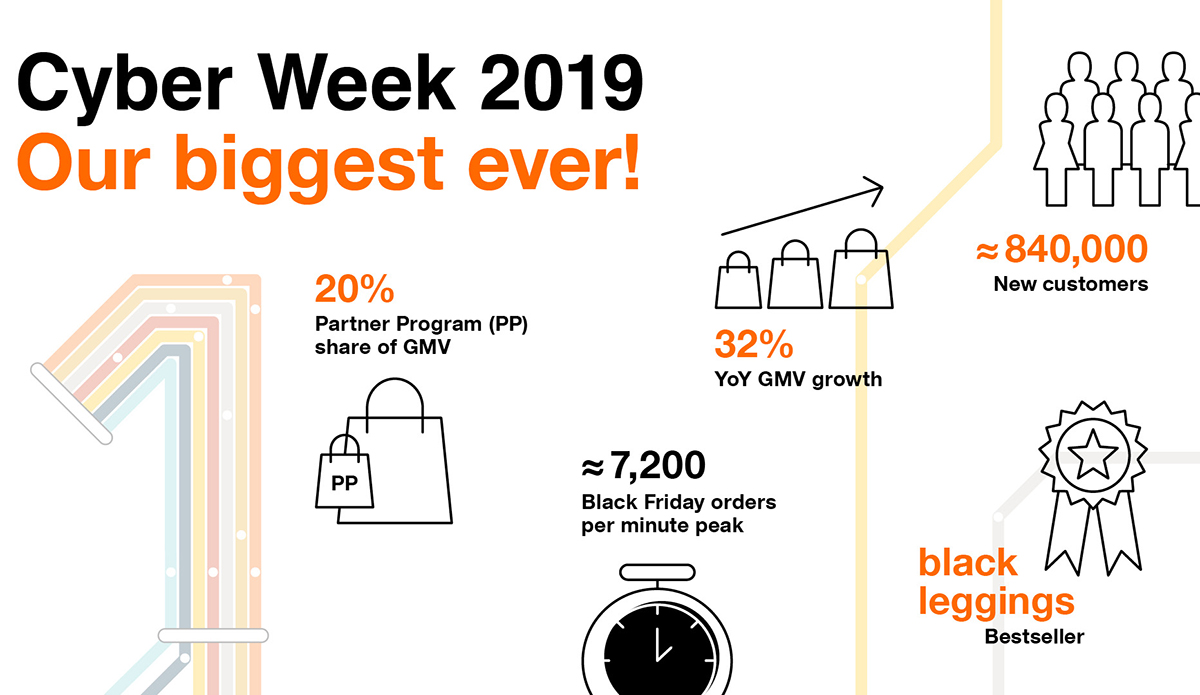 This year's Cyber Week was our most successful ever, demonstrating just how pivotal our Partner Program is in securing joint wins and delighting customers on Zalando. 
The success of Cyber Week marks a new milestone in our transformation to a platform and journey to becoming the Starting Point for Fashion. Compared to last year's Cyber Week, we are excited to have reached 32% growth for Zalando overall. Partner Program's share of GMV averaged 20%, at times reaching an all-time high of 50% in Germany. This demonstrates just how impactful our partnerships are in helping us reach strong results together. These results prove a high potential for scaling Zalando's platform business further in future. Together with our partners, on Black Friday alone, we reached around 7,200 orders per minute at peak times, and were able to acquire around 840,000 new customers in total during Cyber Week.
In addition to our close collaboration with partners, we made it happen by investing heavily in tech and processes, and by putting customer and partner-centric mechanisms in place.
 
In addition to all-time high results, we lived up to our commitment to being carbon-neutral in our own operations, and all deliveries and returns (read more about our do.MORE sustainability strategy here). Customers could make use of the recently launched offset feature in the check-out process to contribute to a climate neutral Cyber Week order. All carbon emissions not eliminated by operational improvements, such as renewable energy, order bundling or green delivery options, have been offset. 
We are also celebrating many firsts for our Partner Program partners who set bold discounts to offer incredible deals and generate excitement for our customers. Hereby, partners often leveraged our platform services to ensure that even during Cyber Week, customers experienced the same level of convenience and stock availability remained high. 
Partner Program partners who took part in Cyber Week typically started setting aside stock 4-8 weeks prior. As partners control their own prices in the Partner Program model, they are of course also responsible for setting their own discounts during Cyber Week. In addition to receiving guidance and regular information from our side, many partners opted to leverage our platform services to further drive their success on Zalando. The following success stories are just some of the highlights from a week of incredible achievements.
reached over 150% year-over-year (YoY) growth and hit their target already on Tuesday, November 26, during our Warm Up Days. How did they achieve this? By putting together an attractive offer and ensuring high stock depth, while at the same time working closely with Zalando Marketing Services (ZMS).
The Black Friday and Cyber week sales events have accelerated our growth to amazing heights. This has become the major sales driver in European E-Commerce."

Daniel Dutta, CEO, Motion Fashion
PUMA's attractive offer ensured that they experienced the "best sales ever achieved on any marketplace so far" this Cyber Week on Zalando.
having recently onboarded onto Zalando Fulfillment Solutions (ZFS), Mango made use of Zalando's logistics capabilities and better order economics due to mixed baskets. Due to this, Mango was able to offer a wider assortment range that included products that would have previously not been economically viable. A great win for our customers! And a great win for Mango, who grew by approximately 50% YoY. Even though Mango only integrated with ZFS around 2 months prior to Cyber Week, over half of their overall sales were fulfilled by ZFS.
Cyber Week has shown us what is possible with good planning and cooperative partnerships, with this we are able to celebrate the most successful day in our partnership history."

Stylefile
managed to hit their full target already during the Warm Up Days leading up to Black Friday. Over Cyber Week the brand grew by nearly 290% YoY. In the weeks running up to the event, regular touchpoints with their  Partner Program Key Account Manager enabled Stylefile to onboard more assortment, plan their pricing strategy and be fully prepared to deliver on our convenience promises to customers.
a hybrid brand that we work with in both wholesale as well as Partner Program - achieved 59% YoY growth, putting their success down to a combination of factors. Regular communication from Zalando allowed Pepe Jeans to start organizing their campaign early, ensuring they were well prepared for the event. Specifically the strong alignment between ZMS, Partner Program and the Pepe Jeans team enabled them to achieve amazing results. For example, on Cyber Monday, i.e. December 2, Pepe Jeans grew with almost 135% YoY by investing additionally into ZMS to push pure Partner Program articles. Pepe Jeans also went live on ZFS in France and Italy on November 18, so in the same week as our Cyber Week kick-off. Combining both their own logistics with ours via ZFS ensured that customers had access to the widest assortment and optimal convenience.
For many partners, such as Noppies and Bestseller, this was the first time they participated in our Cyber Week. We're excited to see more partners getting involved in making offers more attractive for our customers, and generating added excitement for their assortments.
Creating the perfect platform environment for Cyber Week
Extensive preparation, investment in tooling and automation, and having all our partners on board were the fundamental ingredients of our Cyber Week success recipe. Here are some of the measures implemented this year which contributed to our joint success:
Early and frequent communication allowed partners improved offer planning and stock allocation, whereby best-practice partners typically set aside stock 4-8 weeks prior to Cyber Week

We launched a new pricing capability that allow 80% of partners to update their prices in almost real-time (as opposed to once every hour like in 2018). Pepe Jeans felt that particularly this measure "helped us a lot in order to make changes in the last minute when we needed it and also made the process less stressful".

Partners were enabled to sell Old Season articles meaning that customers could choose from a wider assortment range

We tested a new logic called Dynamic Partner Selection which enabled the best price to win the order when more than 1 partner was offering the same product, ultimately leveling the playing field between all platform participants, including our wholesale business
While we are all basking in a well deserved post-Cyber Week glow and celebrating our hard-earned successes, we have also started gathering learnings to start optimizing for next year - for example, to kick off our communication around Cyber Week towards our partners even earlier. Our goal is to empower our partners with tools for independent and smart strategic decision making, in order to create an attractive offer for our customers and for partners to reach even further growth. Looking forward to another exciting Cyber Week in 2020!