The ABC of Connected Retail: How Connected Retail works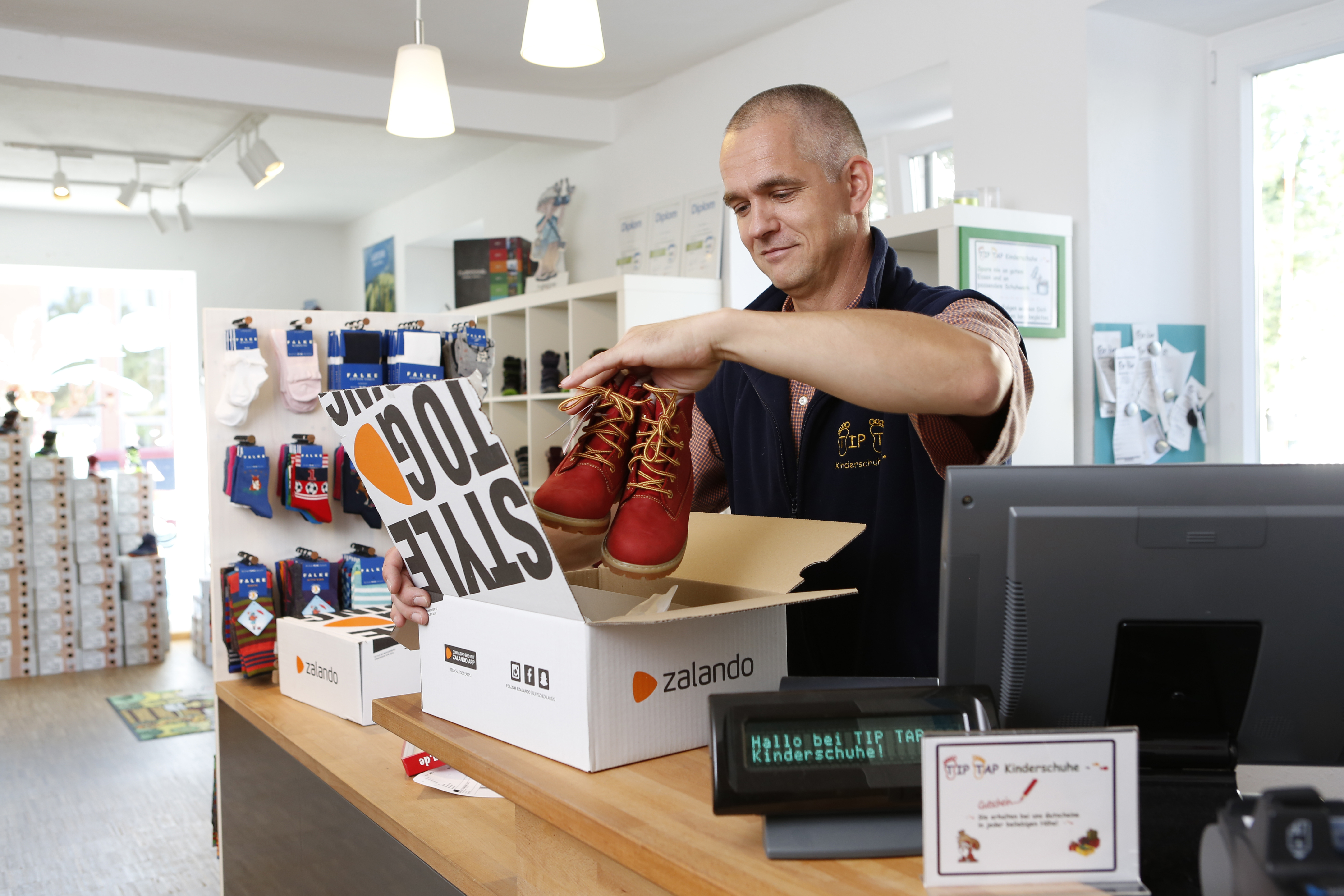 Increasing the productivity of brick-and-mortar stores in the age of declining footfall is challenging. Connected Retail is a simple and effective solution that can help you increase customer convenience and revenue growth in your stores. More than 3.1K stores have already connected to the Zalando platform.
Today's fashion customers demand a seamless shopping experience. Moving between shopping online and offline, for them the most important thing is to find the product they want, quickly and easily. To offer the fashion shopping experience of the future, full access and availability of products is a key success driver. The Connected Retail program at Zalando is developing solutions that combine the best elements of the retail experience for customers, by connecting offline and online channels. Whereas the online shopping experience has product selection and depth of assortment – anytime, anywhere – offline offers immediate availability and on-site consultation. At Zalando, we are finding ways to meet our joint customers' expectations and surprise them positively by combining the things they love most from the offline and online experience in one solution: Connected Retail.
The challenges and opportunities of stationary retail
Today, brands with a wide network of warehouses are selling directly to our customers via Partner Program and we continue to expand our logistics footprint to enable both our wholesale business as well as Zalando Fulfillment Solutions. Yet regardless of how many warehouses we build or connect to the Zalando platform, offline stores will always be located closer to our customers. In Europe alone, there are more than 300 thousand offline stores, representing a significant stock pool that currently largely goes untapped in the digital world. At any moment in time, these stores carry more than 15 billion items on more than 300 million square meters of selling space - contributing both availability and speed through proximity.
Since the launch of Connected Retail in 2018, Zalando has connected more than 3.1K brick-and-mortar stores to the platform. Connected stores receive orders from Zalando customers in two cases: 
a store has products available while the rest of the Zalando platform does not (i.e. both Zalando wholesale as well as Partner Program have sold out a given product). 
a store is able to deliver faster than the rest of the Zalando platform. Participating stores are seeing up to 60% incremental Gross Merchandise Volume (GMV) – on top of their regular topline. At the same time, the number of orders for participating retail partners continue to increase significantly. 
The integration of offline stock benefits the customer's experience on the highstreet. Customers can sit in their living room, search for a product on the Zalando app, and see where it's currently available. The visibility of the inventory allows customers to choose not only the easiest way, but also the most sustainable access to the product – be it online or offline. We have strong ambitions when it comes to sustainability, and have committed to being carbon neutral in our own operations and all deliveries and returns. While this means offsetting our emissions, it also has to mean reducing our emissions to begin with – deliveries are a big part of that! 
How Connected Retail can help you
Over the past decade, many brands have strongly increased their number of physical stores, meaning that store productivity is key. Connected Retail helps Zalando partners to drive exactly this by forwarding Zalando customer orders to their owned or franchised brick-and-mortar stores. Participating stores ship items specified in the order and book the corresponding revenues and profits. We do this with the help of simple, easy-to-use and free of charge tools. Today, Connected Retail is available in Germany and the Netherlands for all Zalando partners that have one or more physical stores.
The corona crisis is and remains a great challenge. Over the past few weeks, we have tried to be part of the solution for stationary trading with our special conditions. We firmly believe in this partnership as part of a common future. We were surprised how much we have achieved since then: Since the beginning of April, retailers connected via Connected Retail have shipped more than 800,000 parcels. Our customers have told us how much they appreciate the local retailer on our platform."

Dr. Carsten Keller, Vice President Direct-to-Consumer
1. Easy Connectivity:
Connected Retail enables stores to access Zalando's more than 35 million active online customers (as of Q4 2020). Zalando takes care of everything digital: We provide the content, customer care, marketing, platform and infrastructure. Connected Retail also comes without upfront investments or costly system integration. The change the store needs to setup is an automated export from its Enterprise Resource Planning (ERP) system. The model is essentially risk-free for participating stores, as all costs are variable. Commission is only paid for completed (and non-returned) transactions, and stores fully control article prices, capacity (i.e., number of orders per day) and assortment sold on Zalando at all times.
2. Higher sales, higher profits:
By connecting offline stock to the Zalando platform, partners can greatly increase sales and profits per square meter. Some of our best performing stores have increased their GMV per sqm by up to 60% on top of their regular topline. Lastly, we have designed commission rates along price points - reflecting profitability variations for different price levels. As a result, participating stores are seeing above average margins. 
3. Higher footfall:
Besides higher space productivity from Connected Retail transactions, we will also generate physical traffic for the stores. We are aiming to roll out click-and-collect and return-in-store schemes going forward, which will bring Zalando customers to high street stores. Moreover, Connected Retail will also provide transparency over local stock availability. As a result, customers can click-and-reserve items before they hit the high street and can be advised by shop assistants for further purchases.  
4. Fast, green, delivery:
Customers expect online channels to deliver offline benefits (i.e. immediate gratification, etc) and are increasingly aware of the impact of their choices on the environment. In order to give our customers what they want, we need to be able to offer them fast, environmentally friendly, delivery of products. In leveraging our network for speedy deliveries from stores in major cities, we will help ensure an unmatched convenience experience for our customers, which is not feasible from warehouses at scale; bringing our products to our customers faster and environmentally friendly, whilst improving Zalando's current same day delivery proposition through later cut-off times.
To get started,  stores go through a simple onboarding process that enables the Zalando platform to see stores' stock levels. Once connected, shop assistants log in to the Connected Retail tool via a standard web-browser, where they will find orders from Zalando customers. The store staff then picks and packs the order, and the system automatically notifies the carrier and prints delivery documents. The staff member in the store then hands over the labeled parcel to the carrier who delivers it to the customer. The customer can then either keep their order, return it via the carrier or as is planned in the near future, personally return it in store. The processing of orders is straightforward and does not require any technical knowledge. In the store, transactions are booked in the Point-of-Sale system – just like a transaction with a customer in the store. As always, Zalando handles the payment process, meaning customers pay us, and we transfer these revenues minus commission to you once a month. It's that simple!
Want to connect?
Connected Retail is just one part of a wider industry shift towards integrating the offline and online experience into a multichannel proposition where customers can move seamlessly across many different touchpoints. Multichannel approaches can offer many opportunities for customers and retail partners alike. Connected Retail empowers you to delight customers, transforming their experience with your brand, while allowing you to connect to a multichannel retail model, as well as a wider customer base and order pool with ease.
If you are interested in joining the Zalando platform with your brick-and.mortar stores via Connected Retail reach out to connected.retail@zalando.de.